My parents grew up Little House on the Prairie style, and while I wouldn't ever trade modern day conveniences, I often romanticize a life where everything is made by my hands – where I know exactly what is in what we eat, sleep, and play with and where each ingredient has come from. I received a copy of The Beeswax Workshop and thought it would be a nice way to introduce a little of that pioneer lifestyle. Flipping through deciding what to make, I knew it had to be the DIY all natural beeswax crayons. Spoiler alert, commercial crayons are kinda horrible.
As much as I'd love to make every single toy squirrelly babe plays with and every item he eats, it's just not feasible. But these beeswax crayons are one item I think will be on my regular DIY rotation. I didn't realize until reading through that, while technically nontoxic, commercial crayons are made with some pretty nasty stuff – paraffin wax, genetically modified soy bean oil, and even lead and asbestos in some cases (what!!!????). Considering squirrelly babe still likes putting things in his mouth, this put me off entirely. Plus, I LOVE the idea of all natural art supplies with all natural pigments. Some of the colours you can even find around the house. I used turmeric for yellow, and you can use cocoa or coffee powder for brown, and charcoal for black! I have a full list of natural pigments below and where to get them.
Except for some of the crayons where I added too much white colouring (more on that in the 'tips & notes' section), I really like how these crayons colour. It glides on evenly and richly – does that make sense? Just take my word for it, they're awesome. This DIY is divided into 4 parts – natural dyes and mineral pigments, materials, steps, tips & notes. It might seem intimidating, but it really isn't that bad. But do block off a couple hours of no kid time when making these. Hot boiling wax and kids don't mix.

   Natural Dyes and Mineral Pigments
* Indicates pigments I used.

Instead of purchasing large amounts of separate colours, try a sample pack.

Note: While mineral based, oxides and ultramarines are pigments and therefore technically not considered natural since they are not derived from plants or animals. These colours are created in a lab to avoid contamination of lead, mercury, and other nasties found in the mines where these minerals originate. If you want truly all natural, stick to the botanical and natural colourants listed above such as soils, edibles, and bugs (cochineal).
   M A T E R I A L S
Silicone Mold (this is what I used, but I WISH I saw these shorter ones!
3/4 cup (6oz) beeswax
2 tablespoons cocoa butter*
6 tablespoons carnauba wax
1 teaspoon each of 5 different natural pigment (listed above)
5 different glass jars
6 spoons
1/4 cup measuring cup
*You can substitute cocoa butter for tallow or kokum butter. I used kokum as it's marginally cheaper.
   S T E P S
Adapted from The Beeswax Workshop by Chris Dalziel
Make a double boiler using a glass measuring cup or other glass item. (I used a large glass milk jug, but the wax took longer to melt because of its narrow base.)
Simmer beeswax, cocoa butter, and carnauba wax in the glass cup over medium heat until the beeswax is melted. All the waxes will melt into a beautiful rich amber colour.
While the waxes are melting, prepare your five glass jars by putting the pigments in each one.
When the wax mixture has fully melted, measure out a 1/4 cup and pour into your first pigment ready jar. Mix thoroughly and quickly as the wax will melt fast. I found it useful to put the glass jar into the hot water for 10 seconds to keep the wax melted while I made sure the pigment was thoroughly mixed.
When out of the hot water, continue to mix the pigmented wax until it cools slightly and begins to thicken. Pour the wax into your silicone crayon mold.
Repeat with each additional crayon colour. Allow the crayons to sit and harden for several hours until they are cool to the touch.
If you use the long silicone mold like I did, cut the crayons in half.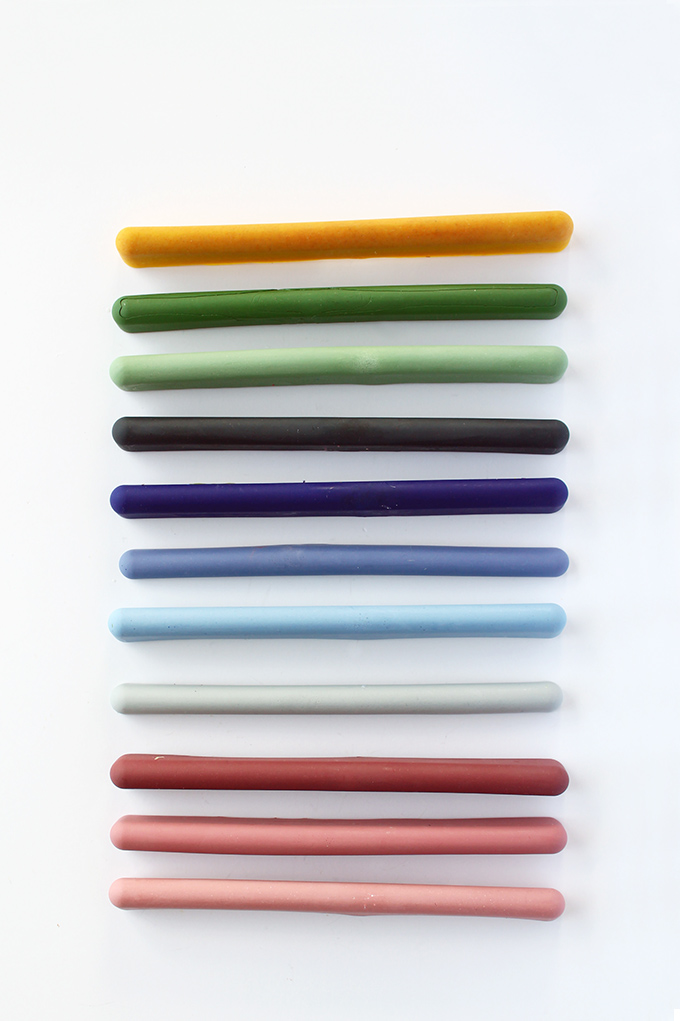 T I P S & N O T E S
I got brave and started mixing up the pigments to make my own colours. It's totally fun, but only do this if you're okay with a little disappointment. Some colours turned out lovely, but others were weak because I used too much titanium oxide (white).
When melting the waxes, I found the carnauba wax was the last to melt and needed rigorous mixing. I later read that carnauba wax has a higher melting point than beeswax, so the book recommends you melt this before adding beeswax.
Cleaning up is a bit of a pain as the wax hardens on everything, so don't use jars/pots/spoons that you really care about. When cleaning, do not put any water with melted wax, or any wax at all down the drain as it can wreak havoc on your pipes. To clean your tools, dip them in boiling water to soften the wax and wipe with a rag or paper towel. Repeat process until all the wax is off. It may feel oily or waxy afterward but just give it a good wash in hot water to wipe the residue. Discard waxy water in your garden or lawn (I don't think it will harm it! …I'll let you know).
I used a big hunk of beeswax. Don't. It was SUCH a pain to cut up! Use beeswax pellets instead to save your hands and sanity.
There are tons of really neat beeswax projects in this book. A few others I'm excited to try are honey soap, shampoo bars, food wraps, and modelling clay. Hmm…maybe I should become a beekeeper.
Happy colouring!