Some items were provided by Wayfair but all opinions remain 100% honest!
Affiliate links used. See something you like? Sources are listed at the bottom.
We lived with our bland master bedroom for far too long. Between the horrible banana split puke then accidental lavender wall colours, plus its tiny size and our dark, overbearing furniture, I just didn't know where to begin. Okay maybe I did – get rid of that dark, overbearing furniture. We started off with the DIY removable headboard a couple years back, then finally kicked it into high gear with some help from Wayfair (thanks guys!). It has seriously made such an incredible difference.

At 11×10, our room is very tiny as far as master bedrooms go. Thinking that more drawers = more storage = more better (I have great math and English skills), we crammed too much into too small a space. Living this way for over three years, I learned two valuable lessons:
1. Having a lot of storage space means nothing if you don't have an organization system.
2. Surfaces will get piled up with transient items (ie junk) unless they're immaculately styled.
Yep, I full on styled the top of our new dresser to avoid any piling up. The mister says he's actually afraid to put anything on the dresser. I'm ok with that. I love our new midcentury style dresser. The design and white drawer fronts make it feel light and airy, and the deep drawers provide plenty of storage.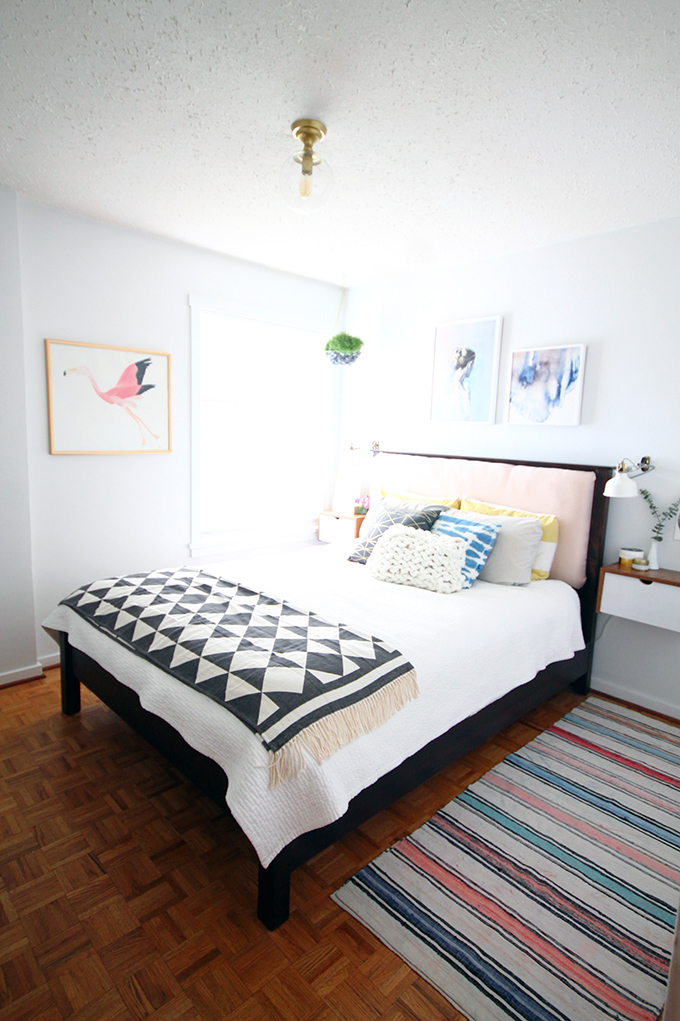 I had a lot of fun styling the bed. Before, I didn't want to deal with extra pillows and throws because I wouldn't have a place to put them at night – they'd just end up on the floor! With smaller furniture and clever tricks, we were able to make space for our roadside find school desk chair. During the day it's a place to sit, and at night a place to pile our decorative bedding.

For two of the pillows I learned two new DIY methods – arm knitting and shibori! But even though I didn't make it, in all honesty my favourite is the charcoal and gold geo pillow. I mean it has gold on it guys, of course I'm going to love it. But that throw, that THROW! It's my absolute fave. And SO FREAKING SOFT. And made in Portugal (where my family is from). Yep, it's pretty well just perfection folks.
This room is largely a combination of thrifted/found items and some serious DIY action. I think that's what makes it so special to me, every piece was purposely picked or made. See that light fixture beside the mirror? Has anyone seen the Fox show Gracepoint? It was from their set sale. It was made to look really rusty and old before so it took a little TLC. Now every time I look at it I think of watching David Tennant stalking across the hill crest over looking the beach. That was a fun spring stalking the Gracepoint sets… Okay, I'm totally getting off topic here. (I never was able to spot my lamp in the series).
The custom built night tables are possibly my favourite ever. I went to the mister and said "hey I have an idea", and he went "hey I can do that!". It wasn't easy, and I think it's safe to say he's looking forward to having evenings and weekends back for a bit, but it was worth it. The front folds down and, because I HATE extra wires, there's a plug inside for any charging needs.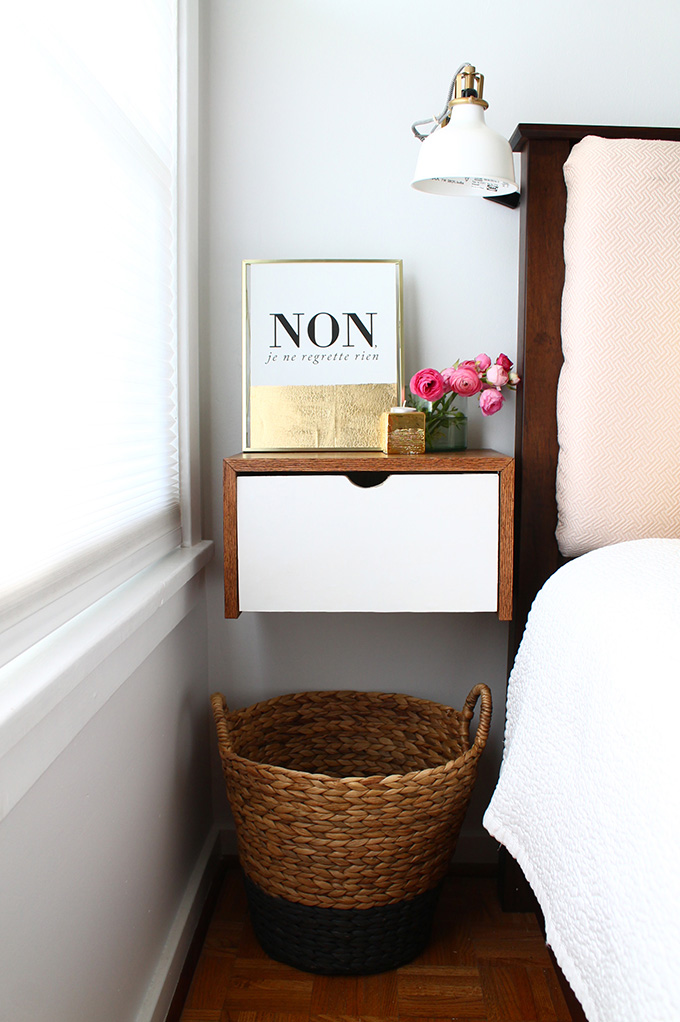 On the opposite end of marital bliss, does anyone else deal with a partner who doesn't want to put all their clothes in the hamper, but doesn't want to put worn clothes back in drawers? This has been a 6 year battle between the mister and I. His clothes would constantly pile up on either the floor or the dresser, so I had to solve this problem with the new bedroom design. Enter the basket. A quick and easy spot for him to throw his clothes into at the end of the day and where I won't have to trip over or stare at them. Win win!

Now are you curious what the room looked like before the makeover? Here you are:

Some of you might be thinking "hey that's not so bad", but it was cramped. It feels so much better now – cohesive, bright, fresh. I'm very, very happy *insert biggest smile emoji here*.

Sources
Bedding
Grey and Gold Geo Pillow | Wayfair
Arm Knit Pillow | Fall for DIY DIY
Shibori Pillow | Alice and Lois DIY
Dwell Studio Throw | Wayfair
White Coverlet | Raintree (similar)

Furniture/Fixures
Dresser | Wayfair
Headboard | Squirrelly Minds DIY
Floating Nightstands | DIY (possible plans to come?)
School Chair | Road Side Find
Cellular Shades | Wayfair (similar)
Ceiling Light | Canadian Tire (painted gold)
Vintage Swing Lamp | Gracepoint Set Sale (Substitute it for this)
Bedside Wall Lamps | IKEA

Decor
Moon Phase Wall Hanging | Almost Makes Perfect DIY
Mirror | Thrift Find
Striped Rug | Family heirloom (similar)
Sheepskin | IKEA
Plant Stand | Hey There Home DIY
Crystal Necklace Holder | Julep DIY
Hanging Plant Holder | DIY to come
Rhodonite Wood and Stone Hooks | Squirrelly Minds DIY
Basket | Canadian Tire
Robe | Plum Pretty Sugar
Artwork
Non Je ne Regrette Rien Print | Luciana
Woman Art Print | Linger on Minted
Abstract Art Print | Sweet Melancholy on Minted
Moon Art Print | reflections iii on Minted
Flamingo | Self painted
Photo and Typography Artwork | Squirrelly Minds Printable with Mixbook (60% off code available until end of the month).