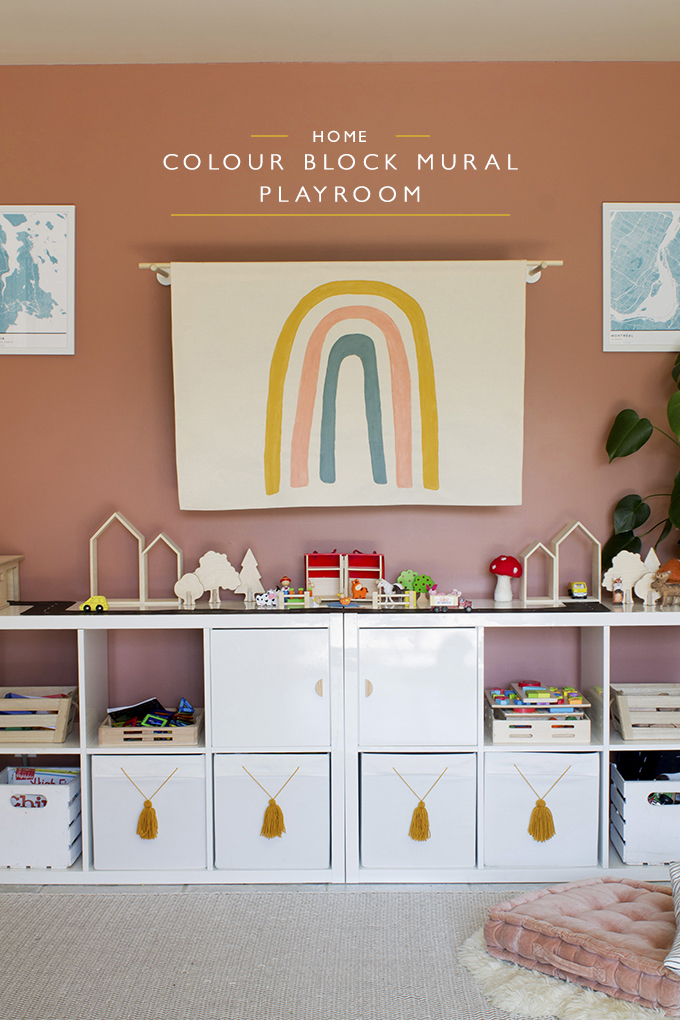 Ok, I've been posting this playroom all over insta and not a single mention of it here since the brainstorming post. Sorry friend, I will try to do better. But here she is in all her colourful glory, our color block mural playroom!
I originally had the idea to have white walls and slightly abstract, geometrical patterns to create a minimalist scene on the wall. I realized later this is basically colour block. Overall, I wanted the freshness of white with a lot of fun but soothing colour fused in.
(this post contains affiliate links)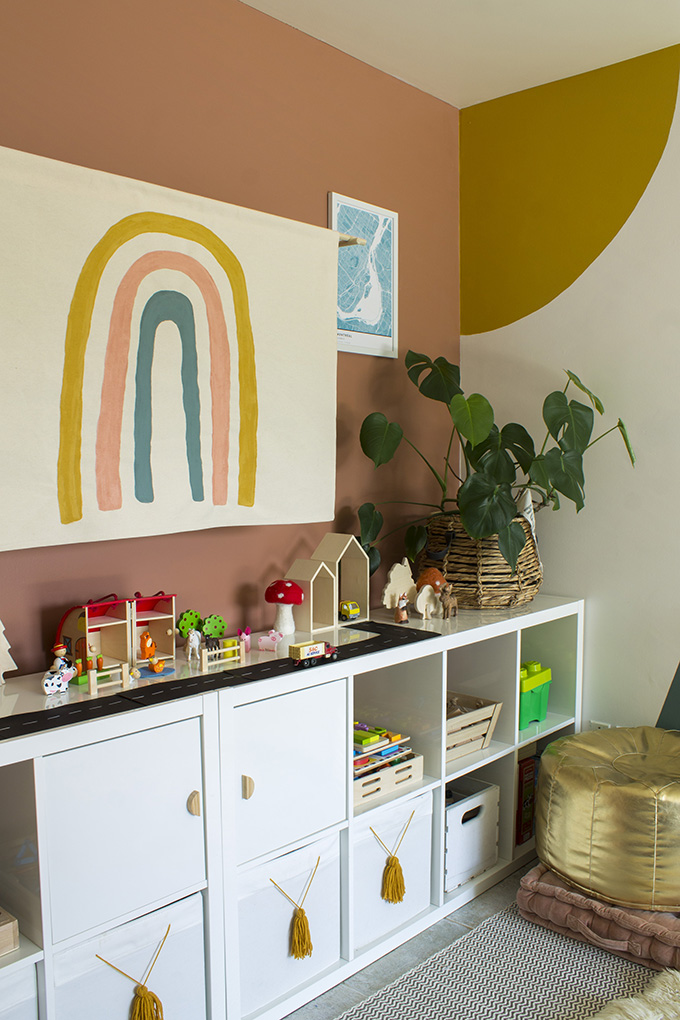 But most importantly I needed to really plan out the zoning. This is not only the playroom, but the most used space in the house. We needed this room to serve five functions:
1) The TV area
2) Toy storage and display
3) Book cuddle spot
4) Play house
5) Art area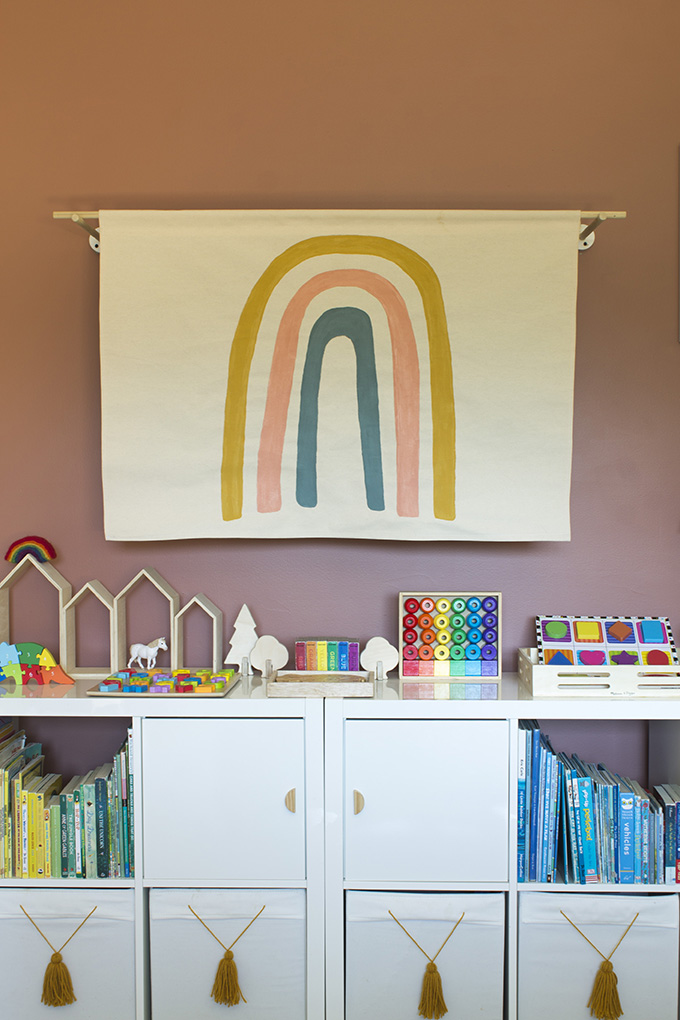 Yes, this is the TV area. Yes, there is a TV there. I hate the look of a big boxy tv, and the frame tv is wayyyy out of our budget, so I had to get creative. I grabbed drop cloth canvas, extra wall paint, and picked up some dowels to create this TV tapestry. It's easy to take down when it's TV time and makes for a bright cheery space for play time. Much better than the black tv void.
It also sits right above our TV storage. We used IKEA kallax we had from before along with our drona boxes and this tassel DIY. You can tell all these photos weren't taken at the same time as I try to change out the toys every month or so. But let's be honest, I'm human and sometimes the kids will just play with the same 'ol things!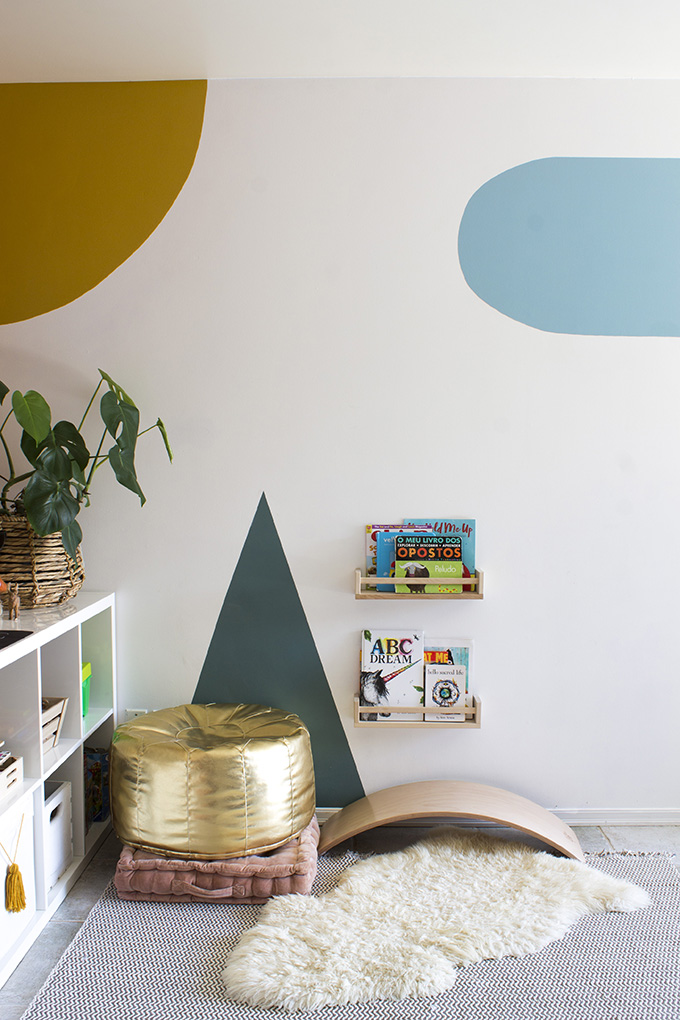 I do however change these books regularly. I love this little spot with its green tree, yellow sun and blue cloud. Almost the whole minimalist mural all in one spot.
The play house is the last part of the mural, and honestly it's where the kids play the most in here. I originally had just painted the pink house, but squirrelly boy insisted on smoke coming out of the chimney, and am I ever glad he did. It adds that extra bit of cuteness.


While I'm at it, let's talk about the colours for a minute.
I originally had a lot of colour inspiration (see above) from Behr's 2020 colour trends. I landed with using a mix of what we already (the green and pink) had and adjusted the colours to fit those.
White: Frost by Behr Marquee
Green: Cameroon Green by Behr Marquee
Blue: Drip by Behr Marquee (I accidentally chucked the paint chip so I had to guess at this one)
Pink: Coral Fountain by Behr Marquee
Terra Cotta: Mars Red by Behr
Yellow: Oatbran by Sico
Ok but I'm thoroughly confused. Our cameroon green is WAY darker than the one showing on the Behr site, and I couldn't find the actual coral I used so had to find the closest one. I don't know guys. I-don't-know.
Also important to note, I custom mixed colours by adding a touch of the cloud blue to the green, and a touch of the tree green to the cloud to make everything a little more cohesive.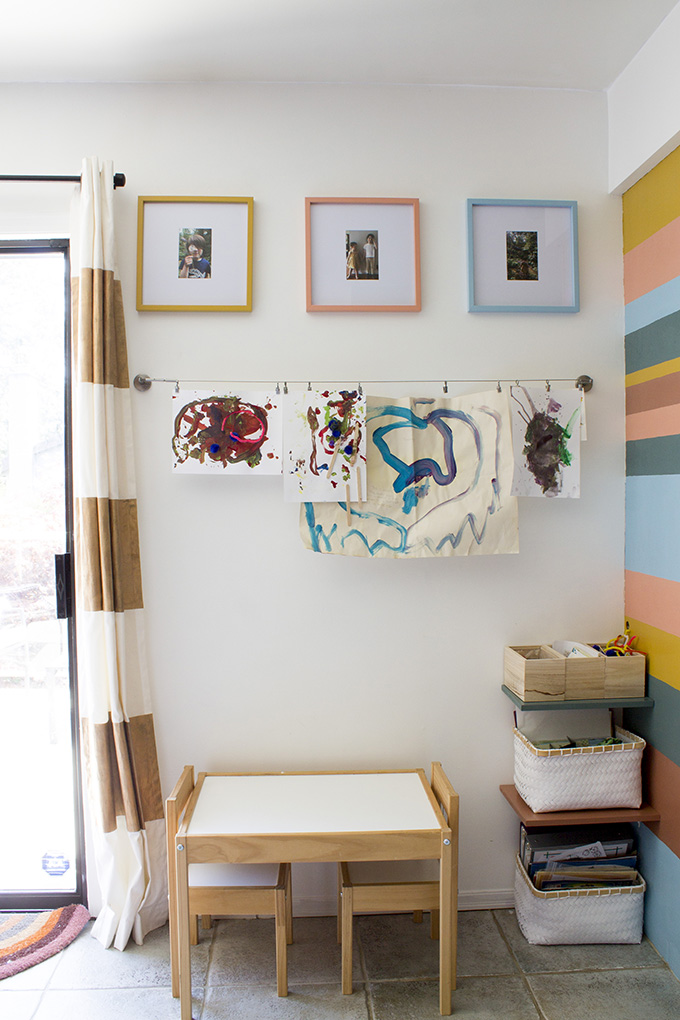 The art space ties all the colours of the room in on that one piece of wall (which is actually the side of our pantry cupboard). We wanted an art space where the kids could just plop down, grab paper and tools and start creating. However we can't quite trust them yet with paint and markers by themselves…(these walls nearly killed me to paint and I don't think they'd hold up to scribbles) so that kind of independence will have to wait a tad longer.
We put up the IKEA Dignitet curtain wire as a place to hang the kid's art. I love seeing their creations up there and rotating them throughout the weeks.
Ok but let's get to the nitty gritty right? What did this cost us? Here it is in CDN:
Paint and Supplies: $200
Dowels for rainbow tapestry: $10
Light Fixture: $140
Cord Kit (to hide TV wires): $100
IKEA Lätt Kids table and chairs: $30
Velvet floor cushion: $25
IKEA Filskov Rug: filskox: $70
Wicker shelf (Marketplace): $15
Total: $590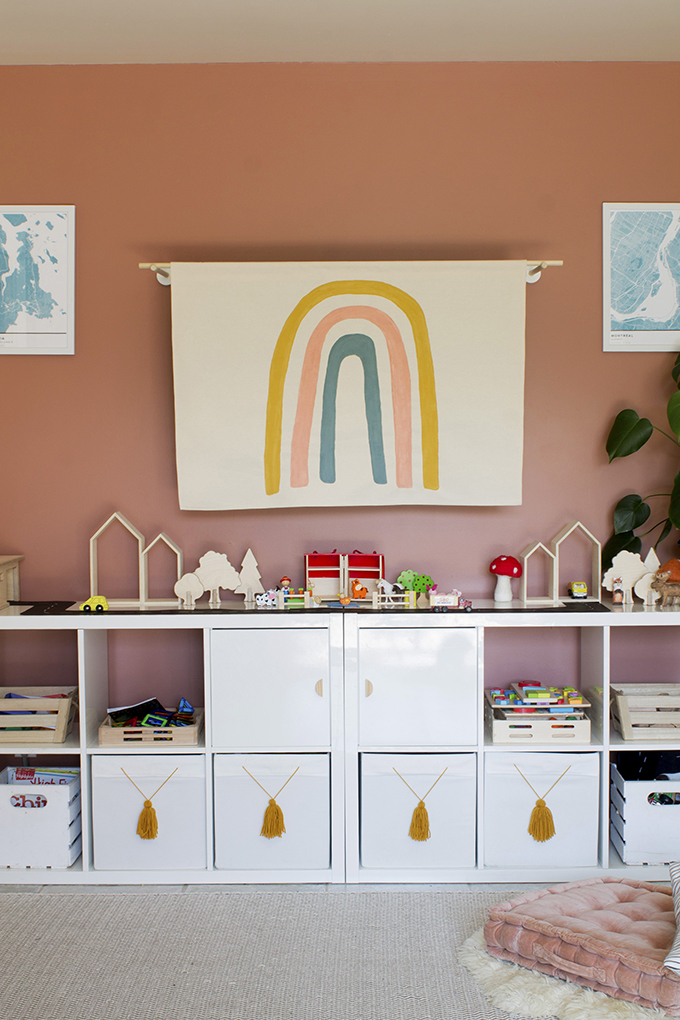 There you have it! A little tour of the most used room in the house. It's hard to get a full picture of this room, plus our couch is butt ugly. But be sure to follow along on instagram where I post/story in it all.the.time.