Giveaway is closed and the winner has been selected. Thank you for entering.
Did you know that this Friday is national donut day? Yep, the best excuse to buy a bunch of those sweet sticky things, pour yourself a glass of milk and stuff your face. But if you want to take it to another level, why not make some donut coasters to go along with it?
(oh and pssst, there's a rad giveaway at the end of this post so don't forget to scroll all the way down!)
I love DIY's that allow me to be absent minded, or that keep my hands busy while indulging in some tv shows. These coasters fit that bill exactly. 90% of them, including all those embroidered little sprinkles, were completed with Good Wife (finally finished) playing.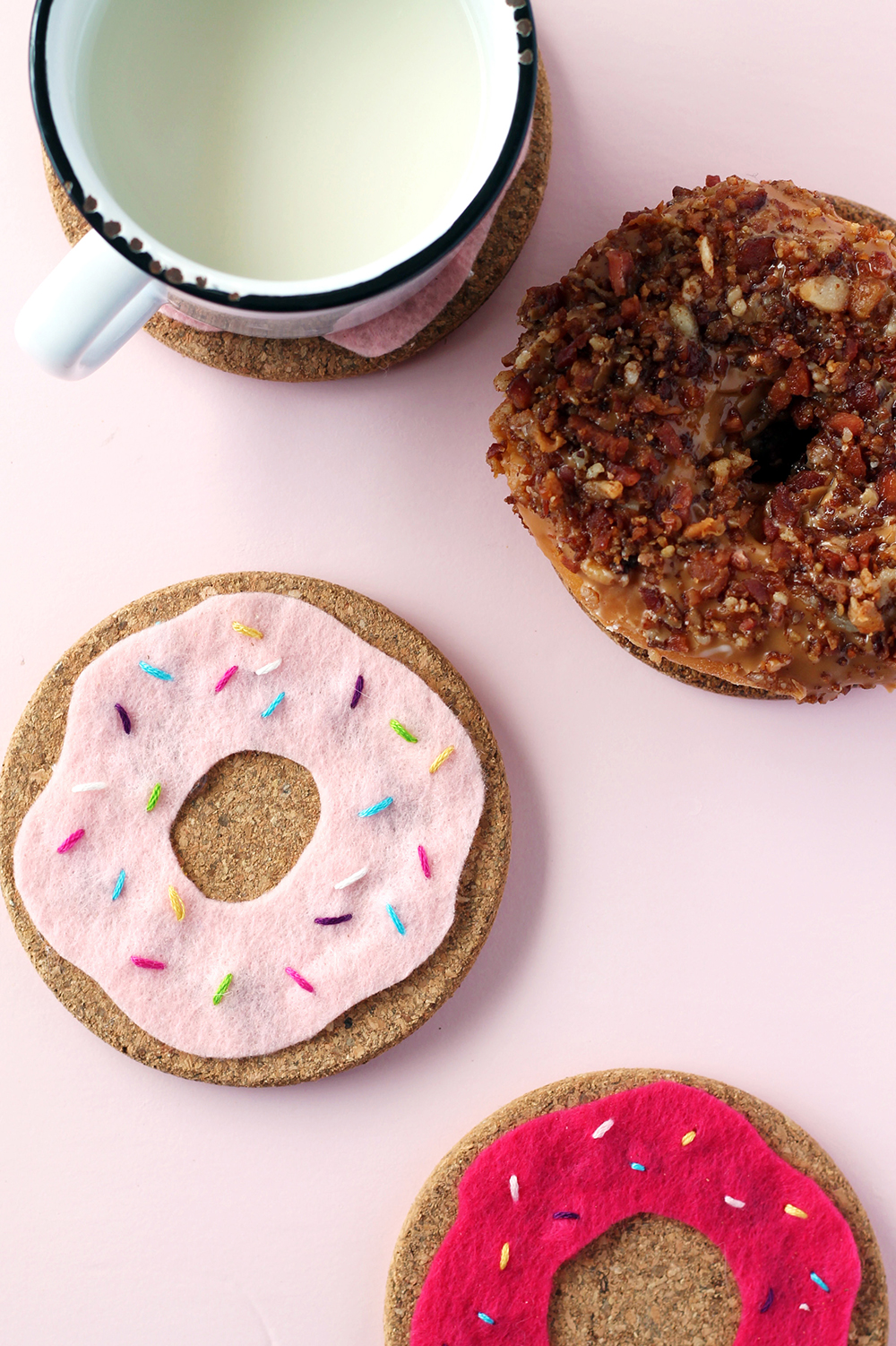 Ready to make your own to celebrate donut day? (or just because donuts are awesome in any form, edible or not). The materials below include the same embroidery thread I used (100 of 'em in ALL the colours!) but I found a better cork coaster for you. Let's get making!
Materials
Embroidery Floss in various sprinkle appropriate colours
Pink felt sheets (or any colour you'd like for the icing)
Scissors
Hot glue gun
A blunt needle with a wide eye
Steps

1 Cut out a circle in the felt the same as your coaster. Next, cut out rounded edges to mimic icing. Lastly, fold in half and cut a semi circle in the centre.
2 Next is the sprinkles which takes the most amount of time. I like to have 3 or 5 sprinkles of each colour. You'll need approximately 2 inches per sprinkle. I tend to use one long piece of thread and cut as I go, but you can choose to cut each 'sprinkle thread' in advance. With a threaded needle, sew one stitch approximately 1cm long. Leave the ends at the back even.
3 Tie the ends in a triple knot (double knots will come undone). Repeat steps two and three with all your embroidery thread in a random order, making sure the tied ends are always on the same side. All this tying takes a fair bit of time. If you're pressed for time, you can use one long piece of embroidery thread and connect them all. The photo above shows the back with both individually tied off in pink and green and one continuous thread in blue. The only downside to this is you have to be crafty to make sure none of your threads cross the open middle hole.
4 Heat your glue gun and apply a generous amount of glue all around the back of your felt. Before it cools down, place it down on top of your coaster and press firmly all the way around the help adhere the felt and cork.
Repeat steps 1 – 4 for each coaster.

My mom came over a few days ago while I photographed these. She saw them from afar and thought they were cookies! It's amazing how realistic felt and embroidery thread can look.
You can keep these for yourself (although you may constantly crave donuts) or give them as a gift. Personally, I think I'm going to keep mine….or sell them in my Etsy shop. I can't decide!
Happy crafting! And I gotta ask…
What's your favourite donut?
And now, it's giveaway time! My friend Amy at Delineate Your Dwelling is celebrating her third year of blogging! Naturally I had to join in on the party and am so excited to giveaway one garnet print along with 7 other awesome prizes.
BrePurposed – Bre Etsy printable pack
Chris + Mary – Chris and Mary – 2 pieces from their bright Willful Goods collection
Delineate Your Dwelling – Amy – Gold leaf stripe bowl
Good In Store – MJ – chic t-shirt with a message
Mrs Emily – Emily – modern HELLO cap
Place of My Taste – Aniko – Green Prints collection
Shrimp Salad Circus – Lindsay – 8″x10″ watercolor painting and lettering prints
Squirrelly Minds – Tan – 8×10 watercolour garnet painting
This giveaway will be running for a week starting today and the EIGHT winners will be contacted by Amy via email. See the amazing items below and enter on the rafflecopter.
>>> Remember, the more entries you enter, the better your chances of winning! <<<
AND THERE WILL BE EIGHT WINNERS FOR THIS GIVEAWAY!
(click on the Rafflecopoter giveaway link below, if it does not automatically show up for you.)
a Rafflecopter giveaway
​
Good luck!