When it's someone's special day – whether they are 8, 18, or 81 – I love putting together a themed package designed specially for them.
A package of smaller gifts gives me the chance to add some DIY touches without having to bite off an ambitious project that needs a lot of advance planning (and, lets be honest, sometimes doesn't work out as well as I'd hoped). These gifts also get noticed – the recipient feels extra special because they see the thought and work that went into pulling all the pieces together.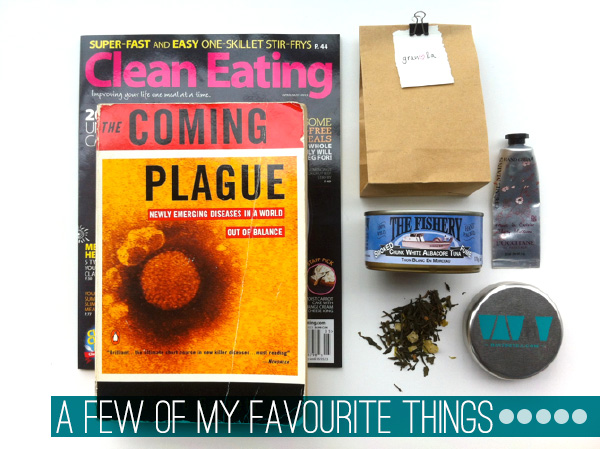 This is the perfect package to give someone you don't know that well (but want to!). The first time I put one together was a few years ago after I'd met my birth mother for the first time. As we started to get to know each other, I decided that her Christmas gift was a great chance to share more of myself with her. I put together two of my very favourite books, a booklet of my go-to recipes, and a stash of my morning tea (Toasted Walnut from David's Tea). These days I add Cherry Blossom hand cream from L'Occitane, the latest Clean Eating magazine, a can of smoked tuna from the Fishery on Saltspring Island, and a bag of home-made granola.
What would go into your favourite things package?
Dig deep into your memory for this nostalgic package, perfect for an old friend. The secret to making this personalized is to think back to a time when you were particularly close and tap into that era. Recently, a friend of mine attended the wedding of a childhood friend. Remembering the summer vacations they spent reading comics at the cabin, he gave the new couple an entire set of The Adventures of Tintin books (in the original French, of course), alongside a more conventional cash gift. I love how these type of gifts cherish and recognize time spent together back in the day! Try putting together a package with: a "mix tape" playlist of throwback tunes, candy you used to buy together at the corner store, a board or card game you played to death, and a novel or comic you loved.

Moving to Vancouver from Toronto, all of a sudden I was in a long distance relationship with my best girlfriends. Worried that they wouldn't be there for those little moments of celebration or tears, they created a series of short videos so they could be "there" in spirit. My besties loaded the videos onto a thumb drive and sent them by courier to arrive on my birthday. When I opened the file, each was labeled for the type of situation the video was designed for: very bad day, slumber party, receiving good news, etc. Key for this digital package is outrageous costumes and silly dances.
This package is almost cheating it is so simple. Earlier this month I was invited to my sis-in-law's bridal shower. There was no registry and I don't know her well, so I was at a loss for a meaningful and fitting gift. I headed to my go-to gift shop: David's Teas. The shop assistant helped me pick out four teas with a romance theme (Love Tea #7, Read My Lips, Fantasy Island and Cinnamon Heart). With the enormous selection at David's Tea its easy to buy a variety of teas around a theme. If you've got time, make your own tea from herbs in your garden (like Tan) or bundle your store-bought tea into cute home-made tea bags (like these ones from A Beautiful Mess). Add a cute teapot, mug, and some disposable tea bags if you want to make the gift more substantial.
Every person has a few little luxurious things they love, but rarely buy for themselves. For my husband, it's a slightly pricy but amazing shaving cream from Khiel's. For me, it's a stack of glossy magazines from the checkout: Real Simple, Vanity Fair, and of course, the gossip rags. Life's little luxuries are the inspiration behind this package, and it's perfect for a friend who has been especially busy or stressed. The usual suspects: a shiny new nail polish, a relaxing face masque, a stack of magazines, gourmet chocolate bars and a delicious tea (fair trade, of course – more about that in another post). Kick it up a notch by throwing in a spa gift certificate or reflexology massage.
What kind of packages have you put together for your friends and loved ones?
Kate Jongbloed thinks the best way to procrastinate from her PhD is by making things to give to others. When she's not making things or doing science, she is busy blogging over at blog.becauseiamagirl.ca.