Last week I was perusing through Target's gift wrapping aisle in search for a gift bag. They were all either the wrong style, the wrong size or incredibly boring. Reluctantly, I grabbed the green bag and resigned to an incredibly boring gift wrapping job. But then I walked down the party decor aisle and spotted the water balloons. Bingo.

Blowing up mini water balloons, tying a bit of twine and adding them to a plain gift bag is a fast and easy way to instantly spruce up any plain bag. With just a few materials, about 5 minutes of your time, and a whole lot of lung power, you can do the same.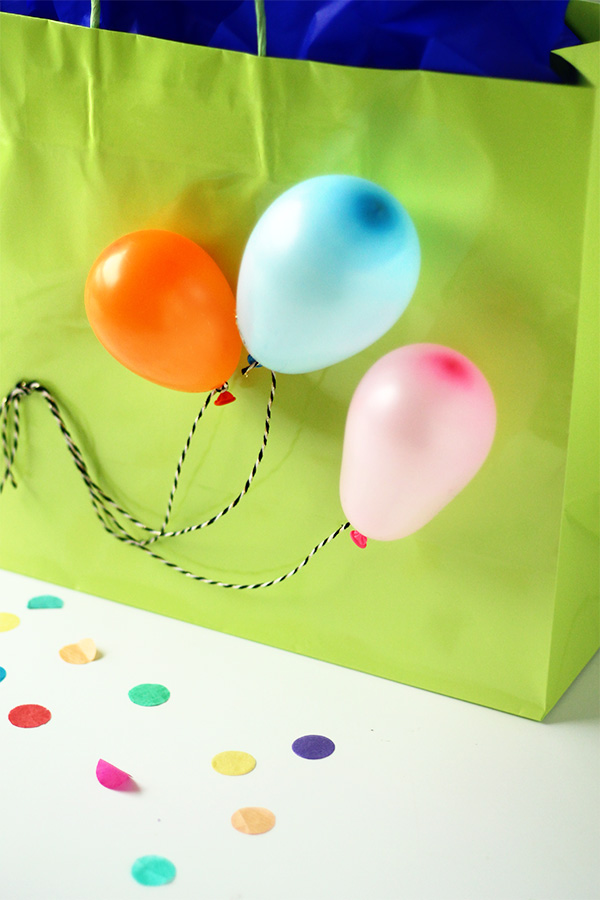 Materials
Plain gift bag
Water balloons
Twine
Double sided tape
Scissors
Powerful lungs
Steps
1 Stretch three water balloons before blowing them up. Because they're so tiny they're tricky to blow up, so take your time, take breaks, and don't blow up any brain cells.
2 Cut a piece of twine to about 15 inches and tie it around the balloons knot. Add a piece of double sided tape to one side of the balloon.
3 Do this for all three balloons, then tie all three pieces of twine together at the bottom, leaving about 3-4 inches for the 'tail'.
4 Add a small piece of double sided tape to the backside of the knot.
5 Remove the backing on the small piece of double sided tape, then stick the knot anywhere along the bottom half of the bag.
6 One at a time, remove the tape backing from each balloon and adhere it onto the gift bag anywhere you like. Voila! Resume gift giving.

Happy gifting!