The latest thing we are tackling is the gift registry. You'd think it would be fun, right? Practically purchasing items you don't actually have to pay for?
Brides (and grooms if you're reading this), it's a lot of work. Yes it's definitely fun to pick out items you envision in your future home together, but then you realize just HOW MUCH there is out there. Think about it. Your kitchen alone is stocked with all sorts of various necessities and frivolous treasures. And don't forget, it's not only your wedding you're registering for, but your wedding shower(s) as well!
Thankfully The Bay made gift registering a lot easier with some tips and tricks. I felt it was only right I would share them with you.
Disclaimer: this information is taken from the Hudson's Bay Company Gift Registry catalogue and is therefore not original content by me. If you're in Canada I highly suggest you check them out for more information and help.
One: How many items should I register for?
This handy chart tells you just that, breaking down the event by the number of people coming and the price point.
Feel weird about registering for an item over $200? Don't. People like to go in on gifts so they can get you that extra special item. Just don't necessarily except to get it. (I for one do not at all expect to receive this $595 cashmere throw, but I've loved it for eons and had to register for it just in case).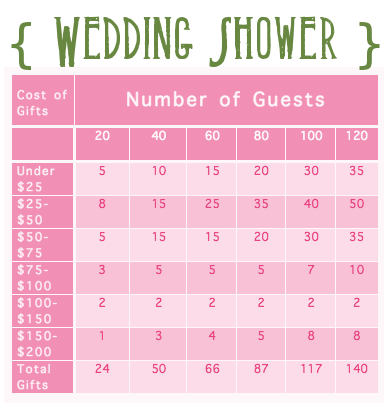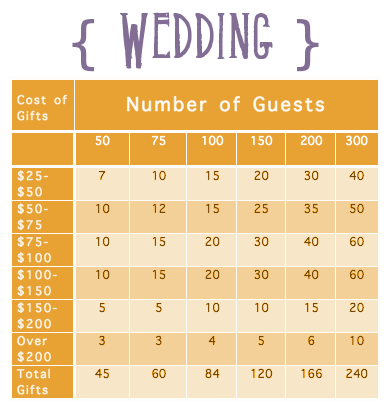 Two: What should I register for?
Buying gifts for the modern day couple is different than it used to be. Several couples (like Ryan and I) live together before getting married, so they already have a lot of items. If this is you, perhaps you just need to upgrade and can pick and choose from the list below. If you and your fiance will begin living together after you say 'I do', print off this list, head down to your local gift registry shop and start scanning away.
Now the original list is incredibly extensive, so I'm focusing only on the kitchen and pairing it down just to items you may not have thought about (yes there is a whole ton more than this!)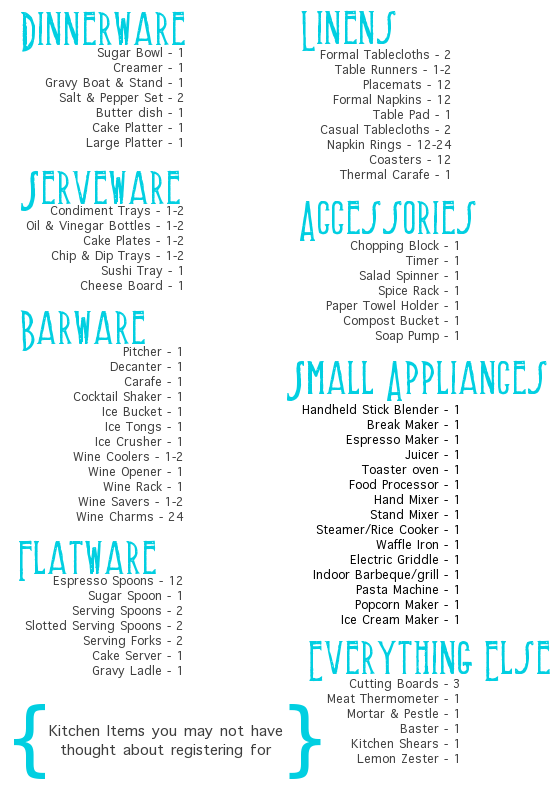 There you have it friends, a little Gift Registering 101. Next week I'll show you some items we've got our eye on for the home that you can put on your registry checklist.
What is/was the #1 important item on your gift registry?