I grew up on a dark street along a long dark driveway – trick or treaters everywhere be warned! Except we always had A TON of candy and treats to give out to kids because absolutely no one would come. No one.
So when it came time to buy our own home I had one (among many others) requirement – a trick or treating friendly neighbourhood. And friends, do we ever have it, and yes, we are that house that gives our full sized chocolate bars.
I always have peanut free options available for those several kids who I can only imagine struggle every halloween with all the candy they can't eat. I didn't even think about the kids who have far more allergies than peanuts. I bring you The Teal Project.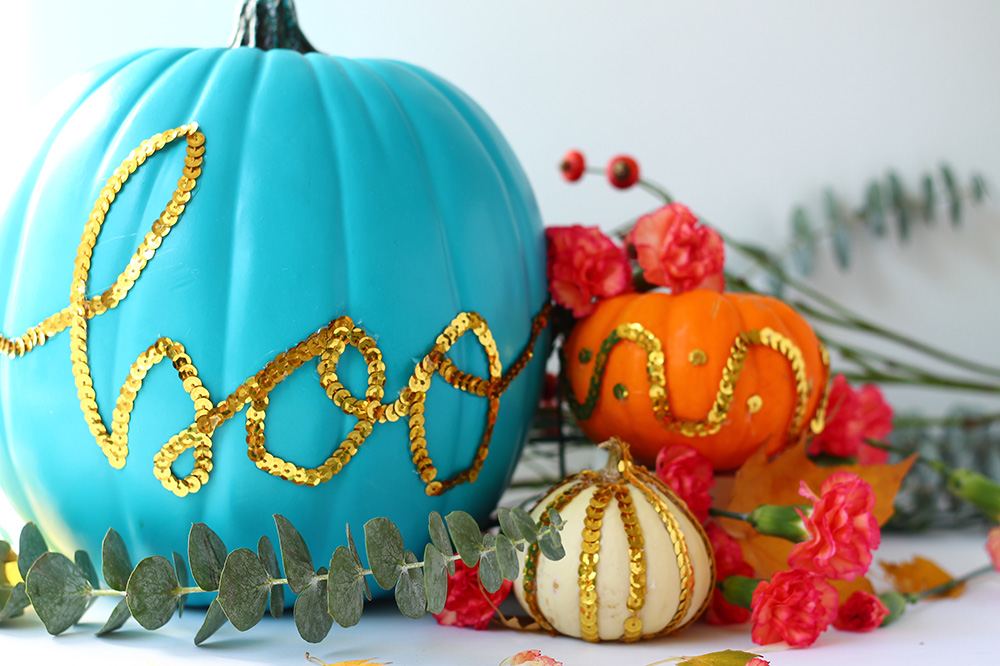 A friend with several allergies posted it on facebook and I instantly got excited. Another way to make halloween accessible to everyone! The gist? Put a teal pumpkin outside your door to signify to kids with allergies that there are non food items available. Think small toys, pencils, stickers, etc. And you don't have to worry about your house getting egged at the end of the night!
Nope, this isn't a sponsored post or anything guys. I JUST LOVE ALL THINGS HALLOWEEN and want to spread the good word!
And you can dress up your teal pumpkin (and any pumpkin) with a little bit of hot glue and sequin trim.
Materials
A pumpkin – either a fake one that's already teal, or paint a white one
Pencil
Sequin Trim
Hot glue gun
(yes that's it)

Steps
Step 1 Write out your message in pencil.
Step 2 Run a small bead of hot glue, one inch at a time, along the pencil mark. If you're using a real pumpkin, make sure it is at room temperature or warmer, otherwise the glue will harden too quickly.
Step 3 Press the sequin trim along the glue line. Repeat steps two and three until finished.

Of course if you don't want to write a word you can do decorations instead.
There you have it! Happy safe and fun halloween to you and everyone!