We often say "I love you" to those closest to us, including our beloved mom. But do we ever say why? This sweet card that spans out into a fan (perfect for this early summer heat) does just that.
This mother's day, cut out some hearts, clip them together with a brad and don't just tell your mother you love her, tell her why.

Materials
Card stock
Pens, calligraphy pen and ink or even crayons
Washi tape (optional)
Chipboard number stickers (optional)
Scissors
Steps
1 Cut out 5 identical hearts. I chose to do the front and back in glitter card stock and the centre hearts in kraft card stock.
2 On the front heart write "just 3 reasons i love you". Because I couldn't write directly on the glitter card stock, I placed strips of washi tape on top instead, and used a chip board sticker for the 3. For the inside hearts, write on each a reason why you love mom. On the back write 'Happy Mother's Day'. I wrote with a calligraphy pen and ink, but you can choose whichever medium you wish. Is your kid making it? Go for crayons!
3 Layer the hearts on top of each other and carefully poke a hole through each one with a pin. It's important that the hearts all line up properly.
4 Push a brad through the hole and press down the back tabs. Voila! You're done.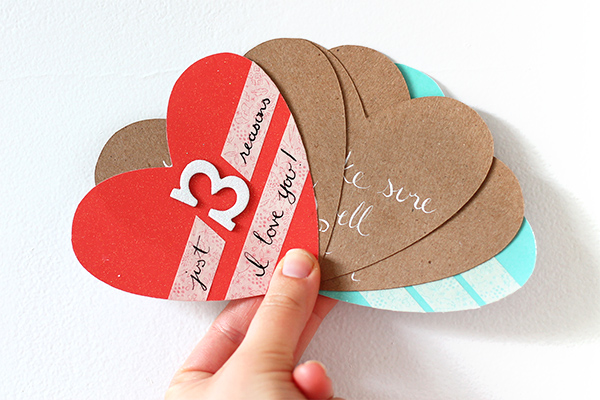 I chose to go with bright glitter card stock and contrasting kraft paper for the centre, but you can do whatever you like. If you're a dad looking for a card for your child to make, grab the crayons and go to town. If you have an artistic flair, go for the watercolours and paint florals and fauna on each heart. Skies the limit friends.

What are 3 reasons your love your mom?