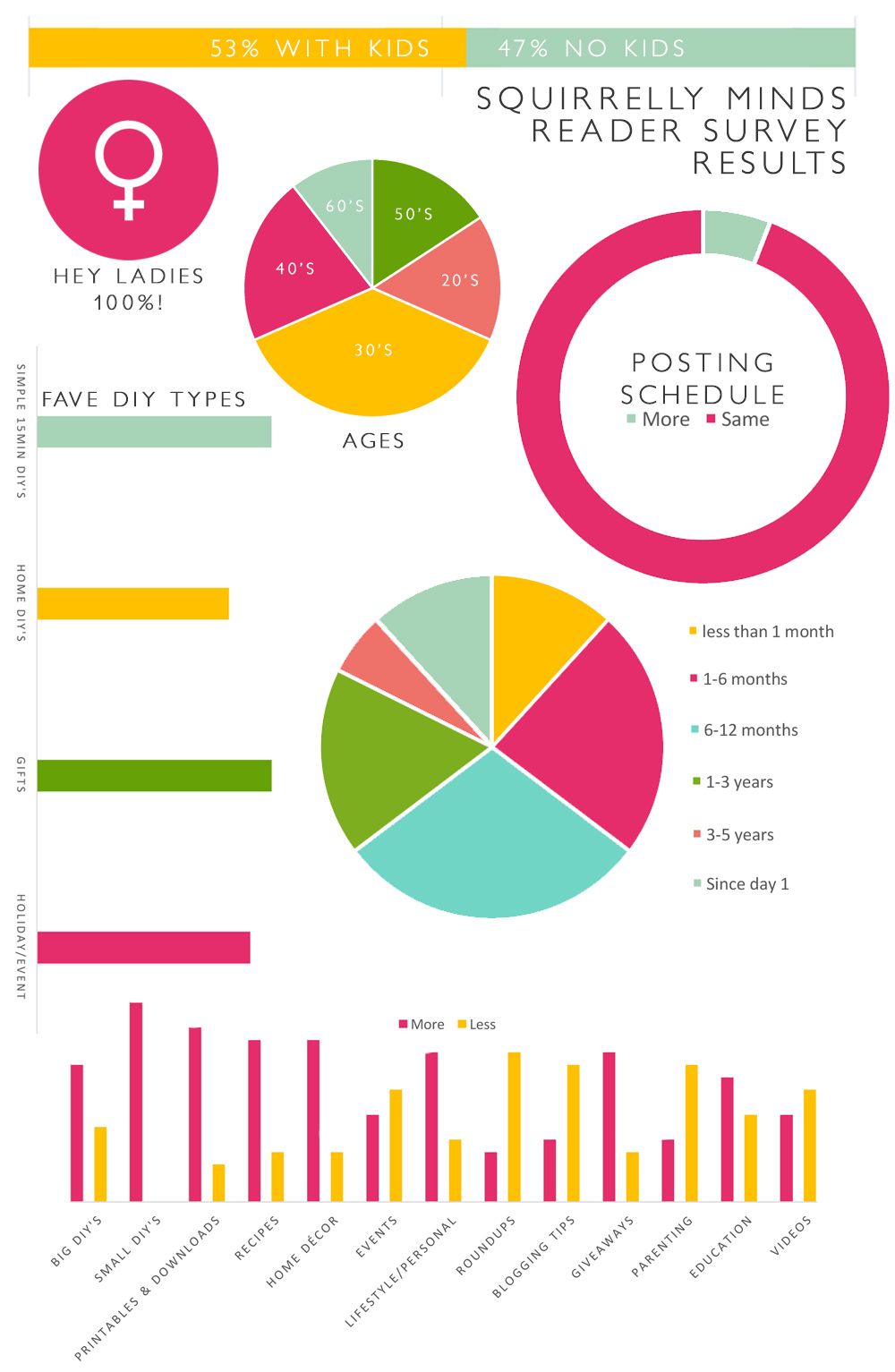 So, you guys are amazing. Thank you so much for helping out by filling out the 2017 reader survey! I so love hearing you're ideas and what you do and don't like.
So I knew you and I had a lot in common, cause we get along just so darn well. But what? 100% of you are female, most of you are in your 30's and just over half of you have kids. Hey there twinsies!
It was also really cool to see that you guys like the type of DIY's I like.
Most of you prefer to make simple 15min DIY's and gifts, and every single one of you want more small DIY's! You also want more printables/downloads, recipes and home decor.
I used to do a lot of home decor on here when going through the renovations, so I'm pretty excited to see that you still want to see that here. Especially exciting since I'm currently working on our bedroom makeover.
You're also happy with the current posting schedule. PHEW! I was a little scared all of you would want more and I wouldn't be able to deliver 😉
Now what were some suggestions?
Art class for students and art tutorials
Very cool! You know what? For some reason teaching other people about art kinda scares me. I don't consider myself an artist, so what can I teach!? But that's my insecurities talking. I totally am going to sit down and think about what sort of art tutorials and student/kids art projects I can come up with for you.
Whenever I read SQ I feel so inadequate. Your life is SO perfect it seems. Could we see behind the scenes??
Oh goodness, I can assure you my life is FAR from perfect! But I totally get that things look pretty polished from the outside. I haven't been around lately but when I'm on, I share real life over on snapchat. Come find me! Search for Squirrelly Minds. And I'll see what I can do about sharing some behind the scenes here once in a while.
Thank you once again!
Now onto the weekend. Mine is full of blog work, my final school course assignment, and report cards… not exciting at all.
In case you get some time to bake, here are five delicious looking recipes:
Maybe it's due to our talk of a UK 2018 trip, but I'm totally craving this Irish potato pie.
White chocolate dipped waffle cookies? Yes please!
No baking is actually required for this orange cardamom cheesecake!
I'm a sucker for anything lavender, including this Earl Grey Tea Cake with Lavender Swiss Meringue Buttercream. Say that 3 times fast.
I'll take 1 (or 2 or 3) Dairy Free Spiced Rosemary Sea Salt Brownies please!