Thank you Tiny Prints for helping customize my Christmas! Fear not friends, product was supplied but all writing, thoughts, opinions, etc belong solely to moi
Procrastinators fear not! You can get your personalized christmas cards, wrapping paper and gifts at your doorstep well before Christmas. Woohoo!
I seriously love
Tiny Prints
. No, I am not just saying that. There's so much to choose from and it's so great sending out personalized cards and gifts – and people are always amazing at the wrapping paper!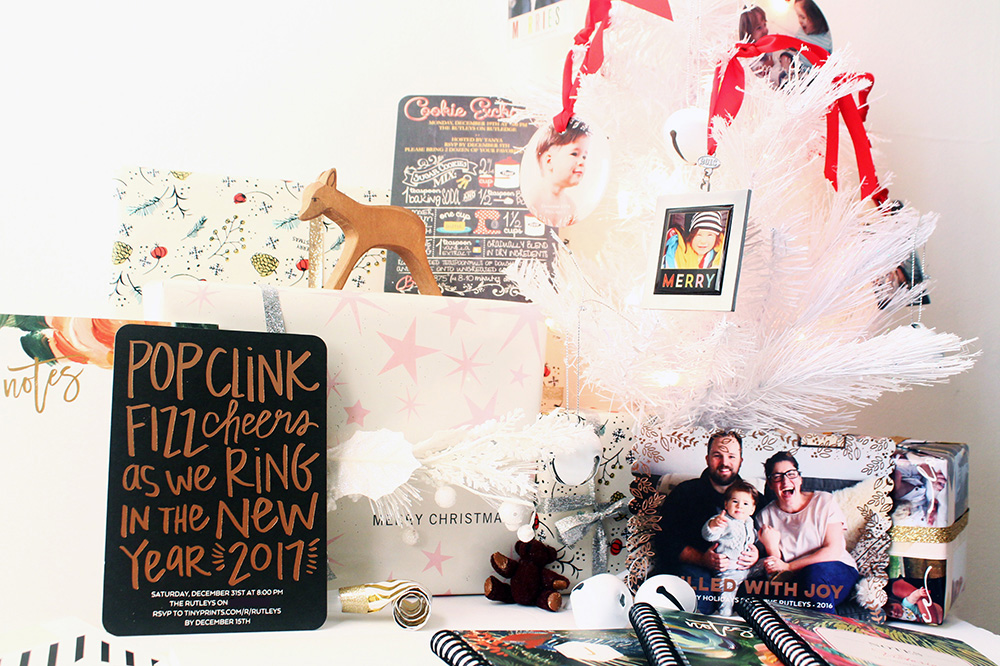 Come join me and check out all the goodies I got this holiday season. If you like florals, gold foil, and all things pretty, you'll wanna keep scrolling. Plus I give a couple tips on picking out your ornaments and more, cause everybody loves tips!
I love giving notebooks and notepads as gifts cause they're just so darn useful. To the melody of REM, "Every body writes sometimes". (the mister just called me a dork for writing that, but I don't care imma gonna own it).
If I know exactly who I'm gifting to, I like adding the recipients name for that extra personal touch. This year I'm going for a simple monogram for my sis and full name for my sis in law…gosh I hope they don't read this post).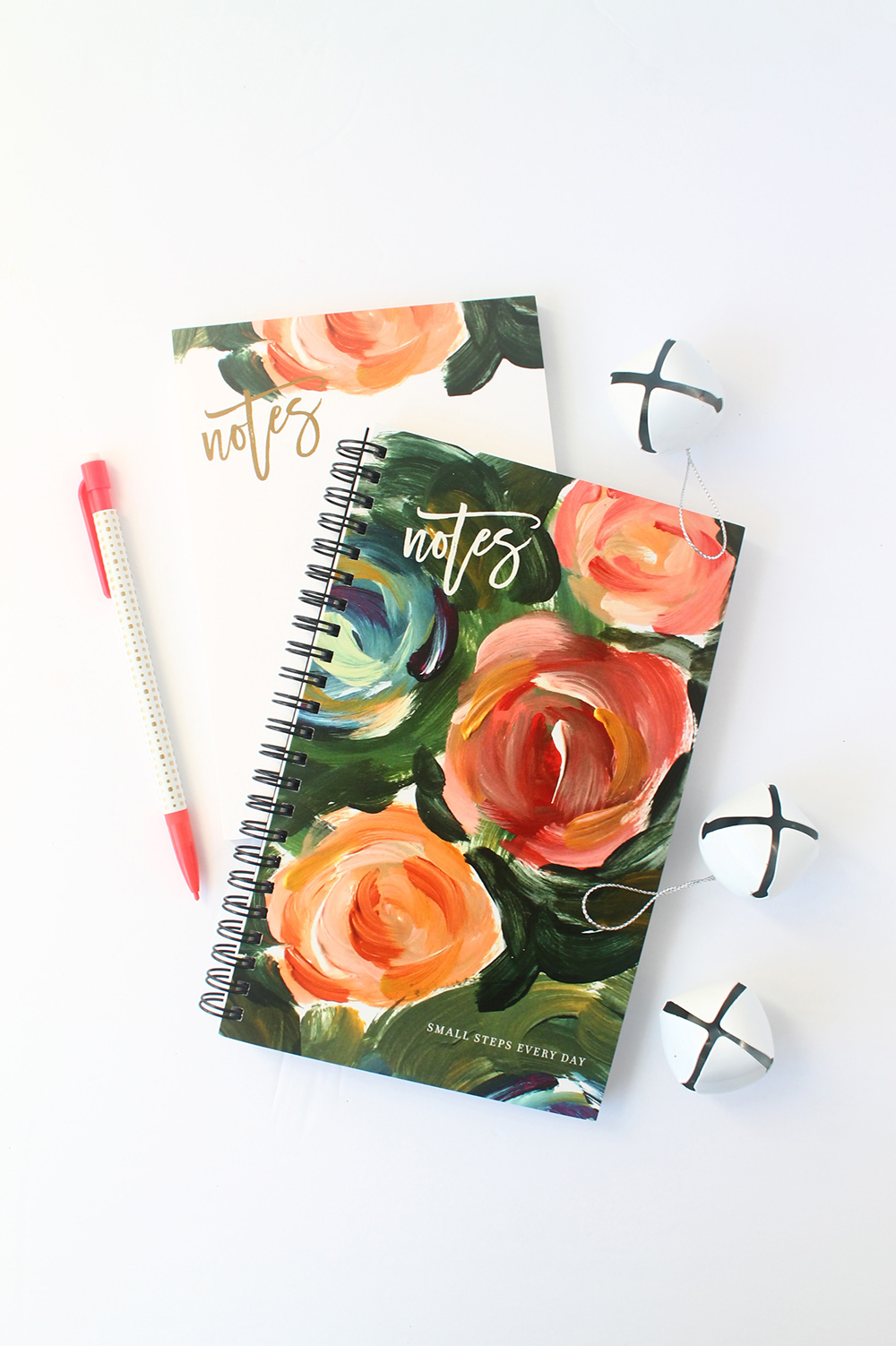 I also like having generic gifts for for hostess gifts or last minute additions, and so adding sayings to the notebooks and notepads is perfect. Notepads are built for making lists and crossing things off, so I added the quote "Today is the day" to this floral and gold effect notepad.
But guys, guys…..these matching painted rose notebook and notepad are TO DIE FOR. It comes in an entire stationery suite – serious christmas list addition.

Once upon a time my parents were the HARDEST people to buy for…until squirrelly babe came along. Now I just slap his photo on anything and it's the best gift ever. But these custom ornaments really are the best gifts ever.
I love how light shines through the glass ornaments, so I chose brightly lit photos for this round and this square one. If you want a solid, easier to see photo, then a zinc ornament is the way to go. For one of my favourite photos, I went with this square and this round ornament to see how the picture sat on each one.
Tip! When picking your ornament, really pay attention to where the picture gets cut off along the edges and ribbon hole. When ordering you can see where the hole is, but factor in extra space for the ribbon.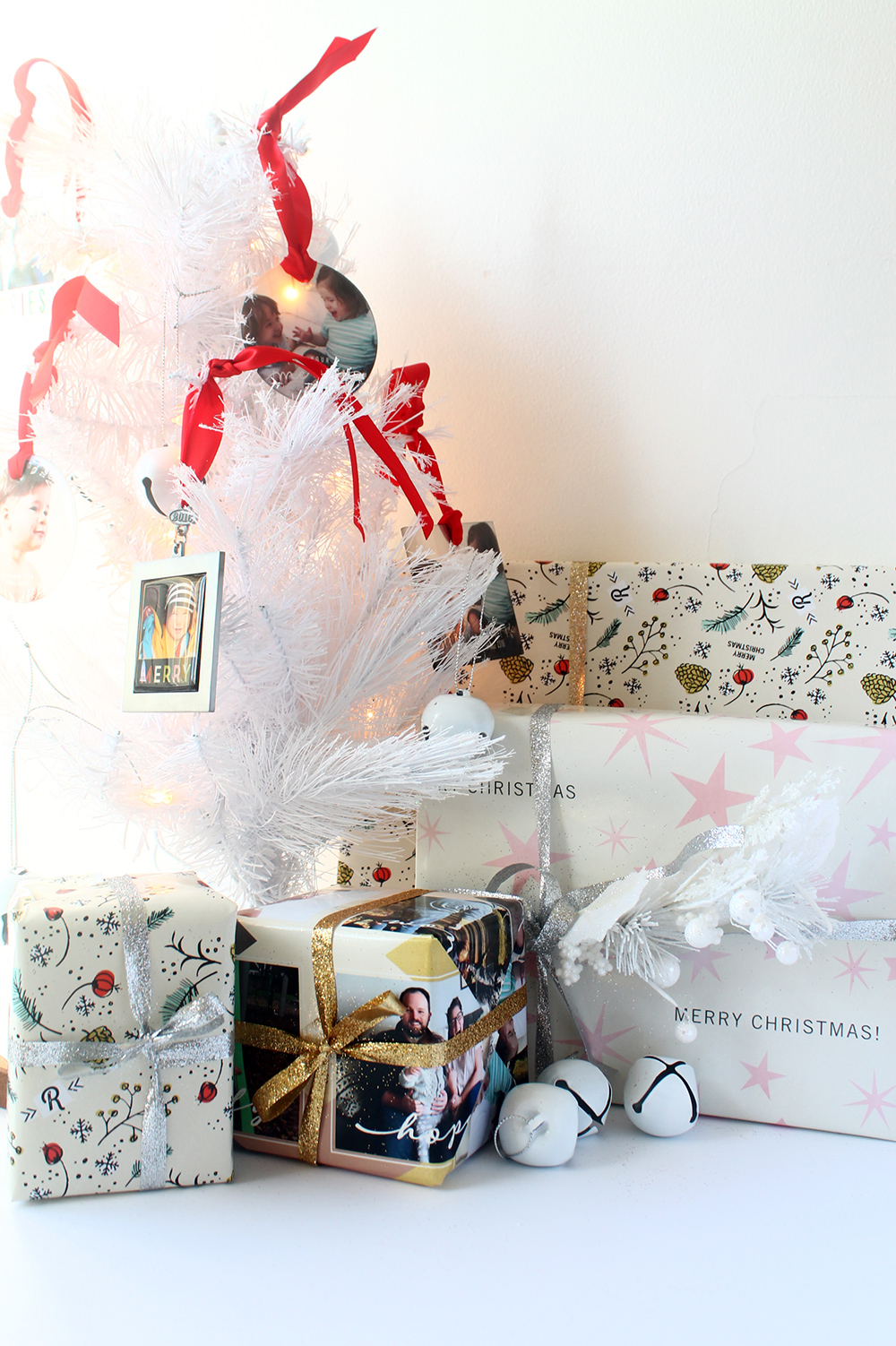 It's no secret I love invites and all things paper. Hello I have a stationery shop! So I am very picky about what I send out during the holiday season. Well, ya can't go wrong with foil can you?

I went for scalloped edging this year on our christmas cards and love the extra bit of charm. I couldn't resist these glamtastic (you heard me) new years party invites, and how fun are these cookie party invitations? For all of these I added printed envelopes (and of course fun liners) with my address already on them. Guys, it saves so much time.
Wrapping paper is always so much fun. I get compliments on it every year – especially the photo wrapping paper. No joke, last year my mom couldn't bear to rip it, so she neatly opened her gift, folded the paper and saved it. THAT'S the kind of impression you want to make with your wrapping paper!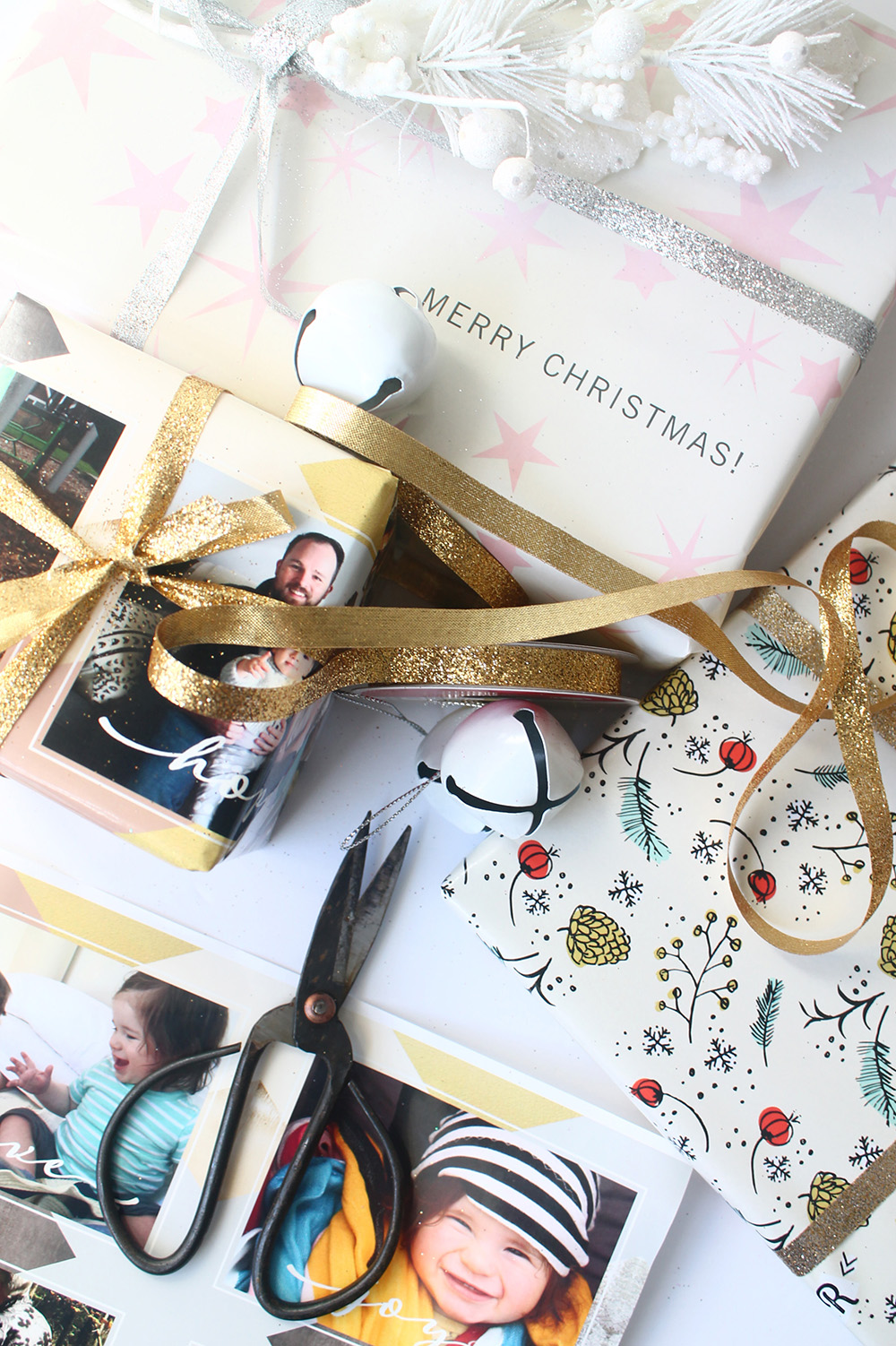 I loved the pink potpourri wrapping paper so much last year that I got it in a different colour again this year. The subtle monogram is ace. For photo wrapping paper I went with this one – be sure to use photos that have a similar feel/exposure in order to make the wrapping paper look cohesive. Lastly, I have a secret to tell you – my pink stars christmas wrapping paper isn't christmas wrapping paper at all. I found it in the birthday section, but instead of happy birthday I wrote Merry Christmas! BAM. I like working outside the categories.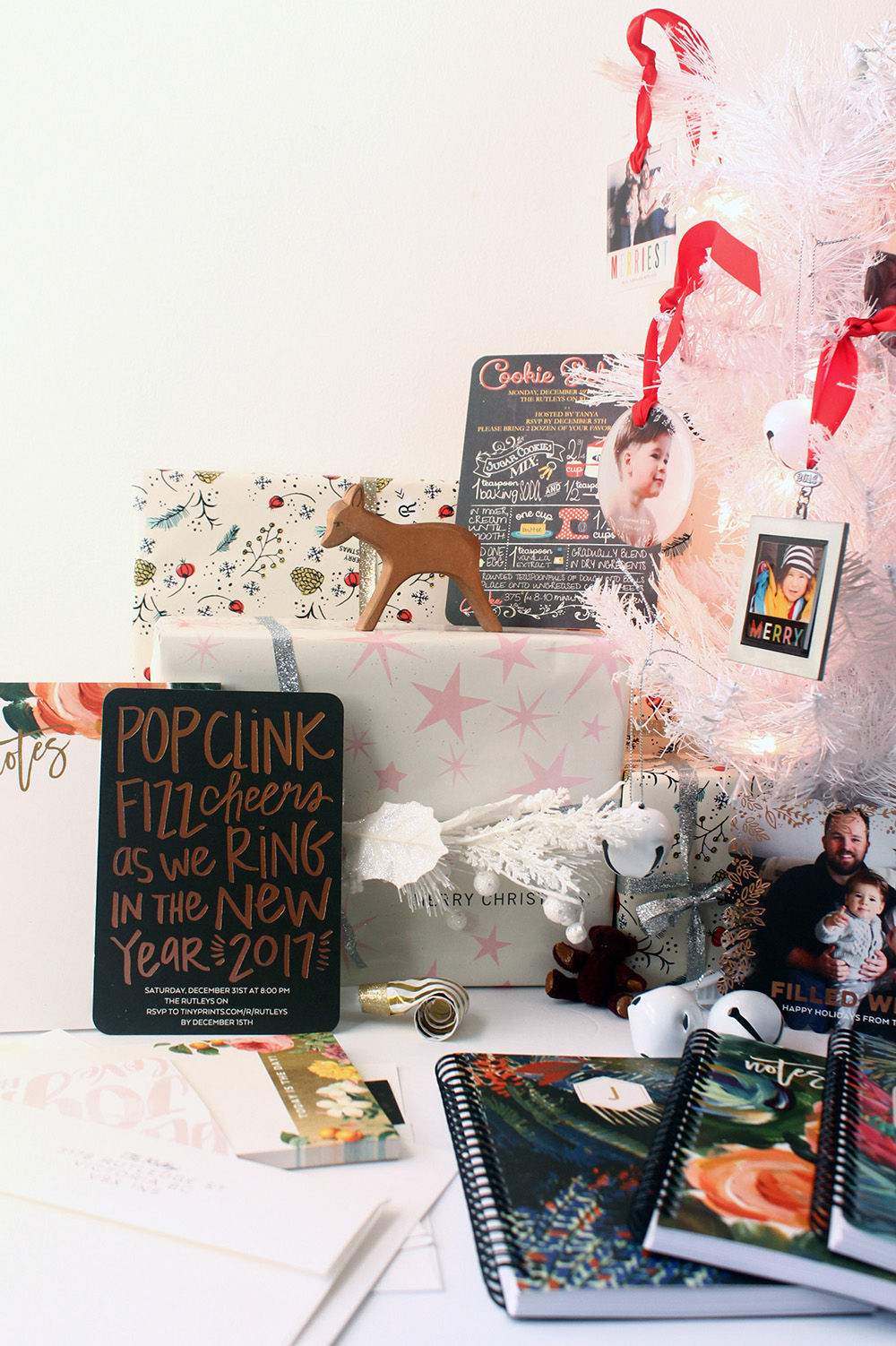 And there's my personalized Christmas!
Now hop on over to Tiny Prints and get started on your own!
xo