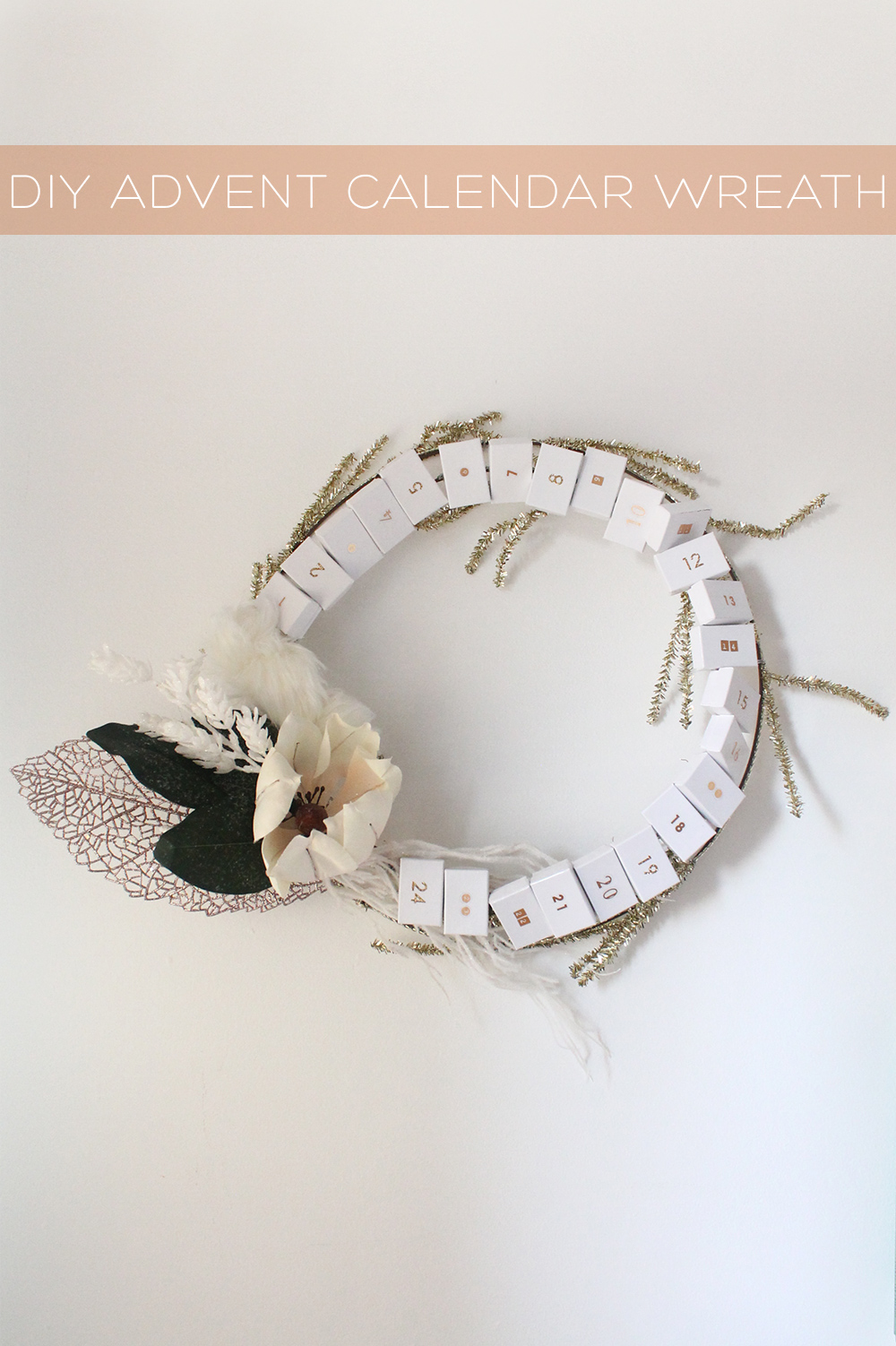 It's my favourite time of year – advent calendar season! This time we're taking a wreath and turning it into an advent, cause why not!? And because of 'why not', I went for sparkly gold, pink, white, and a little bit of fur – woohoo!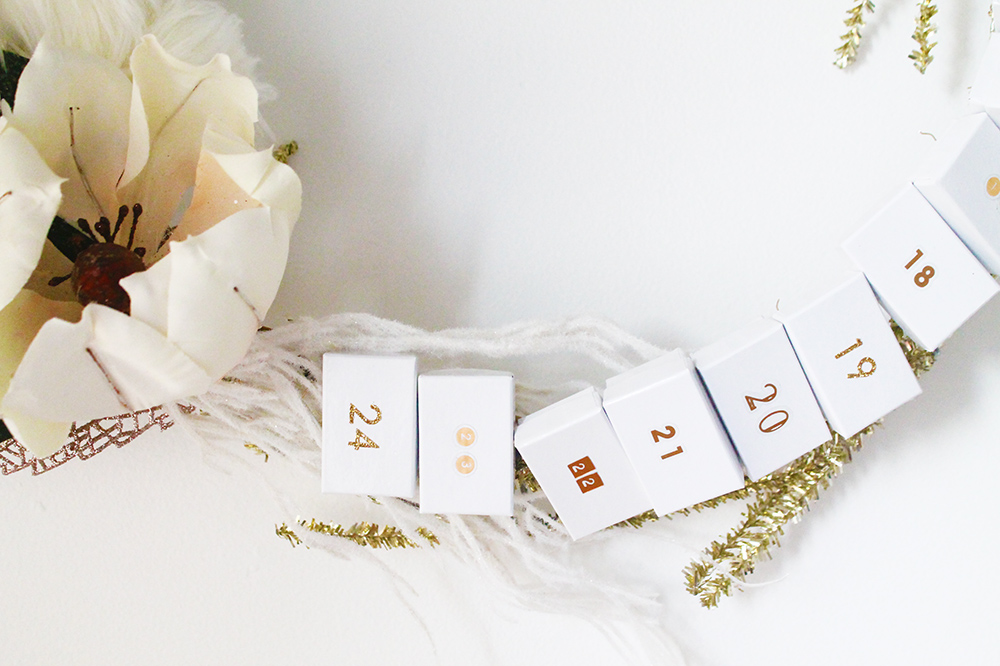 Using little gift boxes allows you to fill your advent calendar with whatever goodies you like – candy, chocolate, flairs, jewelry…ya know, whatever floats your boat. I went for candy, because seriously people, candy/chocolate is the way to go.
Materials
Wreath frame
Faux flowers, twigs, and other sparkly bits to decorate your wreath with
24 mini gift boxes
Gold floral wire
Number stickers
Exacto knife
Goodies to fill your boxes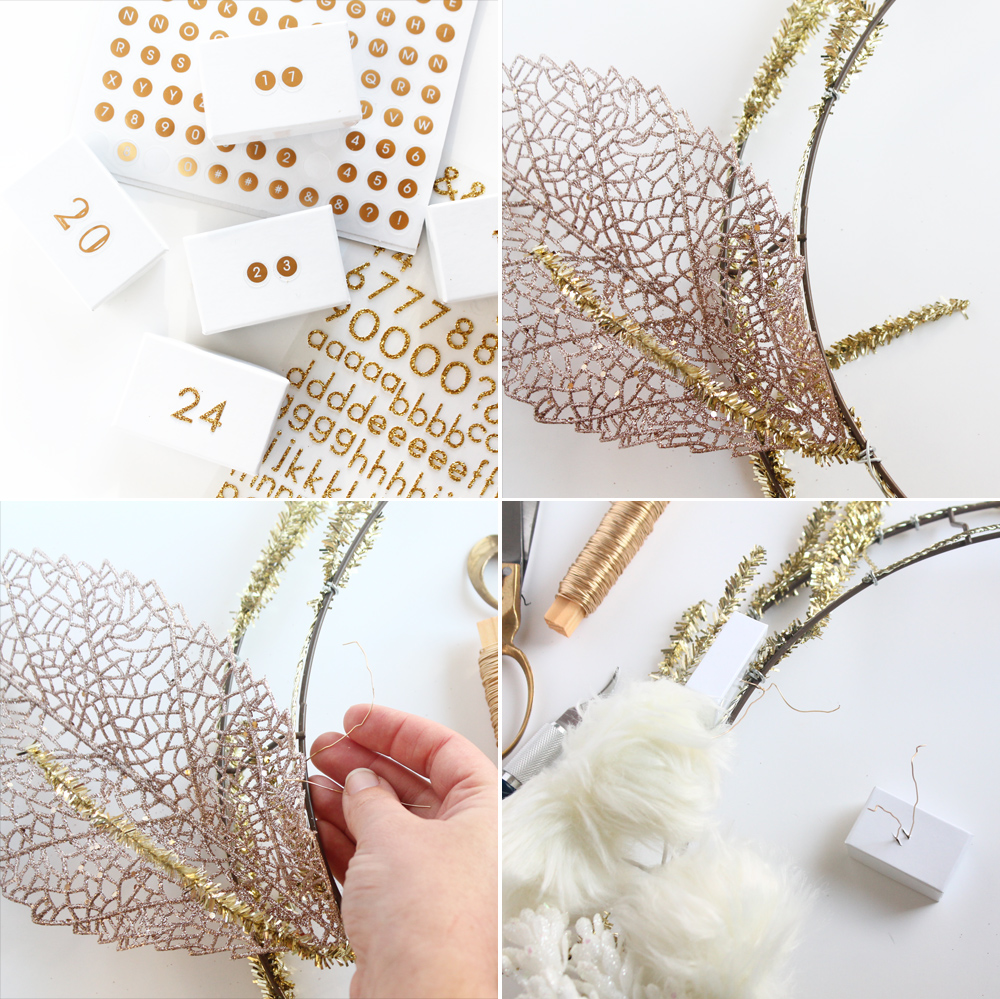 Steps
1 Apply number stickers to each of your boxes, 1-24.
2 Decorate your wreath frame. You can go for a sparkly girly version like mine, or traditional with green wreaths, pinecones and red ribbon.
3 Use floral wire to attach the decorations.
4 At the bottom of each box, use your exacto knife to make two punctures. Thread floral wire through each hole from the inside. Affix each box around the wreath by twisting the floral wire. Be sure to make it snug so the box won't move too much. You'll have to fidget with them a little to make them fit snugly. If you don't like them moving around on you then you may want to try hot gluing in addition to wiring. Lastly, fill your boxes with treats and place the lids on top. If they won't stay put you can tape them shut.
There you have it! Along with the wreath, you can customize the gift holders too – mini envelopes, mini ornaments with messages inside like this one, or if you're really ambitious, messages folded into origami stars.
Happy advent calendar making!
And in case you need more ideas, be sure to check last week's post and the DIY's below!
From The Christmas Archives