I love to throw a good party, that's no secret, and as much as I prefer to buy stuff around town, sometimes you just gotta turn to the interwebs. Now I gotta say, being Canadian is flipping awesome. I mean, we have beavers and beaver tails, health care, 12 month maternity leave, and a kick ass female olympian squad who has won all our medals to date this olympics. BUT, where we seriously (I mean SERIOUSLY) lack is in our interneting and shipping. Too often I'll go on a site, fill up my cart with awesome stuff expecting free shipping and then BLAMMO!!!!! I'm hit with $50+ bucks. Not to mention duty tax upon arrival. SO not cool. So, I try to shop as Canadian as possible, and wanted to share my resources with you.
Here you are my fellow beloved Canadians – the top 10 party shops shipping from the good 'ol True North.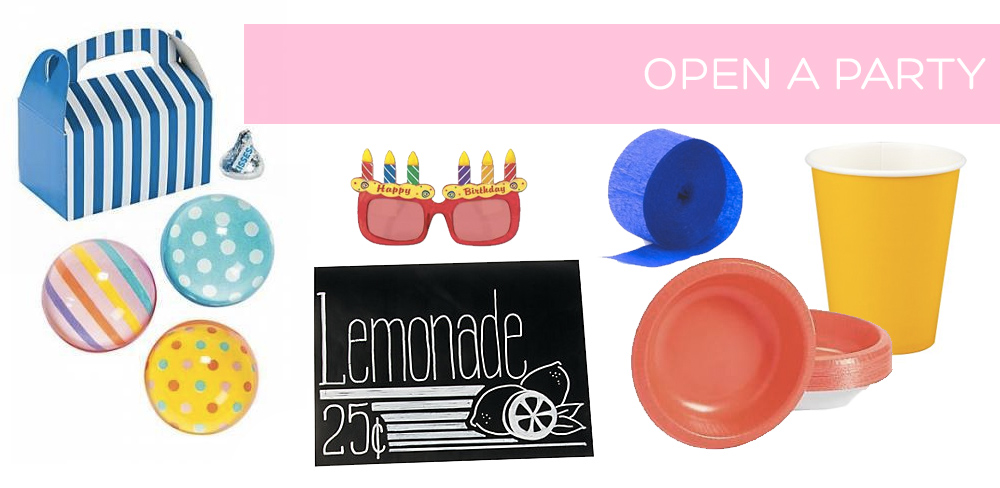 Open A Party – $ – If you have a theme, they have stuff, and at a darn good price. I bought the majority of items for squirrelly babe's taco themed birthday here, like this taco garland.
Party Stock – $ – A cute site with a variety of party materials that allows you to shop by colour and theme. They even have gifts like this sweet horizontal bar necklace.
Party City – $ – Mark this one down in your calendar, cause in addition to all your party needs (who wants to throw a luau party?), they have costumes GALORE.
Sugar Girlee – $$ – Emoji, hashtag, ice cream cones. If you need a fancy balloon, you'll find it here. I particularly love these confetti balloons.
Cheers n' Co – $$ – Insanely adorable balloons. I'm talking not one, but TWO different unicorns guys! Also, metallic gold and silver straws. You can't go wrong with that.
Under the Pom Tree – $$ – More balloons, straws, and garlands that are super cute and well priced. This photo backdrop in particular has me all heart eyes.
Yummy Party – $$ – Another Etsy shop with adorable and well priced confetti, garlands, and cake toppers. I'm a little emotional over this one (just one more month!).
Confetti and Co. – $$$ – Handmade garlands, gorgeous balloon frills, this amazing acrylic cake topper (hell yes eat cake!) and perfectly curated items for the chicest of parties.
Efhamar & Sienna – $$$ – A great collection of balloons, garlands, and these AMAZING fringe lanterns (sadly out of stock, le sigh).
GenWoo – $$$ – Garlands galore! GenWoo specializes in tissue fringe garland. Like seriously there's over a hundred different colour combinations. I especially love these bold colours.