While away with baby, the creative Steph of Make and Tell is here with a fantastic DIY for your home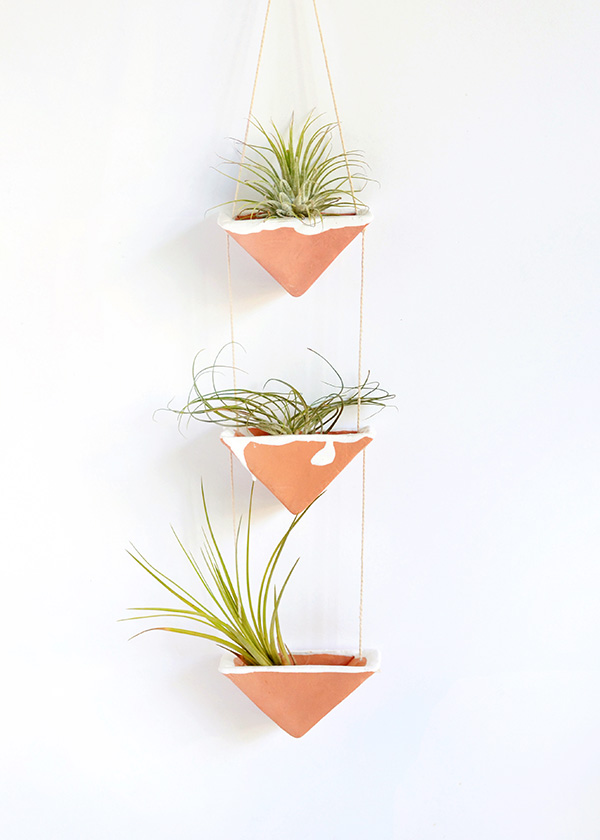 Hi guys, it's Steph here from Make and Tell – I'm so excited to be sharing a project on Squirrelly Minds today while Tan's spending some quality time with her squirrelly baby! For those who don't know me well, I love plants so much, but I have the world's worst brown thumb – to the point where it's practically impossible for me to keep anything alive except air plants!
Thankfully, these little guys are super forgiving, so I thought I'd buy myself a few more to deck out my home with and of course I just had to make a new planter to go with them right? 😉
Follow along below to make your own air plant wall hanging!
Materials
Terracotta air dry polymer clay
White acrylic paint
Ruler
Rolling pin or glass jar
Scalpel
Skewer
Large square cookie cutter
High gloss varnish
Twine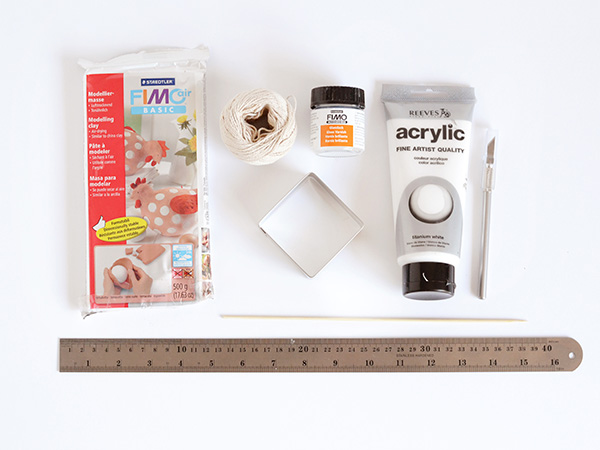 Step 1
Roll out your clay until it's around 3 to 5mm (0.2 inches) thick.  Then use your cookie cutter to cut a square out of your clay.
Step 2
Lay a ruler down diagonally across the middle of your clay square and cut the square into two triangles with your scalpel.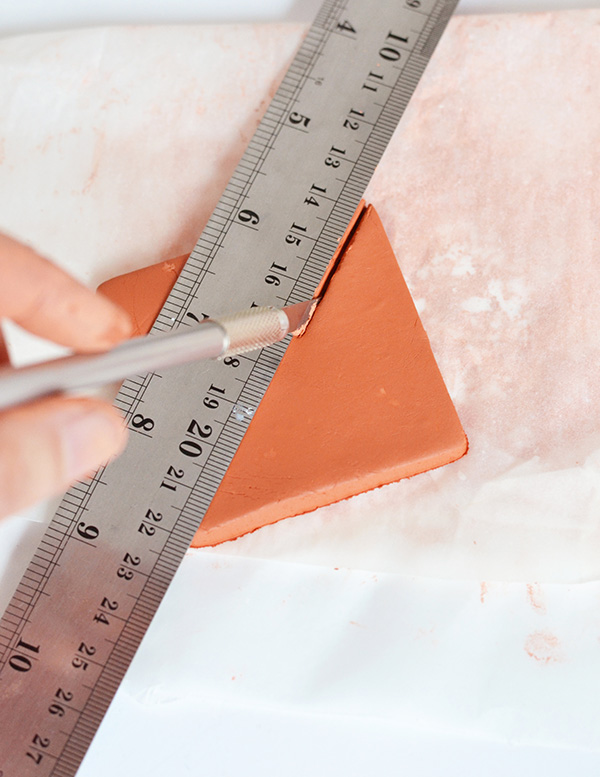 Step 3
Get some more clay and roll it into a log. Then using your rolling pin (or glass jar), flatten it to around 3 to 5mm thick.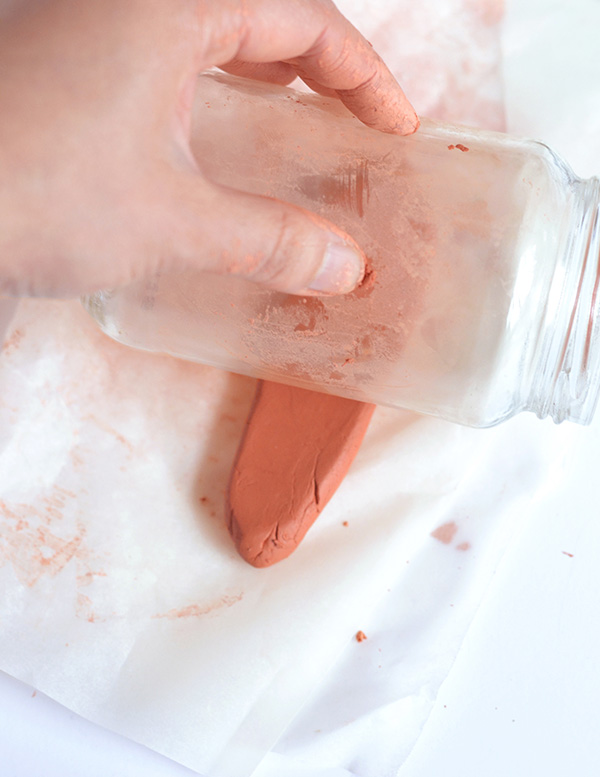 Once it's the right thickness, cut off the edges using your ruler and scalpel so you have a long clay rectangle. The rectangle should be the same length as your two triangles when laid side-by-side.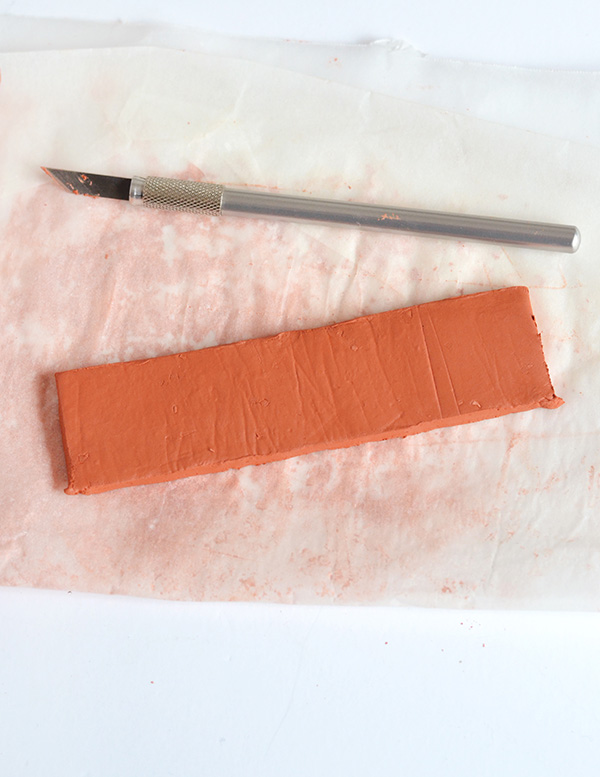 Step 4
Make little score marks in a cross hatch pattern on the edges of your rectangle. Do the same near edges of the two perpendicular sides of each triangle.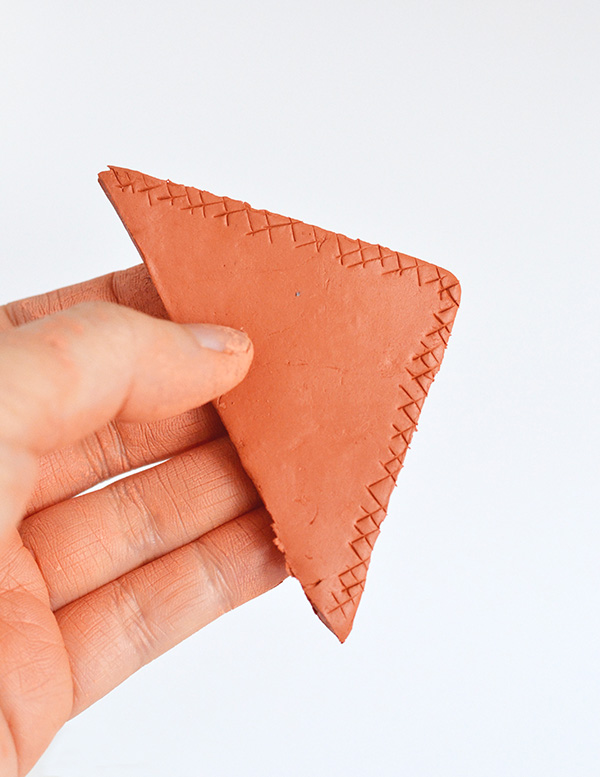 Step 5
Start putting your air plant holders together by firstly laying one triangle on the table (scored side up).
Fold the rectangle into a 'v' shape and place it on top of the triangle, on its edge. Then lay the final triangle (scored side down) on the top.
Mark a hole in each side of your air plant holder with a skewer.
Then smooth the pieces together with water, making sure the joins of your air plant holder are well sealed.
Step 6
Follow the manufacturer's instructions to set the clay. I used air dry clay, which required 24-48 hours of drying time, but if you've used regular polymer clay, you may have to bake it in the oven.
Once the clay is set and dry, feed a piece of string through the holes in your air plant holder, going in one side, across the middle and then out the other side. Tie knots to secure it in place.
Step 7
Mix some high gloss glaze with white acrylic paint. For three pots, the amount of acrylic paint I ended up using was around the size of a 50 cent piece (and I mixed that with an equivalent amount of varnish).
Step 8
Dip your air plant holders into the paint/varnish mixture to coat the tops. Once you're happy with the amount of paint on each one, use the string to hang them up somewhere to dry (make sure you place some paper underneath them so they can drip freely without making a mess on your floor!).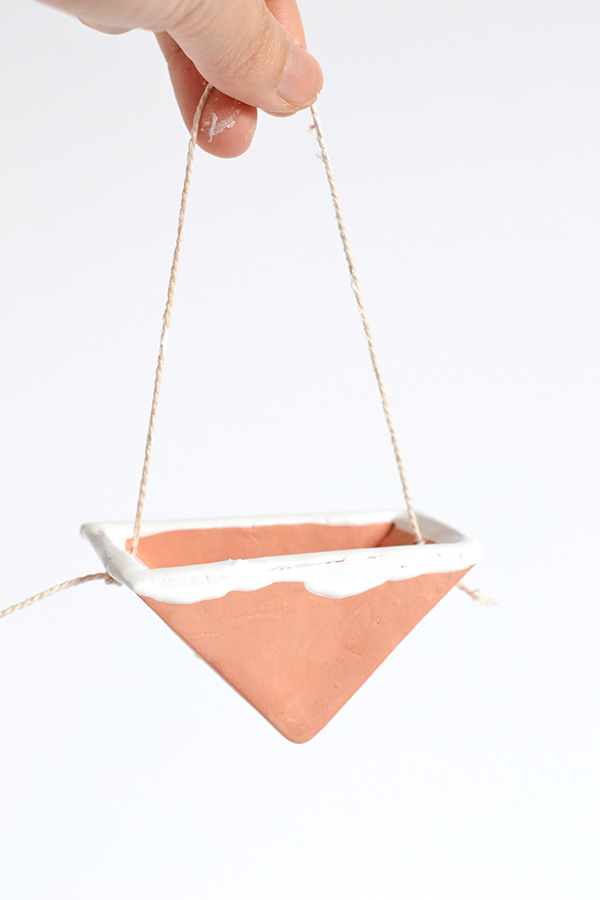 Step 9
Once the paint/varnish mixture has dried, cut off the strings you tied earlier (which will likely be gross and covered in paint).
Line up your air plant holders one above the other and lay out the amount of twine you'll need to join them all together.
Step 10
Cut your twine to size and then begin threading it through the holes in your air plant holders. Tie a knot below the hole in the bottom one, then work your way up to the next air plant holder, tying knots as you go for each one to rest on when they're hanging.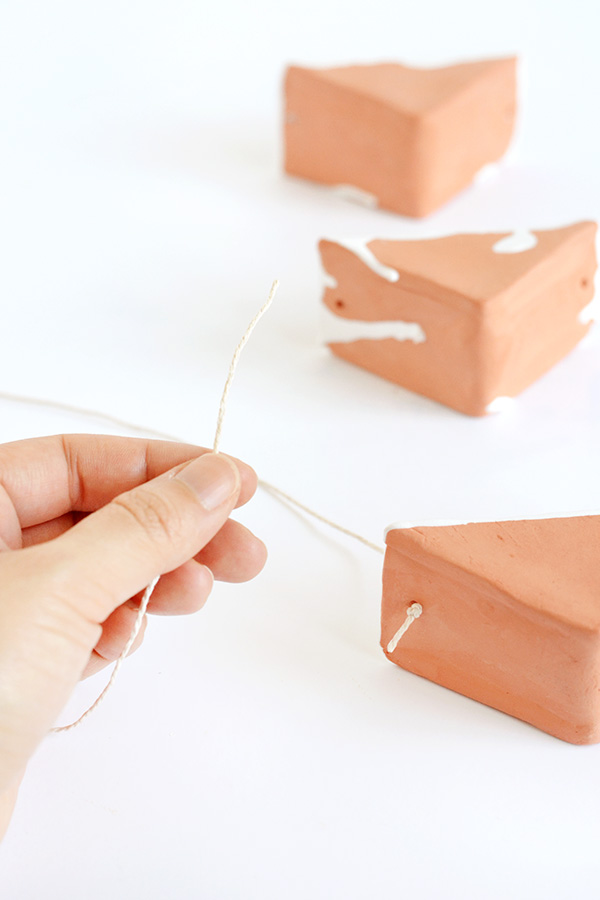 Once you've worked your way up through each of the holders, leave a good amount of twine for them to hang by, then make your way back down through the holes in the other side, tying knots as you go.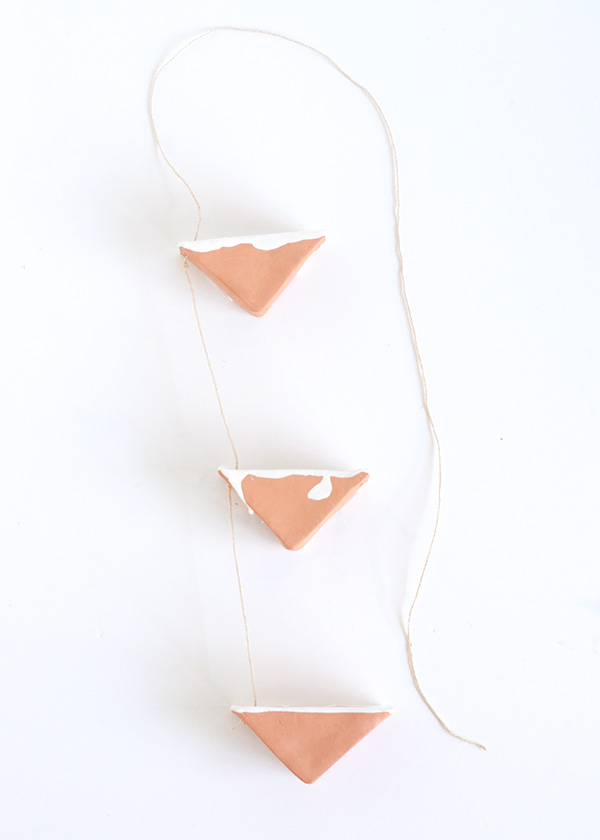 Once you've worked your way back down to the bottom air plant holder, tie the last knot and snip off the excess.
And that's it, your air plant holders are now ready to hang up!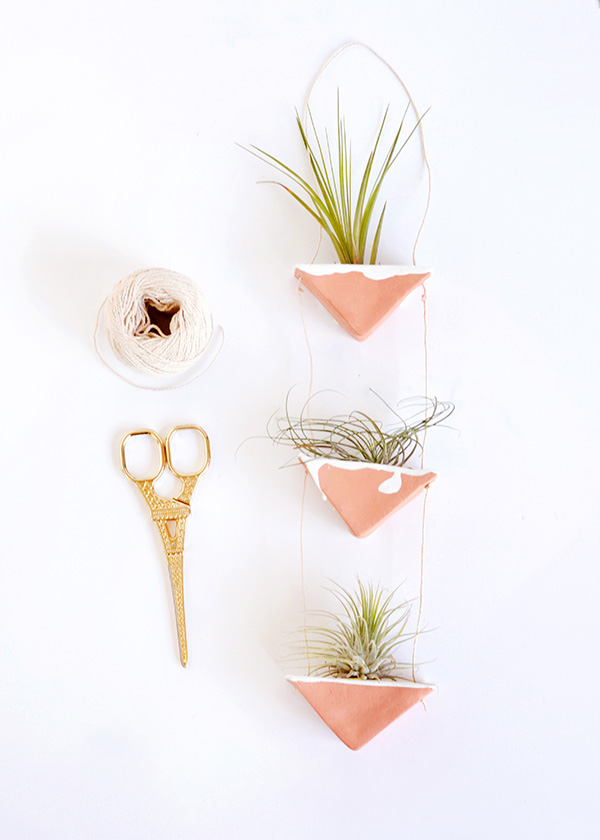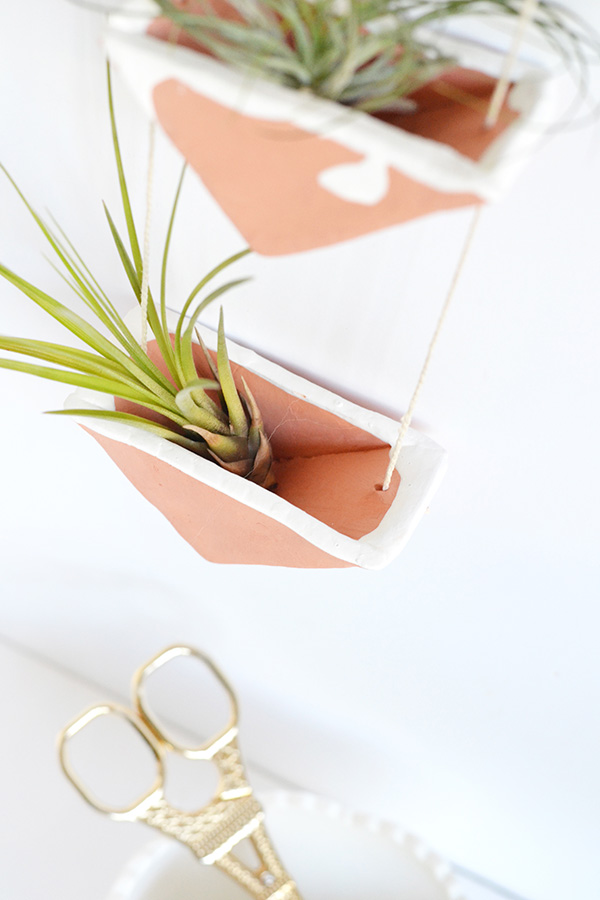 The great thing about these little holders is that you don't have to stick with terracotta if that's not your thing – you can make these any colour you like! Try experimenting with various techniques like leaving them a minimal white, or marbling black and white clay, or painting on stripes, dashes or spots for a completely different look.
Head over to Make and Tell for more great ideas, and follow Stephanie on
Pinterest | Instagram | Facebook