I know, I've been promising it for months now, but today is the day! It took me ages to reveal our kitchen because it's not exactly what I want. The hideous tile backsplash still graces the sink area, and one counter is still green 'marble'. But considering we had to do this makeover on the super cheap, it'll do for now. Just how cheap? Under $400! Friends, welcome to our on-the-cheap copper and white kitchen.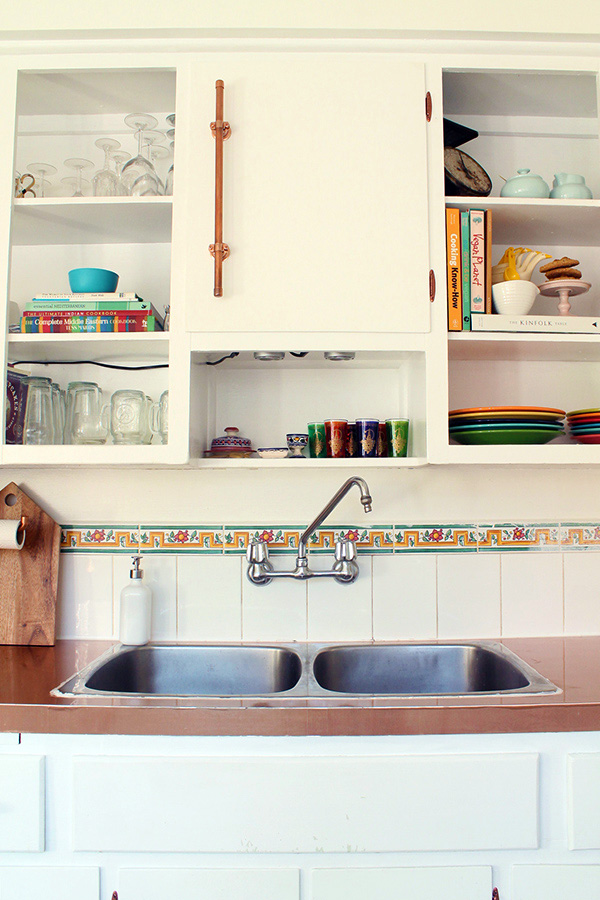 This makeover is meant to tie us over until we have enough funds to completely overhaul the space. I have to say, putting in the 'counters' made a world of difference. Ever since we got rid of all that hideous green 'marble', and painted the walls from the 'banana split puke' that covered the entire house to a crisp white, I've felt much better about the space. Care to see what we lived with for months beforehand? I warn you, it's not pretty.

These photos were taken during our walk through, so apologies for the horrible quality. But they really do give you an idea of just how awful the kitchen was. Some things we changed immediately (the hideous lights above the kitchen sink) and others were recent changes such as the fan we got last month.
How did we keep our kitchen makeover super cheap? We avoided having to buy three kitchen large ticket items – flooring, cabinets, and counters. The flooring we kept the same, but the other two we reused and re-beautified what we already had. It was a ton of work, but well worth the hours.
Cabinets
For the sink area, we wanted it to have an open feeling, so we left four cabinets off to create open shelving. This was great as it resulted in less work.
We kept our original cabinets, but sanded them down, filled in the holes from the old hardware, and painted them all white.
For the drawers and a few key cabinets, we made our own handles with copper piping, an idea I first saw at Upcycled Treasures. A warning: The longer handles with two anchors work perfectly. However, we had a lot of trouble with the smaller drawer pulls (see oven photo below). The part that holds it together keeps distorting and the rods keep falling off, so we have to pull from the bell hanger rather than the rods. A few we've just given up on and just use bell hangers as the pulling mechanism, as you'll see on the top left drawer beside the oven.


Hinges
We originally were going to buy new hinges as we figured 'hey they're cheap'. But there's a lot of them when you're dealing with kitchen cabinets, and at $4 a pop that adds up quick. So instead we decided to use what we had, but didn't want the stark black colour to disrupt the look. So we picked up a copper leaf pen and painted all the cabinet hinges to match with the copper in the room. It worked perfectly.

Counters
This is what really made a huge difference in the kitchen. I couldn't stand those hideous 1980's countertops and wanted to get rid of them entirely and replace them with butcher block. However, since we plan to completely reconfigure the space in the future, we knew that would be a waste of money. So instead I turned to pinterest for ideas and found a video of someone who recovered their bathroom counter with granite contact paper. I figured hey, copper contact paper is a thing – let's do this!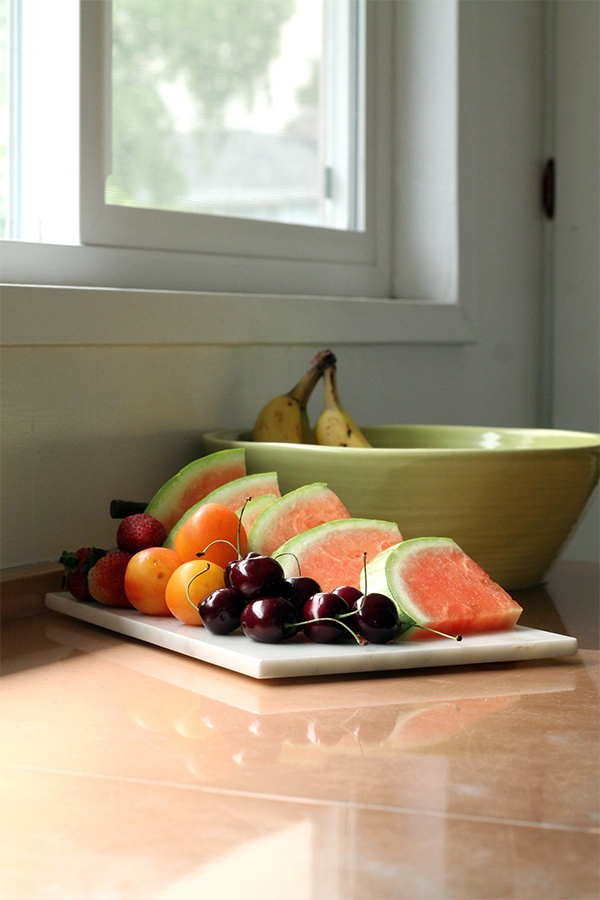 It was a lot easier than I expected. We followed the tutorial in the above video and were pretty successful. The trickiest part was getting it cut properly around the sink. We didn't do that great a job measuring around, but the mister applied white cocking around the sink to give it a clean finish and hide our mistakes. Plus it helps to seal in the contact paper, preventing any water from seeping underneath.
We're careful with our counters, making sure not to cut on them and to wipe up any spills so they don't get in between the cracks. Even so, we thought it might last us about 6 months. We're on about month 8 and, while you can see some nicks and scratches up close, it still looks really good.
As you can see, we didn't cover the back counter (which used to be an old 1980's style 'office' area, hence the space for a chair). To save money we intended to just paint it with left over paint from the dining room. Yeah we never got around to that. But it sits a little separate from the kitchen so it's easier to ignore.
I really wanted to put in a hanging garden or fun shelves on this big wall, but it back onto the chimney so we'd be drilling into concrete. I didn't want to mess with that so instead I taped up my perpetual harvest prints. It adds a lot of colour to the space and is a good reminder to get outside and garden!
Oh, and in case you're wondering, we didn't forget to paint the wall under the counter 'desk'. We left it uncovered because we liked the bright teal the kitchen used to be, and it's a fun reminder of all the hideous wallpaper we removed from the space and the adjoining dining room. We stand there looking at that space and often say "Oh man…do you remember what this kitchen/dining room used to look like?"

So just how much did we spend on our kitchen makeover?
Copper leaf pen: $20
Paint: $50
Overhead sink lighting: $30
Ceiling Fan: $80
Copper contact paper: $100
Copper piping and accessories: $100
Total: $380
Yep, a complete kitchen makeover IS possible on the super cheap. Sure, our flooring is still blah and that tile backsplash makes me cringe every time I do dishes, but why spend thousands of dollars when you only need to spend a few hundred? Especially if it's only meant to last a year, or two….or three. We'll see when we get our butts into gear to redo the kitchen properly.
Want to get the look with an easy project? Try out the DIY Suspended Copper Pipe Paper Towel Holder

What colours/metals are in your dream kitchen?