Last week I showed you how we made our suspended copper pipe paper towel holder.
I also promised that I would reveal our white and copper kitchen this week.
Sorry friends but this past weekend has been nutso.
I did post a pic on instagram ages ago (40 weeks!) when we first installed the copper countertops.
Why has it taken me 40 weeks to feel comfortable enough to show you the kitchen? Because it's not exactly what I want. We haven't swapped out that nasty backsplash tile (and don't have time now) and there are certainly imperfections all over the place. So I decided to stop delaying and show you already. Okay, so I'm delaying one more week. Stay tuned folks!
At any rate, I didn't want to completely disappoint you, so I scoured the webs for my favourite copper DIY's. Seriously, I might have to add some of these to our kitchen decor.
Here are my top 10 Copper Pipe DIY's:
Copper + Wood Paper Towel Holder from Almost Makes Perfect
If we weren't looking to conserve counter space, we would have made this gorgeous copper and wood paper towel holder.
Magazine Rack from from Zana
Sadly copper doesn't fit into our living room, otherwise I'd be making this in a heartbeat! I have asked the mister repeatedly if there is gold piping. Sadly no. Although spray paint is always an option…
Copper and Wood Bookshelf from Treasures and Travels
I just love the simplicity of these shelves. Uh oh…I may have to delay our kitchen reveal – I just thought of the perfect place to put this!
Copper pipe drawer pulls from Upcycled Treasures
This is where we got the idea to add copper pipe drawer pulls to our cabinets, and I love them!
Copper and Wood Plant Stand from Our Humble Abode
I love the simplicity of this plant holder and the combination of a light wood with the copper. It has a definite Scandinavian feel.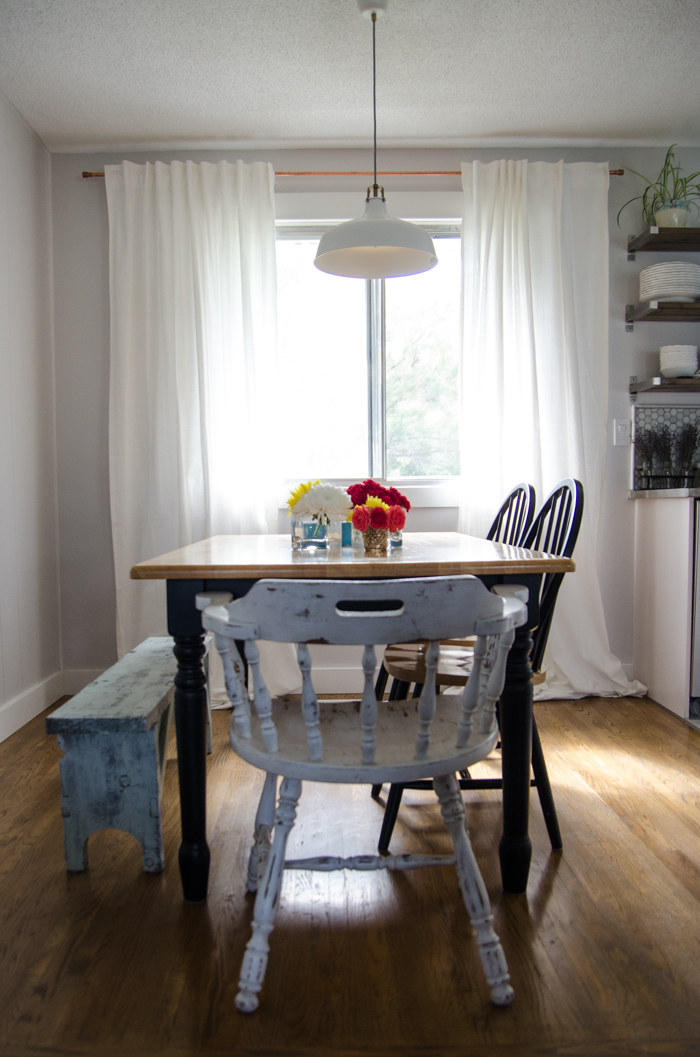 Copper Pipe Curtain Rods from Lemon Thistle
I originally planned to do this for our kitchen window, but we decided we liked the light coming in too much and left it open. For now…
Himmeli Side Table from Brittany Makes
This table is just too cool and would look so great in any living room. Well except ours as copper and gold clash.
iPad Holder from A Bubbly Life
I hate trying to cook a recipe from an ipad and have it lying in the middle of the counter among all the flour and other ingredients. This iPad holder is so perfect.
Copper Pipe Wall Sconce from Camille Styles
I'm trying to figure out where I can make this work…
Copper Pipe Shoe Rack from Fresh Crush
Such a great idea for a shoe rack. It would work great in a closet, or it's pretty enough to be out in the hallway.
Have you tried out any copper pipe diy's?