One thing we enjoyed most about our Moroccan honeymoon was the food. Moroccan cuisine is bursting with spices and unexpected flavours such as pastilla, a ground pigeon or chicken filled pastry topped with icing sugar (it's delicious).
The most ubiquitous dish is chicken with preserved lemons and olives cooked in a tagine. Sadly Ryan doesn't like olives (crazy right?) but we still make this dish at least once a month, just with dates instead.
While it takes a while to cook, the dish itself is quite simple and ingredients can easily be swapped and added to your taste. Preserved lemon is what really gives this dish its unique flavour, but you can use fresh lemon if you don't have any preserved ones on hand (or don't want to wait 4-6 weeks for them to be ready).
Ingredients
Serves: 4
3-4 pounds of chicken thighs and legs. If you prefer you can use chicken breast, but it isn't the real thing
1 red onion, chopped
3 cloves garlic, minced
1 teaspoon ginger, grated
1 preserved lemon. Separate pulp from rind. Cut rind into thin strips.
1/2 cup dates, pitted
1 cup green olives, pitted (optional)
1/4 cup fresh cilantro, chopped
1/4 cup fresh flat-leaf parsley, chopped
1/2 a lime, juiced
2 teaspoons paprika
1 teaspoon ground cumin
1 teaspoon turmeric
1/2 teaspoon cinnamon
1/4 teaspoon freshly ground pepper
1 teaspoon powdered saffron and a pinch of saffron threads (if you have it)
4 Tbsp olive oil
Salt to taste (more if you use fresh lemons)
1/4-1/2 cup water*
Don't let the ingredients list scare you, this dish is far easier to make than it looks.
With the exception of the last one, all these photos were taken during our cooking class in Marrakesh. This recipe is the real deal folks.
Method
Prep Time: 20 minutes
Cook Time: 1 hour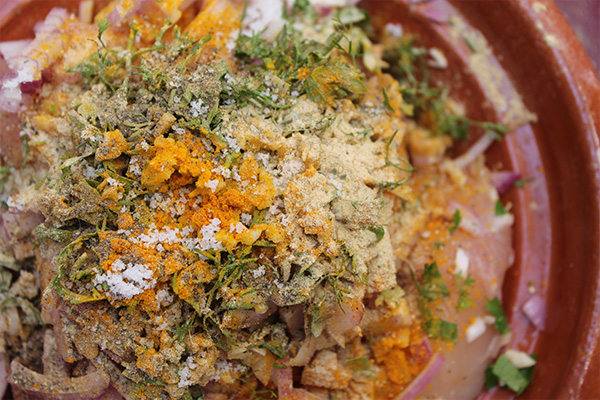 Prepare all the ingredients that need to be chopped in advance.
In the bottom of your tagine, place your chicken first. Top this with onion, garlic, ginger, and lemon pulp (save rinds for later). If you are using fresh lemon add all the thin slices now.
Continue to pile on all the ingredients and spices listed and finish off with a healthy douse of olive oil, making sure to cover all the ingredients.
Add salt to taste but be warned – if you are using preserved lemons only a pinch will do as they are already very salty. If you're using fresh lemons go for a teaspoon or more.
Cover your tagine with the lid and cook over medium heat on the stove. If you do not have a tagine, you can use a thick-bottomed, large skillet with a cover.
*If using a skillet, add 1/2 cup water to your chicken halfway through cooking. If using a tagine just add 1/4 cup. Prop the lid open just slightly and let it simmer.
With 10 minutes left to go, scatter lemon rinds to your dish. Cover and allow it to continue cooking until done, approximately one hour.
Serve hot over couscous, rice or quinoa.

If you love Moroccan food I highly suggest you invest in a good tagine. You can certainly make this dish in a skillet but it just won't be the same. From wikipedia: "The domed or cone-shaped lid of the tagine traps steam and returns the condensed liquid to the pot, a minimal amount of water is needed to cook meats and vegetables to buttery-tenderness."
Plus tagine pots just look pretty.
Moroccan and Korean are hands down my favourite cuisine
I've had while travelling. What's yours?