I love the option of printing right on to pre made bags. It always looks great, when you get it right. I don't know if it's me or my printer but I always have a hard time with this. So instead I decided to make a printable 'assemble yourself bag' for your valentines treats.
Simple materials. You can print the bag layout right onto normal paper. The parchment paper is optional but it helps to keep grease off the bag.
Steps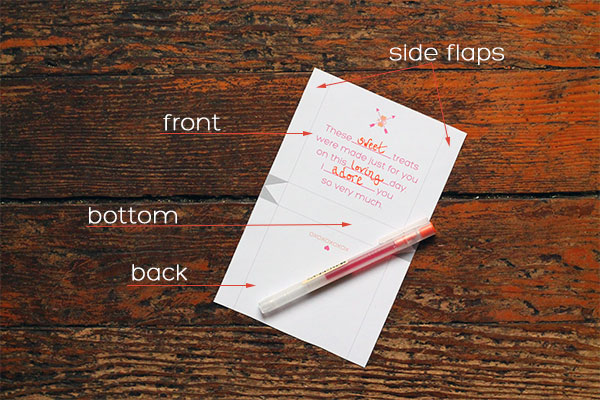 Except for the part about taping on the parchment paper, all steps are written right on the printable. A note about the parchment, make sure you put the tape inside the fold lines as pictured above. As for those little triangle bits, you can cut them off, tuck them in or tape them up to the side.
download here
Sweet hey? And so are the treats inside. Curious what they are and how to make them? Come back on Monday for the recipe.
FYI regarding printables, last month I made a New Years Poster for you to print out. This month it's this sweet treat bag. Every month on the first day I will offer you a free printable, because I like to make and I like to give. Isn't that the best pairing ever? I originally said the first Thursday but I prefer the first day!)
One thing I love about these bags is that they're customizable. With adjectives like "delicious" "beautiful" and "love", you can write anything to make them as fun, sweet or loving as you'd like.
What would you write on your treat bag?