When it comes to my 18 kindergarten students, I'm ready for father's day. Sentimental gifts are neatly wrapped up and sent home with darling little cards. When it comes to my own fathers day plans? I'm a tad behind (eek!).
Don't worry though cause I've got you covered with this white space letters DIY for kids and adults and free cards for you to download.
I originally was going to fold those shirt and tie cards by Marth Stewart. When I couldn't figure it out in one minute I, being the resourceful teacher I am, just made up my own craft. If I can make this father's day card with 18 kids, you can do it with your 1, 2 or handful 😉
You will need:
– Card Stock
– Plain Paper
– Paint
– Masking Tape
– Paint Brush
– Scissors
– Glue


Step #1: Adult: Cut out your card stock and a plain white piece of paper to fit on top with about a 1cm margin. Using masking tape, tape out the word 'dad' on the paper.
Step #2: Kids: Paint all over the paper, making sure it covers up all the white. You can use one bright colour or mix colours for a tie dye effect. Allow it to dry.
Step #3: Adult: When dry, carefully peel off the masking tape.
Step #4: Kids: Glue the paper onto your card. Write a lovely message to dad inside!
There you have it!
And for those of you strapped for time and/or cash here are three free father's day cards to download and print! It's my first time offering free downloads. I hope you enjoy them!
Just click below to download the pdf, print onto card stock, cut fold and sign away.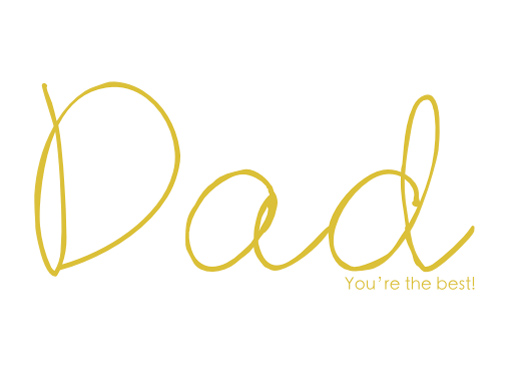 Download
Card #1 / Card #2 / Card #3



Wishing you all a very lovely father's day with the
very special man who raised you.