I'm one of those weirdos who LOVES blossom flavours. Lavender? GIMME. Rose? Yes please! No flower tastes too soapy to me, and that includes crabapple blossoms. So of course, when our beautiful tree was in bloom, I had to turn it into crabapple blossom simple syrup. And it's just that – simple.
You could use other edible fruit blossoms as well – apple, pear, and cherry are all great options, but I absolutely love the colour of these crabapple blossoms. It's best to pick the blossoms when they are still loosely closed or just opened as this is when the colour is deepest. The longer they're open, the paler they turn, so picking them early means you get that rich magenta colour in the syrup.
I like to add simple syrup to carbonated water (as pictured), maybe with a splash of gin. I've also used it as a cake soak, thought sadly none of the flavour came out. You could drizzle it on vanilla ice cream or fruit too!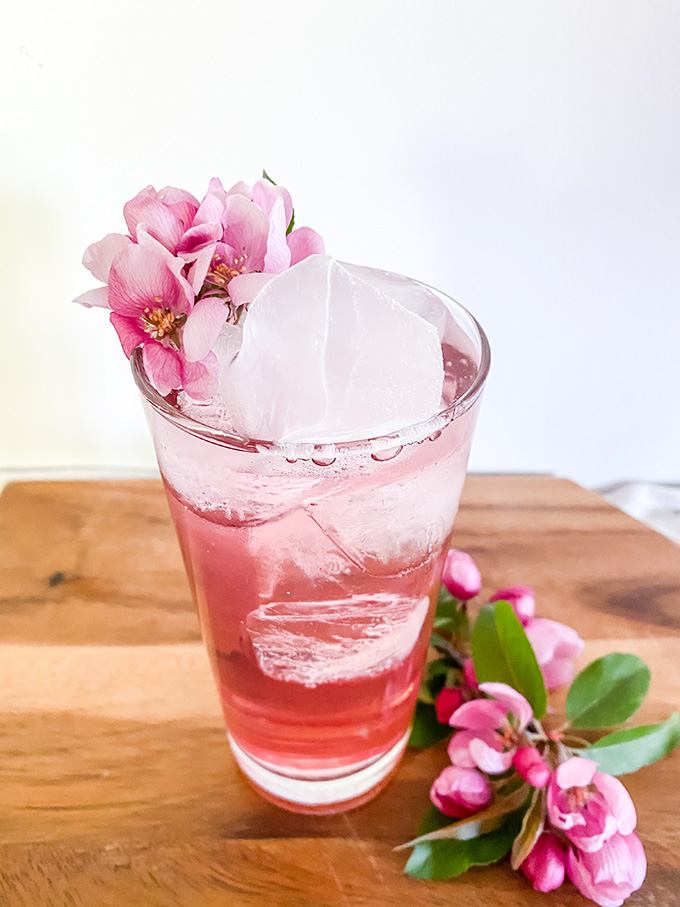 Simple syrups are a super easy ratio to remember – 1:1. 1 part liquid, 1 part sugar. Here's how to make it:

Crabapple Blossom Simple Syrup
Ingredients
Crabapple blossoms (I filled a 1L jar)
Boiling water
Sugar
Materials: Sieve or cheese cloth, jar, funnel
Instructions
First pick your blossoms off the branches and place in a jar. Warning: inch worms love these blossoms, so you'll want to inspect them to make sure you don't have any hitchhikers
Pour boiling water in the jar, enough to cover the blossoms. Stir and let sit for 2-4 hours to make your blossom tea
Grab a new jar (or a large pyrex measuring cup with measurement markers) and pour the steeped blossoms in over a sieve or cheesecloth to strain out the petals .
Measure how much blossom tea you have and prepare an equal amount of sugar (or just a tad lower if you prefer).
Over medium heat, add sugar and blossom tea to a pot and stir continuously. Keep stirring until all the sugar has dissolved.
Let the simple syrup cool, then use a funnel to transfer it to a jar. Store in the fridge.
Add 1tbsp to your favourite carbonated beverages!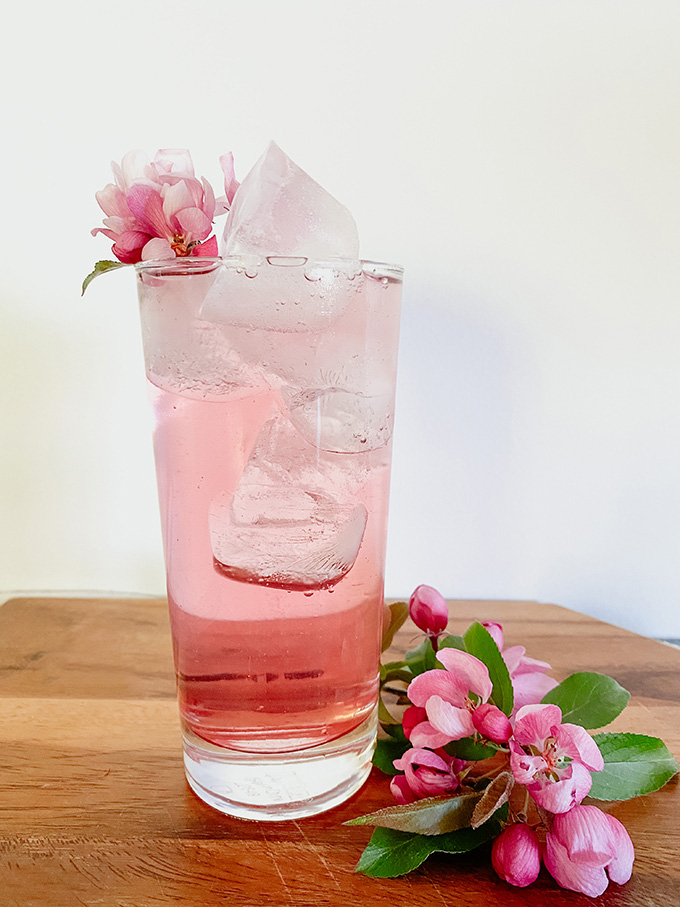 Head over to instagram to watch a reel of the process, and to see the beautiful deep pink colour of the syrup!