This post is sponsored by Mixbook. All opinions remain my own.
Thank you for supporting those who keep Squirrelly Minds running!
Well hello there stranger! If you hang out with me over on instagram (yep that's pretty well the best place to get any sort of updates from me), you'll know that I've been away for an intense course and therefore have had no time for anything internets. Until today! I'm so excited to finally bring you this super fun hand free lettered printable that looks absolutely perfect in acrylic. Like seriously, I'm insanely happy with these.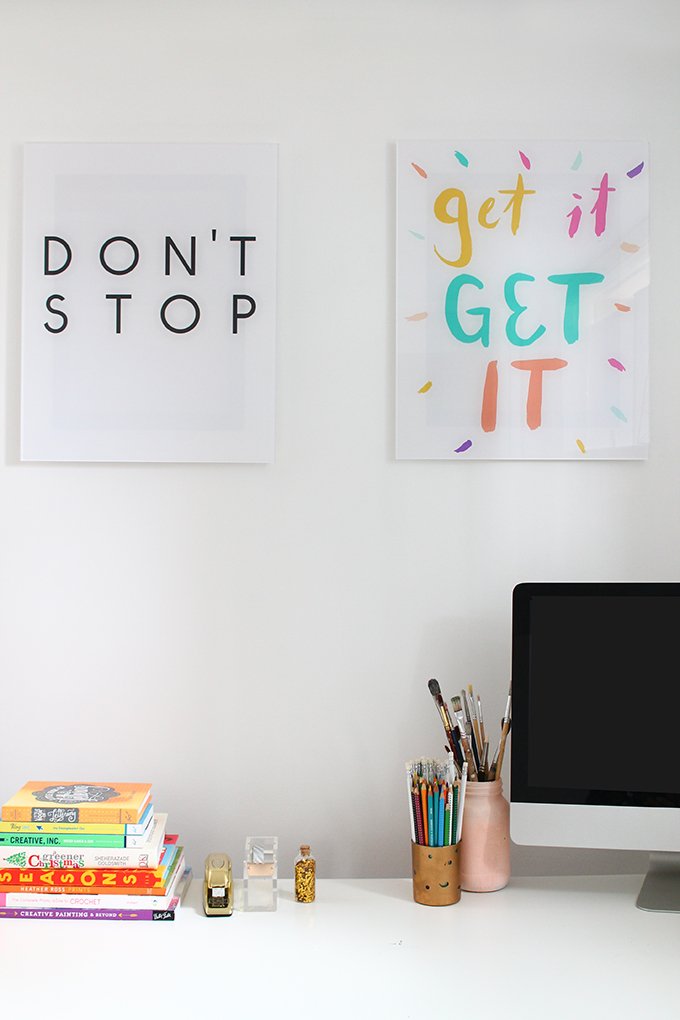 I wanted a snappy quote that would get me motivated to get 'er done. Instantly the line "don't stop get it get it' came to mind. Apparently this lyric has bee in a whole whack load of songs, but my favourite is Feel Good Inc by Gorillaz. I just wanna dance every time I hear it and now, every time I look at these prints.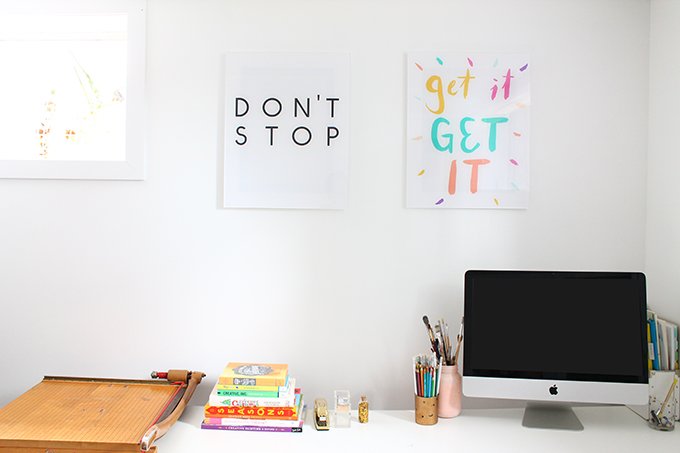 I decided to go for acrylic prints, and I may never go back. They look SO darn good for starters, and FRENCH CLEAT! You know how you normally have to struggle with making sure the hanging mechanism is exactly where you want it to be, and then you struggle with trying to get that darn little hook on the back of the picture frame onto the hook on the wall? French Cleat is over here saying "I got your back girl!". It makes picture hanging a total dream.
Okay, before you think I'm totally crazy, go check out more on french cleat here, and have a look at the pics above. Essentially all you do is screw your french cleat into the wall and hang your print. Yes, that's it. It's a serious dream folks.
But can we talk about how dreamy these prints are? Oh yes.
I made them each 16×20, and you can download them below and submit them right over at Mixbook to get your own acrylic prints. Seriously, quality of these guys totally impress me, and I'm a hard girl to impress. I may have squealed in delight more than once.
Download and open the zip file above, then upload them over on Mixbook to get your acrylic print. They also have canvas, metal, and poster prints.
One thing, I can't promise you won't break out into spontaneous dancing.