Artwork was kindly provided by Minted.
All opinions remain my own.
Please note, this post uses affiliate links
Our bedroom is sprinting a grueling marathon and the finish line has just come into sight!
We've put up with our horribly painted walls with little to no art for far too long. After covering that accidental lavender with white/light grey (more on that funny story here), our next step was selecting our artwork pieces from Minted. When I design a room I ask myself these three questions:
What is this room primarily used for?
How do I want this room to feel?
How do I want it to make me feel?
So, what is the bedroom primarily used for? Sleeping of course. But let's take it a step further than that – it's a safe and quiet place to rest when life is spinning all around you. It should be the one room where, as soon as you step in, your muscles instantly ease and posture slackens. I want my bedroom to make me feel that any chaos from the day is shut out behind the doors. But I can't do this in a cluttered, horribly lit, randomly decorated room, which has been it's state the last 4+ years. So redoing this room is SUCH a relief, and selecting the artwork from Minted was a huge part in creating that atmosphere.
For a calming colour palette, we went with light pinks, greys, and blues. The two main art pieces above the headboard, Linger and Sweet Melancholy, perfectly fit that description. And even though they're two entirely different pieces by two entirely different artists on two entirely different continents (you get the idea), they work SO WELL together.

Because our future bedding is a bit more monochromatic than what you see here, we went for this reflections iii print. We also chose it because we're total moons and stars nerds.
I wanted this piece to feel casual, making it a part of the night stand decor rather than a feature. For this I opted to go frameless, using binder clips and gold thumbtacks to hang it up. A word of advice though – mount your print onto chipboard to prevent the edges from curling up. I had it up only a few days before it started to curl. If you don't want to damage the print by using glue or double sided tape, you can use clear adhesive photo corners.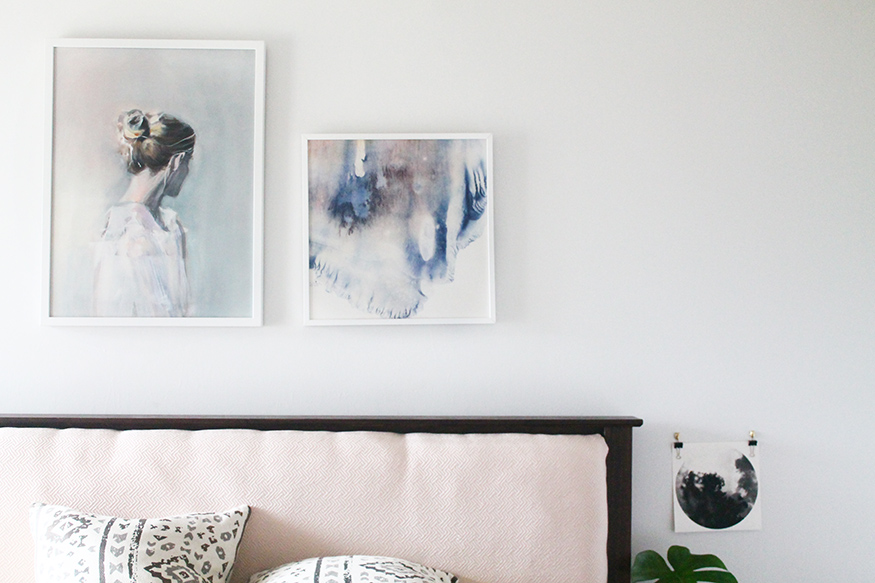 Need artwork for the bedroom or elsewhere in the home? Minted is having a spring event on right now so you can grab some art for your own home – 15% off the entire site! (except fine art prints). The sale with the code SPRING17 goes until this Monday the 13th so be sure to jump on it! If you're south of the border (U.S) you also get to enjoy free shipping and returns (jealous!) with the code SHIPFREE.
If you aren't sure what to get, start here for my favourite selection of painted artwork.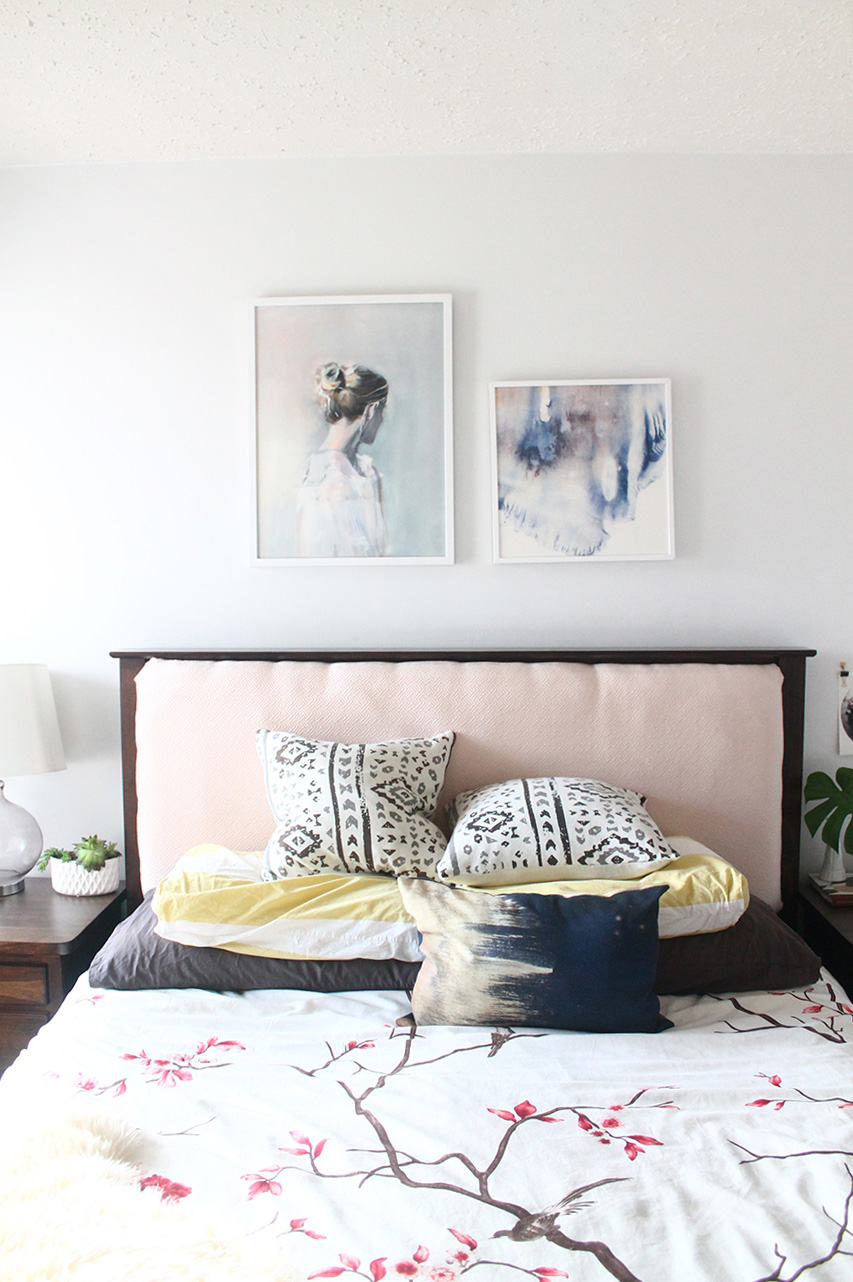 I haven't fully decided if this is where I want the artwork to go. We still have a lot of furniture building, decorating, and item moving to do before this space is complete. Right now I know the two pieces are too close together so that will have to change. As for the rest of the space? You'll just have to check back in a few weeks for the final master bedroom reveal won't you?