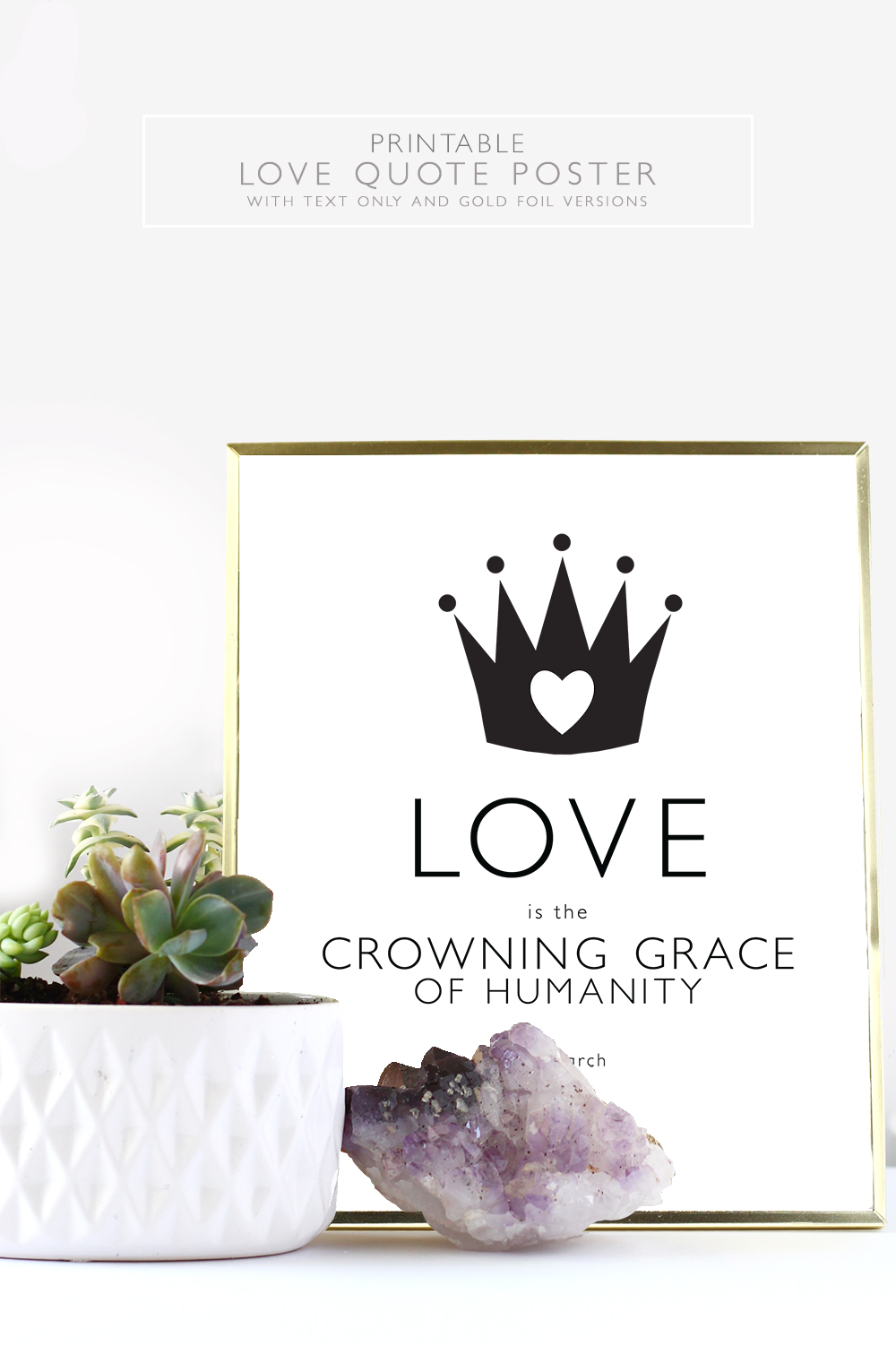 Don't you just love a good quote? I sure do, which is why I have a dictionary of thoughts full of them. (It's seriously a dictionary of quotes organized by topic, it's the most amazing thing ever). One of those quotes resonates with me, and I couldn't resist making a printable love quote poster for you. I call it 'Crowning Grace'. In the words of the 14th century Italian scholar and poet Petrarch,
Love is the Crowning Grace of Humanity

Isn't that beautiful? Those renaissance men had a way with words.
I made two versions – one with the crown and one with just type, because this quote is good enough to stand on its own. It's perfect for Valentine's Day but also fits in year round. Bonus!
To get your free printable, click on the version you'd like below. It'll open a link to a pdf. Save it, then print it off on plain white cardstock for best results. There's also a gold foil version available. Scroll down to the bottom to see how you can get it and also help refugees in need! All with a couple clicks of the mouse/track pad.
I chose this quote over thousands out there because, despite being 700 years old, it rings true today more than ever. Between Brexit, the new US administration, Quebec's mosque attack and other incidences, the world has turned upside down. So many of us are left feeling lost, confused, terrified, maybe even hopeless.
Shortly after Brexit, we joined my sis's family and a house full of Brit's. It was an upsetting time. My brother-in-law said something along the lines of "by the time our boys are old enough to fight, we'll have WWIII". I brushed that comment aside, but now I fear there's some truth there.


I'm completely baffled by all the hatred being spewn about like a violent flu bug. But amidst all this vitriolic hatred, attacks, and division, there lies something so sacred and beautiful that it's possessed by few species – love. Between all this divisiveness are people who speak out, share, hold hands, hug, donate, smile – LOVE. And that is what we must hold on to and keep spreading in its infinite forms in order to bring hope.
This is one way you can help spread that hope and help those in dire need. The above print is available in gold foil in the shop for $15CAD (approx $11.50USD). You can also get it in black, and typography only in gold foil* or plain black. This month, 100% of the profits will go to Save the Children to help refugee children escape persecution and start over in peace. You get a beautiful print while helping a child and his/her family start a new life. Wouldn't that be great?
Head over to the shop and grab your print today. Orders will go out every Monday.
Even if you can't purchase the print (funds can be tight, I get it), please help by sharing on social media, word of mouth, water cooler talk – whoever you think might dig this print and want to donate all in one go, let them know! And of course help in other ways like volunteering at organizations, donating goods to charities, whatever way you can do, love and
spread hope
*Ugh. I am so upset guys. My gold foil machine BROKE! So sadly, gold foil options will not be available, but I hope you love the print in black and white and are still willing to purchase a print for donation!
---
'Crowning Grace' Print
$15CAD
100% Profits to Save the Children
for the month of February
---