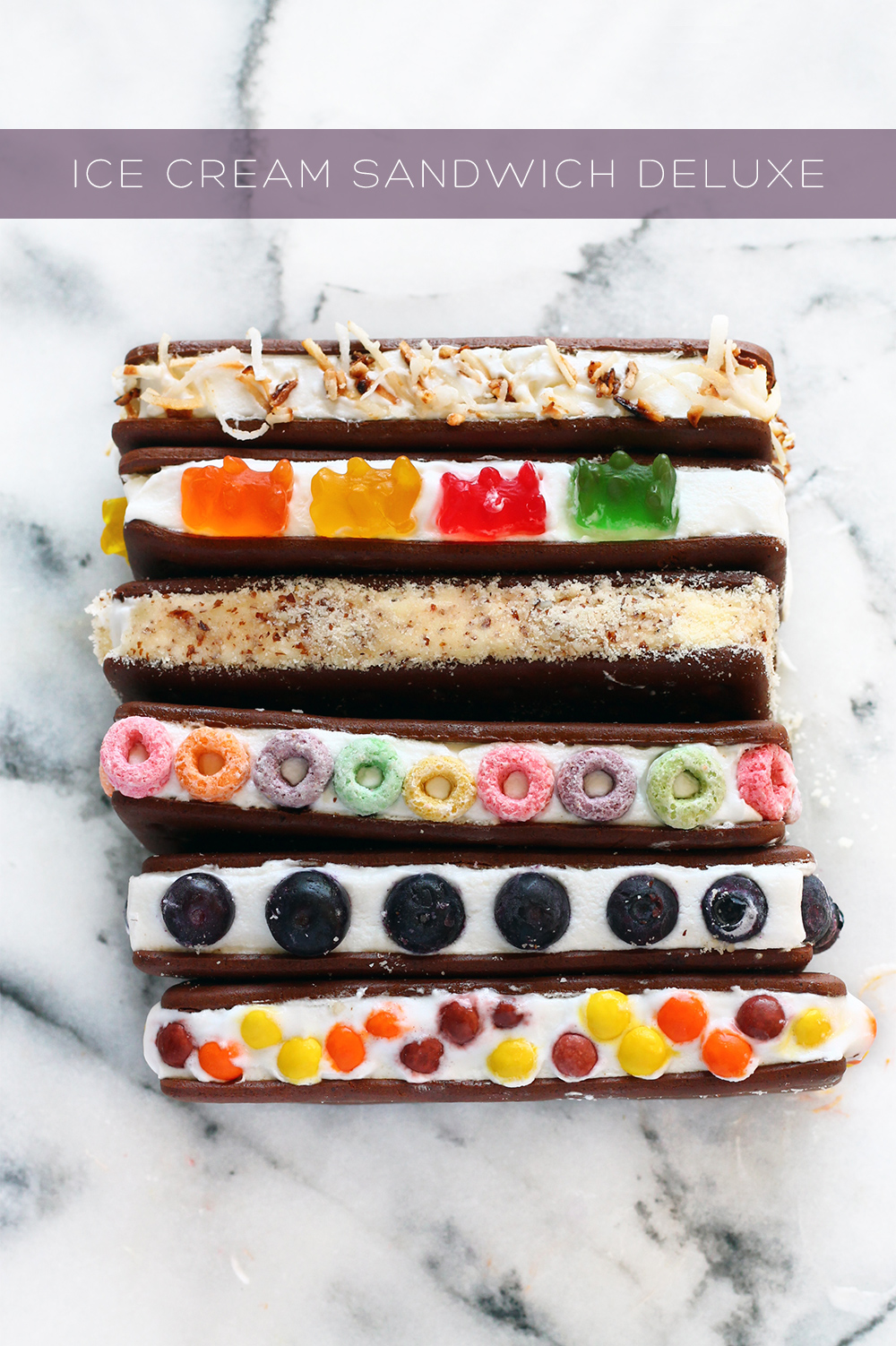 Yes, this is the third ice cream sandwich post in a row, but I just can't get enough! Although maybe I can, because I wasn't satisfied with just plain ice cream sandwiched between plain wafers was I? No. I had to take matters into my own hands and jazz things up a bit with these jazzed up ice cream sandwiches.
It probably comes as no surprise that I'm planning this year's ice cream party to have a heavy ice cream sandwich focus. Part of that will be an ice cream sandwich bar where guests can pick how they want to customize their ice cream treat. There's so many ways to jazz them up!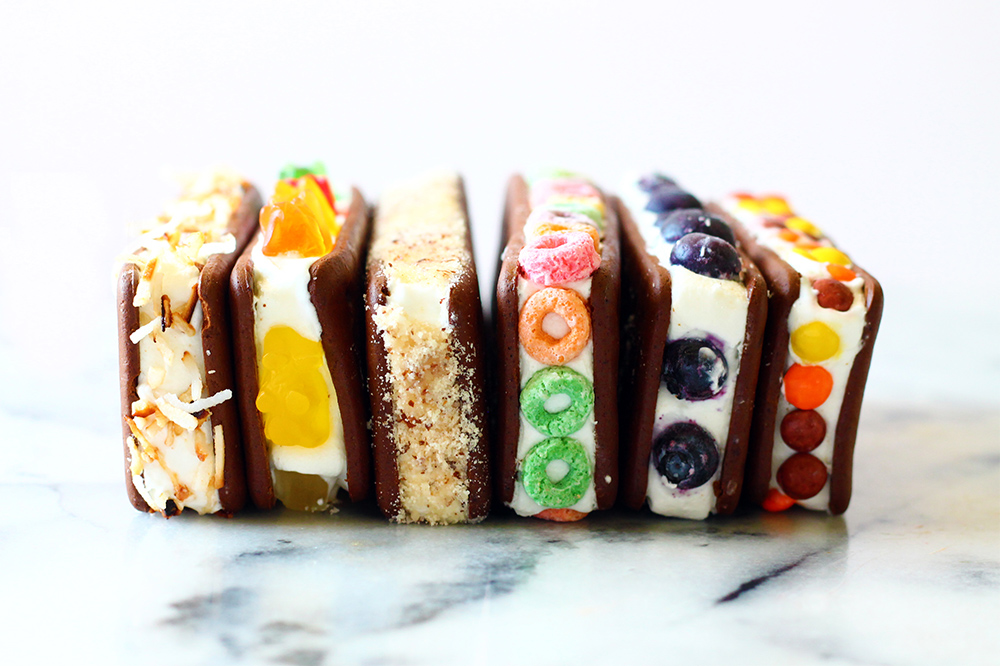 I had a lot of fun coming up with topping ideas and have a whole lot more that aren't posted here. I opted for a healthy version with nuts and fruit (because ice cream sandwiches on their own are so healthy and all) and a crazy fun candy version.
Healthy or sugary, nuts or gummy bears, here are some ideas on how you can customize your ice cream sandwich.
HEALTHY OPTIONS
Ground Almonds – roll the ice cream sandwich in a pile of ground almonds all the way around. You could also try slivered almonds.
Blueberries – pick out smaller blueberries that'll fit between the wafers and press them all the way along the sandwich. Use frozen blueberries as they won't lose their shape.
Toasted Coconut – Toast the coconut on the stove top and set aside to completely cool. Make sure to break them apart so they don't clump together in one mass. Roll or press the coconut on each side of the sandwich. You could also use ground or flaked coconut.
Some other fun healthy options could be dipping a corner in melted peanut butter, rolling it in other various crushed nuts like pecans or walnuts, crushed cornflakes, raspberries, or even hemp seeds.
I realize I'm being a bit cheeky calling these 'healthy options'. It's like going to the frozen yogurt shop, ordering the plain frozen yogurt, topping it with a bunch of candy and calling it a health food. (*ahem* I don't do that at all….) But we'll still call it the healthy options just to feel a bit better about all our ice cream consumption…
And if you have no shame and don't care one bit about pretending to be healthy, then candy it up all the way my friend! Or in one case, cereal it up (yep that's fruit loops you see there).
CANDY OPTIONS
Mini Reese's Pieces – be sure to use the mini reese's pieces (found in the baking section) as the normal sized ones are too large. These are best pressed into the ice cream rather than rolled.
Fruit Loops – my favourite! Press a fruit loop all the way along the edge in whichever order you like. If you're making these with littles ones (Kindergarten/grade 1) and want to incorporate math into your day to keep those summer brains sharp, make different patterns with the colours!
Gummy Bears – Normal sized gummy bears are a tad large so you may have to shift the wafers a bit. Like the fruit loops, press them all along the edge. This one is best consumed right away as frozen gummy bears aren't the most palatable.
I just love the colours you can come up with when using candy and other fun things! The options are really endless, including sprinkles, fruit by the foot (just cover it the whole way around), reese's peanut butter puffs, lucky charms, yogurt chips, or chocolate chips in plain, mint, or butterscotch,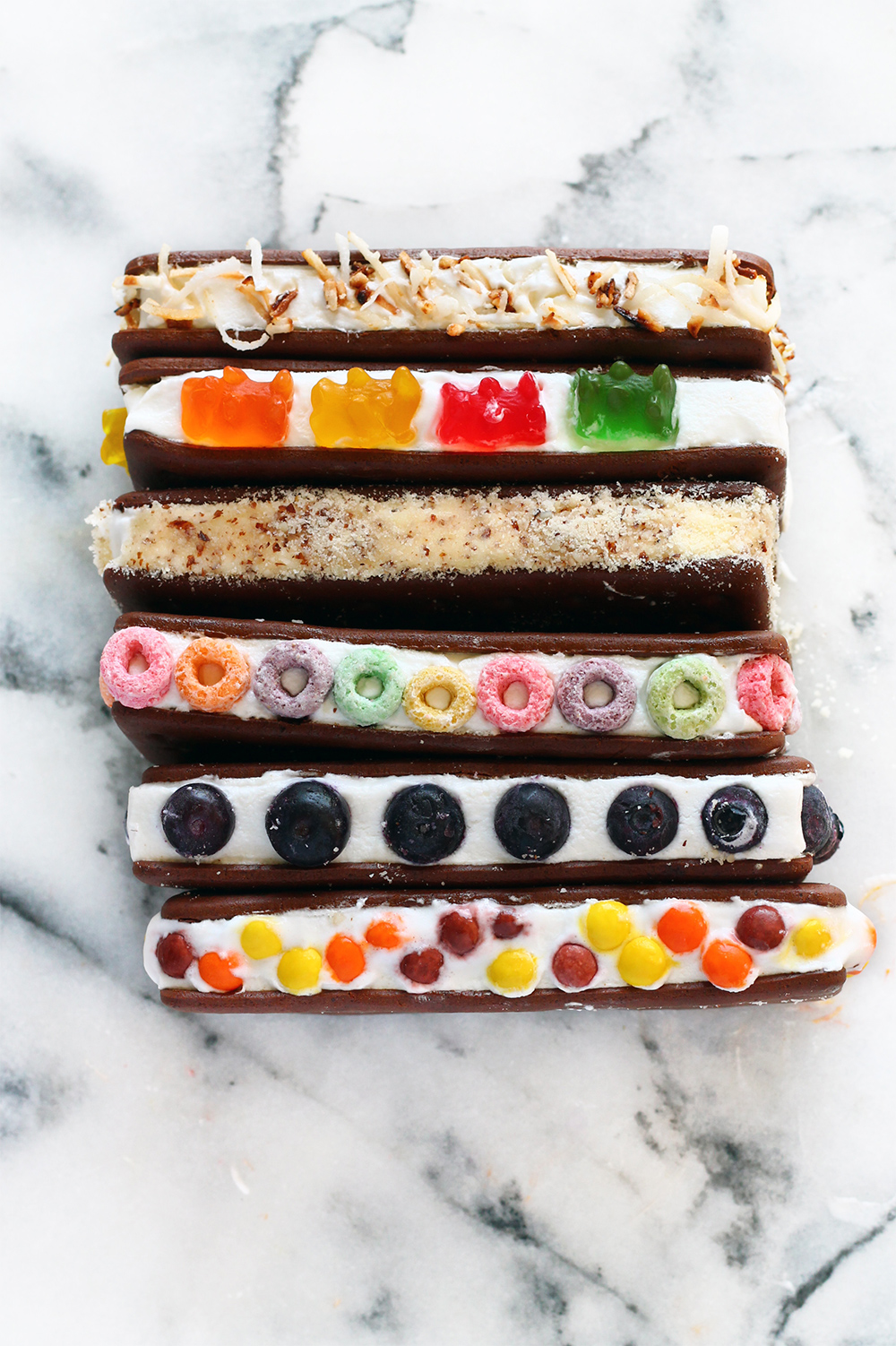 I'm kind of tempted to just use various cereals at our ice cream sandwich bar….getting creative is fun.
Would you prefer healthy or candy? What other toppings would you like to try?
From The Ice Cream Archives