I know for many of you summer vacation has already begun. But for myself and most of Canada, we still have one more week left (5 work days for me…I'm not counting). So for those of you ticking away those last few days, I've thought about what makes the perfect teacher gift, and I'm here to help.
I steered away from the usual teacher gifts. While cutesy sayings such as "You're one sharp teacher!" are, well, cute and all, I'll tell you right now that teacher's have seen it all. It's far more meaningful when students write a personal note. It could be what they love about their teacher, their favourite moment of the year, or even just a simple thank you (because let's face it, sometimes kids don't like their teachers and don't want to say much at all!).
These 10 DIY's are not tacky (no cutesy sayings here), unexpected, and either for home or classroom, just what the teacher needs.

"Let's Make Stuff" banner from I Spy DIY
I know I'm not the only teacher who loves decorating their classroom. Making a cute banner for the teacher to hang in their classroom the next year is a sweet send off. Instead of "Let's Make Stuff", try "Let's Learn Stuff" instead.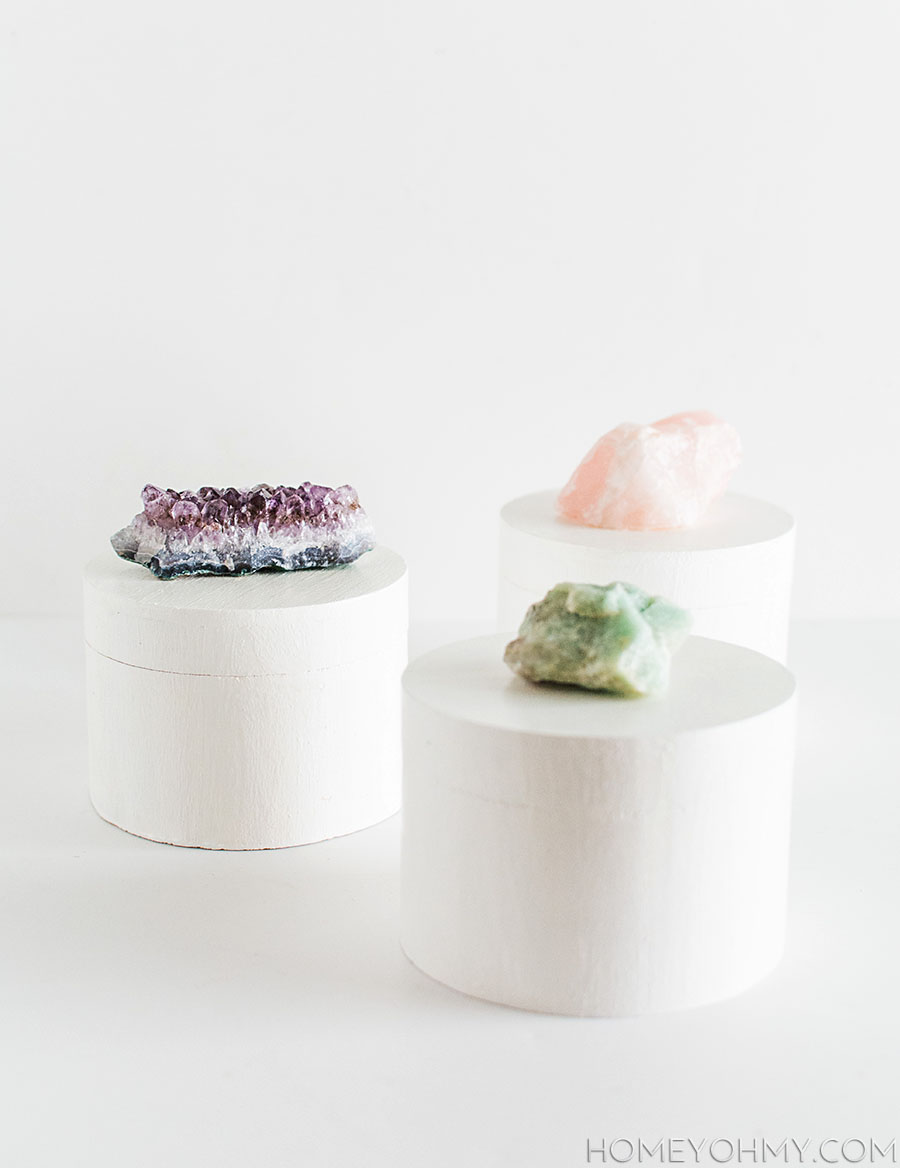 Crystal Knob Boxes from Homey Oh My!
If you've seen a teacher's desk lately, you'll know that they have a ton of stuff – paper clips, erasers, pencils, stickers, stamps, etc etc. Help keep your teacher organized with some stylish boxes to keep everything in. Vary the sizes of boxes so they can be used for different items.
Backgammon Game from Lovely Indeed
Rainy days happen, and a teacher has gotta have activities for the kids to do inside during recess. A handmade board came is the perfect solution. (Also check out Chelsea's
Chinese Checkers DIY
).
Floral Macarons from Sugar & Cloth
Normally I would sincerely caution against getting your teacher treats. Honestly, many end up giving away half the haul (especially at Christmastime) because we simply can't eat that much chocolate. Well….we could….that just wouldn't be a good idea. However, if you can pull off a treat as gorgeous as these, then that's a definitely A OK.
Minimal Rope Keychain from Fall For DIY
Teachers have a lot of keys – for their classroom, a master key for other rooms, filing cabinet keys, gym equipment room keys, etc etc. A keychain is a great way to help your teacher keep them all together. I especially like how long this one is. I'd keep it on a hook by my desk for easy access.
Indoor Planter from Tell Love and Chocolate
You can never go wrong with plants. Even if your teacher has a black thumb, it'll always be appreciated.
Bath Bombs from A Beautiful Mess
Everyone knows teachers can get pretty stressed out and worn thin, especially be the end of the year. Any bath/spa products are a winner.
Geometric Pendant from The Homesteady
Jewellery is another thing I would normally caution against, but if you've been observant over the school year and have seen what your teacher wears and, therefore knows what she likes, then I say go for it.
Copper and Marble Stationery from The Lovely Drawer
As you can imagine, whether it's writing a note home to parents or planning a lesson plan, teachers go through a lot of paper. A stylish notebook would be a great gift for your teacher to write important notes in.
Wooden Candle Holders from The Crafted Life
Small home accents are a great gift, especially if it's homemade and you know the teacher's style. Pair candle holders with some home spa delights for the ultimate relaxation package.
There's your teacher gift giving guide! If your school year is already over (lucky bum) then bookmark this for "back to school". Many of these gifts will work for the start of year as well.
And all these DIYs I got off the DIY Bloggers group pinterest board. If you haven't already you seriously need to check it out. There's some incredible stuff on there.
Enjoy your last few days of school!