This past weekend we chatted, laughed, and stuffed ourselves with delicious sugary creamy iced delights at the second annual Ice Cream Party.
There were 4 ice cream options (1 vegan) and 1 sorbet, 2 kinds of ice cream sandwiches, root beer floats, cookies to make your own ice cream sandwiches, and of course waffle cones and sundae toppings.

With the mister's help, I spent the week beforehand making a different ice cream flavour each night. Some of the recipes I slightly twerked from those made last year, and others I found on Pinterest.

Lemon Basil Sorbet
Ingredients
3 cups water
2 cups sugar
2 tablespoons lemon zest
1.5 cups packed fresh basil
3 cups lemon juice
pinch of salt
Instructions
Make a lemon simple syrup by combining water, sugar, and 1.5 tablespoons lemon zest in a medium saucepan over medium-low heat. Cook until the sugar is fully dissolved and remove from heat.
Add the basil and salt, and let the mixture steep for 30 minutes.
Stir in the lemon juice, then cover and refrigerate 2-3 hours, or overnight.
Strain the chilled mixture through a fine mesh strainer. Turn on your ice cream maker and make your sorbet as per your ice cream maker guidelines.
Place in freezer until ready to serve. Remove from freezer about 15 minutes before serving.
On the menu was:
Peanut Butter Cup
(swapped peanut butter cups for caramilk)
Mint Cookie Crumble
(swapped chocolate chips for crumbled fudgeeo cookies)
Raspberry Cream Cheese
Coconut Coffee
(Vegan)
Lemon Basil Sorbet (vegan)
Raspberry Cheesecake Ice Cream Sandwich bites
Oreo Ice Cream Sandwiches
Rootbeer Floats
I normally like to host summer parties outside, just like
last year
. But sadly the day before and morning of the skies were grey and the winds were whipping, so I got the dining room prepped up for ice cream party fun. Of course the clouds parted about 20 minutes before the party began, but we stayed inside anyhow. Those winds were still a bit mean. Boo July. Boo.
I made quick little signs by writing with gold ink on circle cut out cardstock. I continued with the gold theme by drawing ice cream cones with a gold leaf pen on each balloon. Then I used other gold accents in the
straws
and Oh Joy!
condiment caddy
and kept everything else pastel colours for the ultimate ice cream feel.
Aside from the table….
I wanted to put a pastel coloured tablecloth down, but I have to say I'm glad I didn't. The table was a sticky sloppy mess afterward, and all it required was a quick wipe down rather than a thorough washing. Sans tablecloth for the win!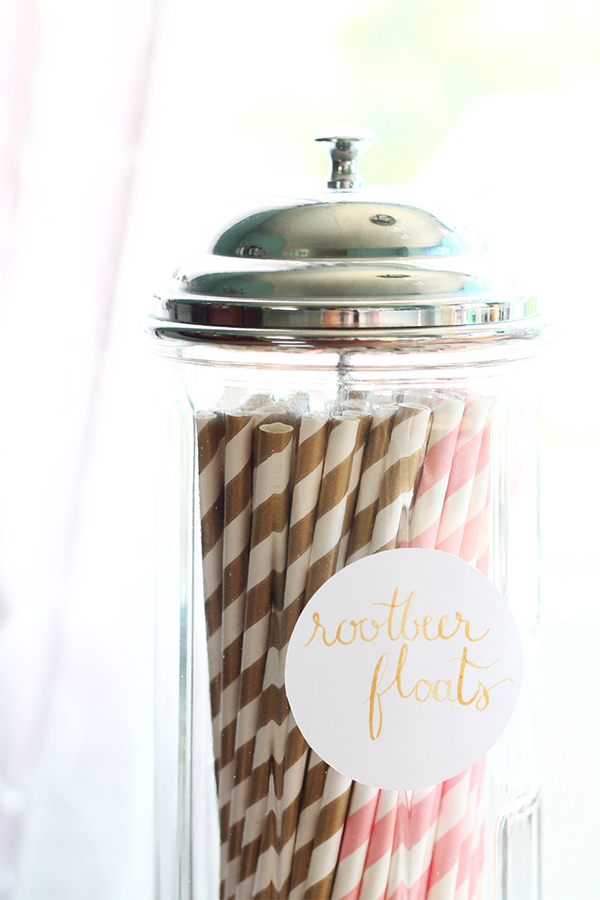 If you don't have an ice cream maker, I highly recommend it. We keep the bowl in the freezer throughout the summer so we can whip up a batch of ice cream (which is sometimes just blended fruit and yogurt) whenever we want a little treat. If you're thinking about getting one, I found the same model as mine
here
on sale for $60. A pretty sweet deal if you ask me! And yep, that is an affiliate link. Nope this is not a sponsored post. I just love my ice cream maker.
Above are links to all the recipes I made for this year's batches, except the lemon basil sorbet. I got the recipe from my ice cream maker's manual, and thought I would share it all with you. Enjoy!
Are you planning an ice cream party? Don't forget to check out this ice cream invitation printable and more ice cream links below!
From The Ice Cream Archives