Did you know July is national ice cream month? Hooray! So all this week and into next week we will be celebrating with different recipes and other goodies, including an ice cream party, similar to last year's. Fun fun!
Today we're kicking off the ice cream festivities with a donut ice cream cake. Yes friends, a donut ice cream cake. AKA, donuts stacked on top of each other and slathered in ice cream. Does it get any better than that?

Now I can't lie to you, using ice cream as icing is tricky, especially since you have to use soft serve ice cream as it spreads easier, but therefore melts faster. So you'll be putting this guy back in the freezer throughout the icing process to give it time to firm up. But to cut corners (time) I bought myself some donuts and bought a tub of soft serve ice cream. Yes, I could have made both, but sometimes you just don't have time for that ya know!?

You only need 4 items for this recipe – donuts, ice cream, bamboo skewers and, if you'd like, sprinkles. So give yourself an afternoon and start assembling, cause this cake is too cute and delicious not to make for summer time treats!
It's also the perfect birthday cake.

Donut Ice Cream Cake
Ingredients
Soft serve ice cream (Breyer's Vanilla works well)
4 Donuts
Sprinkles
3 bamboo skewers
Instructions
Stack the donuts on top of each other and spear three bamboo skewers into them as scaffolding. If your donuts are different sizes, you can carefully trim the larger donuts so they're the same shape.
Place in freezer for 30 minutes.
Remove from freezer and use a butter knife or spatula to spread ice cream over the donuts. I find it easiest to hold onto the bamboo skewers and start from the bottom and spread upward. Do this until the sides are covered. Place back in the freezer for 30 minutes.
Remove cake from freezer and gently pull out the skewers. Now spread ice cream on top of the donut stack to complete the cake 'icing'. Shake sprinkles on top and keep in the freezer until you're ready to serve!
Yesterday was my bff's birthday. We've known each other since kindergarten and been best friends since grade 5. Pretty cool eh? Anyhow I made and photographed this cake yesterday in hopes to bring it over to her for a birthday treat. No way. This cake would die (melt) if it had to travel more than 5 minutes in this summer heat, so I give you the following advice: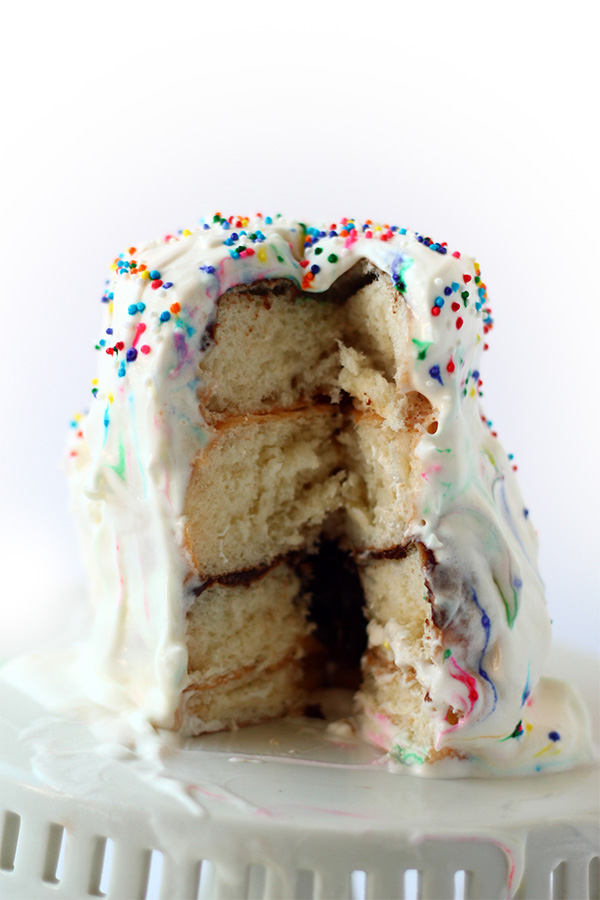 Devour this donut ice cream cake delight at lightning speed.
But don't worry, that won't be hard.
You could totally play around with this donut cake – use different flavoured or coloured donuts (I used vanilla and chocolate), add buttercream icing in-between and around the donuts before putting the ice cream on, using different ice cream flavours, or filling the donut holes with jelly, caramel, or even fresh fruit! Wouldn't that be a nice surprise?

However you choose to customize your donut ice cream cake, it will no doubt be delicious and up to the challenge of impressing your summer party guests.
What kind of donut ice cream cake would you make?
From The Ice Cream Archives