While I am off this week getting my learn on, I'm so excited to have Amy of Club Narwhal here
to share an incredibly delicious treat perfect for national ice cream month!
Hello! My name is Amy and I blog about food and travel on Club Narwhal. I have a small obsession with ice cream and am so excited to share my favorite way to eat it – as waffle sandwiches!
Homemade Dulce de Leche Ice Cream gets sandwiched between chocolate-dipped waffle rounds to make a perfect summer treat. While I am a big fan of homemade ice cream, you can absolutely substitute with scoops of your favorite store bought treat.
As a kid, I adored both ice cream sandwiches and giant waffle cones heaped with mint chocolate chip. These Waffle Sandwiches put a grown up spin on those childhood favorites. And you better believe that I had no problem devouring these goodies with the same gusto as an eight-year-old.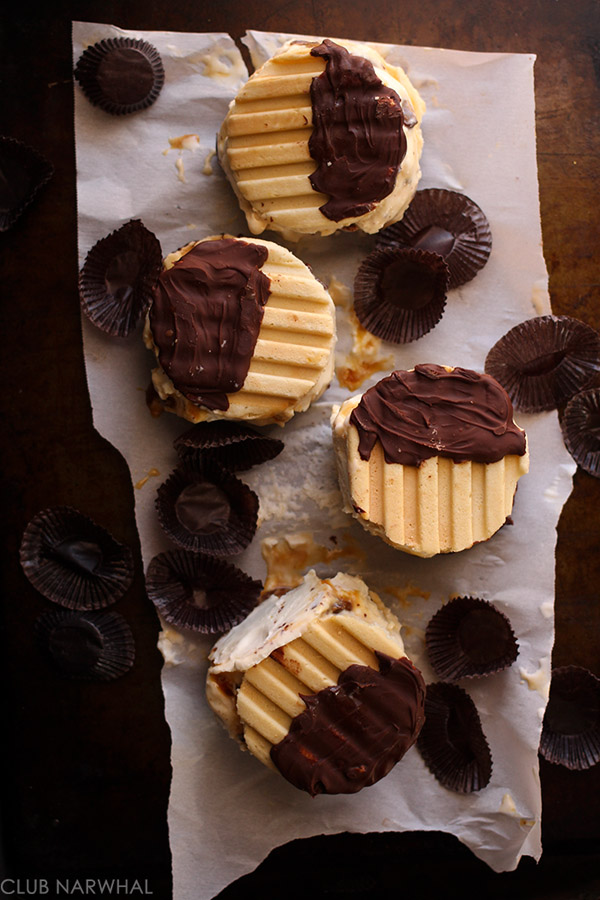 Since I don't own a waffle maker (le sigh), I made these waffle rounds using a panini press. If you don't own a waffle maker or a panini press, don't worry – you can make the waffles in a non-stick skillet. Kind of like mini pancakes.

I love that these waffle sandwiches can be made ahead of time, frozen between pieces of wax paper, and then pulled out for a great party treat. Takes some of the stress out of party prep (and I must say these guys were a hit at the dinner party we served them at).

This recipe can easily be adapted to fit your favorite ice cream flavor. We used my favorite homemade Dulce de Leche Ice Cream recipe but if you're short on time, store bought is just fine!

Dulce de Leche Ice Cream Waffle Sandwiches
Ingredients
1 cup heavy cream
1½ teaspoons vanilla extract
1½ cups powdered sugar
1½ cups flour
1 tablespoon cornstarch
1 cup semi sweet chocolate chips
1 quart [dulce de leche ice cream|http://clubnarwhal.blogspot.com/2014/07/Dulce-de-Leche-Ice-Cream.html]
Instructions
To make the waffle rounds, whisk the cream and extract on medium-high until soft peaks form (about five minutes).
In a separate bowl, sift together the powdered sugar, flour, and cornstarch then fold into the wet mixture. Cover bowl with plastic wrap and set aside for thirty minutes.
After the waffle batter has rested, preheat a panini press to medium-high. When the press has heated, place a heaping tablespoon of the batter in the press, close the lid, and cook for about 90 seconds.
Working quickly, remove the waffle and use a 2-inch cookie cutter (or mouth of a glass cup) to cut out rounds. The waffles will harden as they cool.
Put chocolate in a medium glass bowl and microwave on high for 1 minute. Stir, then continue to microwave in 30-second increments until fully melted. Dip each waffle round halfway in chocolate and place on wax paper to harden.
Place one scoop of dulce de leche ice cream on a chocolate-dipped waffle round and top with a second round to form sandwiches.
Tip: If you do not have a panini press, you can cook the waffles in a non-stick skillet for about 1 minute on each side.
What's your favorite way to eat ice cream?