Remember what our dining room used to look like? It's a far cry from that now! This room really was a labour of love from day one. We worked on it slowly overtime, and in fact are still working on it. What you see here is not the final product, and to be honest I was hesitant posting this knowing it isn't the final remodel. But if I waited until everything was put in place you might not see the dining room until another few months…if ever.

After refinishing the dining room table, the light fixture was the first thing we changed in this space. We were determined to find a statement piece but something that was still suitable to the modest space. Because we knew the rest of the dining room renovation was going to be fairly cheap, we allowed ourselves to splurge a little here. So the light fixture was the first to change, followed by the curtains, and several months later, the wallpaper. And oh man ripping down that wallpaper made all the difference. As much of a pain as it was to remove, it was well well worth the trouble.
We actually began tearing down the wallpaper in November, but this 30+ year old glue didn't want to play nice. We only got a quarter of the wall done until we had to call in a dry waller to fix all the deep gouges. With basement renovations taking over and Christmas in Cuba around the corner, we ended putting the room on hiatus for longer than intended. We finally got back to it last month and it came down much easier than anticipated. *phew*!
I'm insanely happy with the wall colour. Hoping to divert another disaster like this one, we bought four paint samples and painted them all on a wall. Over 24 hours we observed the paint colours in all forms of light until we finally made our choice – Behr Marquee in Cascade Green.
A HUGE thanks to Home Depot for sending me a gift card. We picked up a gallon of Behr Marquee paint, and now I'll never paint with anything else. This paint went on so smoothly with such amazing coverage. It only took one coat plus touch ups! I've since raved about this paint to my friends and anyone who will listen because it's that good. I promise you, I am not just saying this because I was given a gift card. These are totally my own words and opinions!

We also freshened up the old wooden wainscotting with a coat (or 5) of crisp white paint. We used left over paint but let me tell ya, I wish we had gone out and purchased a new one from Behr Marquee. Because of the oils on the wood, it took several coats to turn the panelling from yellow to white. We got there eventually and are super happy with the results.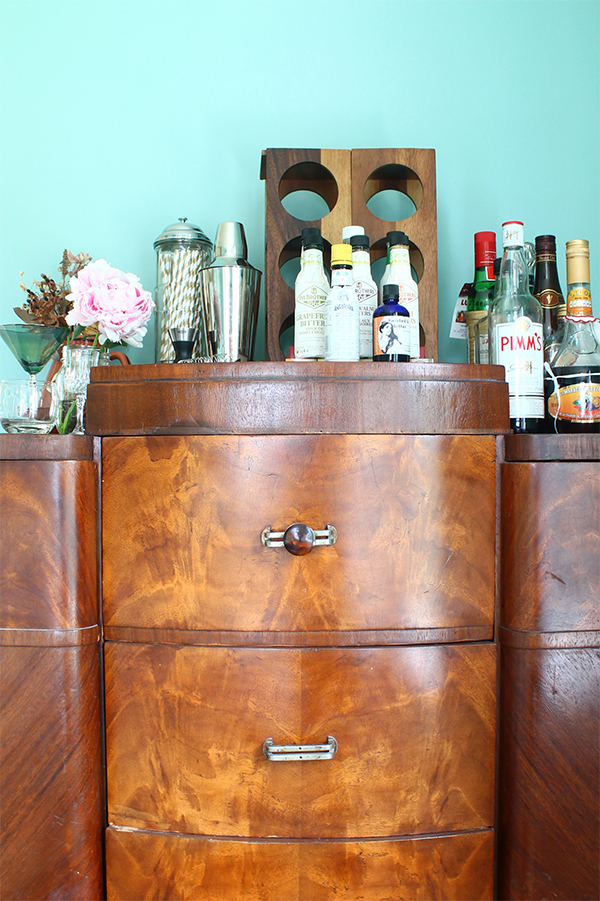 As the above picture demonstrates, the kitchen (which badly needs a redo) leads into the dining room. While the set up makes them two distinct spaces, you can't be in one room without seeing the other. Which leads me to ask for your help:
What do you think I should do?
– Paint the kitchen walls white with Cascade Green cabinets (dining room wall colour)
– Paint the kitchen walls Cascade Green with white cabinets
– Paint the kitchen white, grey, and maybe some other accent – but not Cascade Green.
What's your vote?
Shop the room:
Light Fixture – McLaren Lighting (local)
Curtains – Jysk
Chairs – Overstock (We bought ours elsewhere but they're no longer available)
Sheepskin – IKEA (We bought ours at Costco for $27 each – steal!)
Bamboo rug – Natural Rug Co
Lamp – Urban Barn
Silver Hammered Bowl – Target (Ours is from Superstore)
Silver Frames – IKEA
Botanical Prints – IKEA