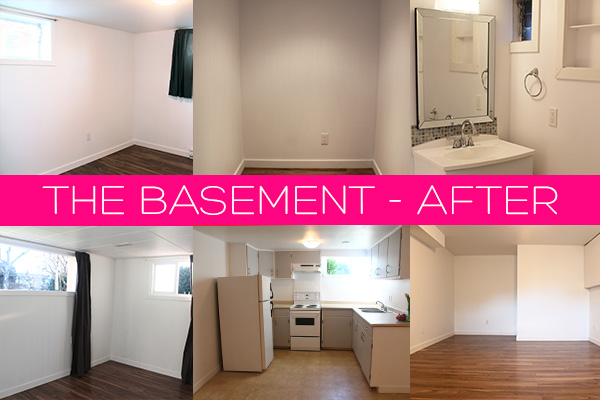 Remember this? Not a happy place. Kevin from Thou Swell used a single word to perfectly describe it – "claustrophobic".
Now, with bright white walls, new floors and modern touches, this bright and modern basement is the polar opposite from how it started.
Enjoy this little taste of the renovation below, but for more pics and tips head over to Wayfair where I share the complete reveal.

We ripped out walls and dingy carpet, chiselled concrete supports, laid new floors, ripped out new floors, put down fresh concrete then laid the floors down again…etc etc. All in 4 and a half months. Now that it's over and rented we still have a hard time believing it's done, still waking up on weekends thinking "What's next on the basement to do list?" It will take a while to get used to having free time again, but are we every thankful for it.
Want to see a ton more pictures? I'm sharing the entire bungalow basement renovation reveal today on Wayfair. Head over to check out before and after floor plans, learn about the process, how each room came together, and tips on what you should definitely do (and not do!) if you're attempting a basement renovation of your own.


See you there!