A while back Heather of The Lovely Cupboard asked if I would like to participate in a dollar store crafting challenge with the rules you see above. My first thought?
Sure! Piece of cake!
Friends…it's not called a challenge for no reason. It resulted in two completely failed projects and a whole ton of frustration. But, believe it or not, I still l had fun.
Here to share her dollar store challenge, join me in welcoming Heather!
…
Hi there! First of all, I think I should publicly apologize for putting Tan up to this challenge. It was a wild hair idea and was a bit stressful in the beginning! Hopefully someone will benefit from our "improv crafting". I'll be honest, I wasn't too worried before walking into the dollar store since I always seem to find inspiration there. But after twenty minutes of roaming the aisles collecting random items with no solid idea in mind, I began to panic. I found a lot of goodies not related to the challenge-popsicle molds, hair ties, and a super cute gold frame. Again, random and not craft related.

I saw some adorable white and navy scarves along with some rubber navy frames that I thought had potential. Turns out those were the supplies for craft fail #1. There was hot glue. There was a knotted, melted scarf. There were tears…

Idea #2 went much smoother. I found this coral and white clothes line that I loved. I looked for some bracelets to wrap but decided last minute to try wrapping it around a vase instead. Lately I'm loving baskets and just about anything that's woven. I hoped that I could create that "woven"look for a couple bucks.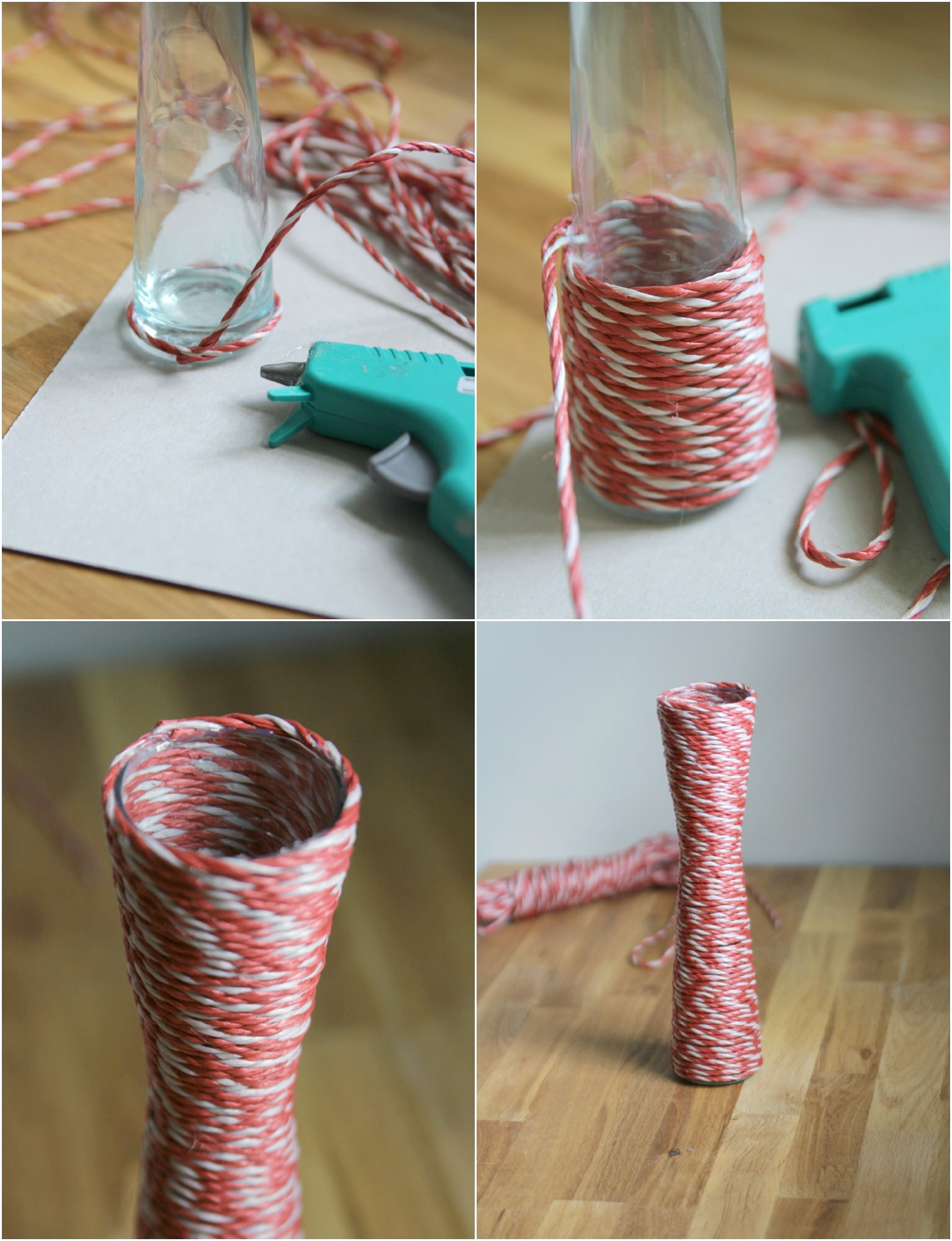 This is a pretty simple DIY. Here's what you do:
Step 1: Wash and dry vase. Unwind clothes line. Heat a low temp hot glue gun while you do this.
Step 2: Start at the bottom of the vase and apply a small line of glue around 1 inch of the perimeter. Press and hold the line/string on the glue for about 10 seconds until set.
Step 3: Wind the string around the vase tightly adding a small dab of glue every inch. Continue wrapping and glueing to the top.
Step 4: To finish, add glue and press string around the entire perimeter of the rim. Hold in place until glue has cooled. It's that simple!
This would be a perfect project for a craft night with a bunch of friends. It's easy enough to do while chatting and sipping a cocktail-my kind of craft!
Who knows…maybe Tan and I will give this challenge another shot around holiday season. Dollar store Christmas decorations are delightfully tacky and just beg to be part of a $1 Store Craft Challenge!

Thanks for the challenge Heather! I think a tacky holiday version is certainly in order.
Read about my difficulties with the challenge and see the final product, a pink foil fringe gift bag (which I love!) at The Lovely Cupboard.
See you there!