You may have seen last week that I was helping plan my sis' baby shower (I'm gonna be an auntie!).
When I was asked to help, the colour theme was the first thing that came to mind. Since she isn't finding out if bean is a boy or girl, I wanted a fairly neutral colour palette that played on blue and pink. So I went with cool mint and warm orange with a dark grey to bring it all together. And for extra flair – lots and lots of fringe.
The shower was very relaxed and filled with delicious treats and mimosas. Seriously I ate far too many sweets and drank a bit more bubbly than I should have. What can I say, I was in a celebratory mood!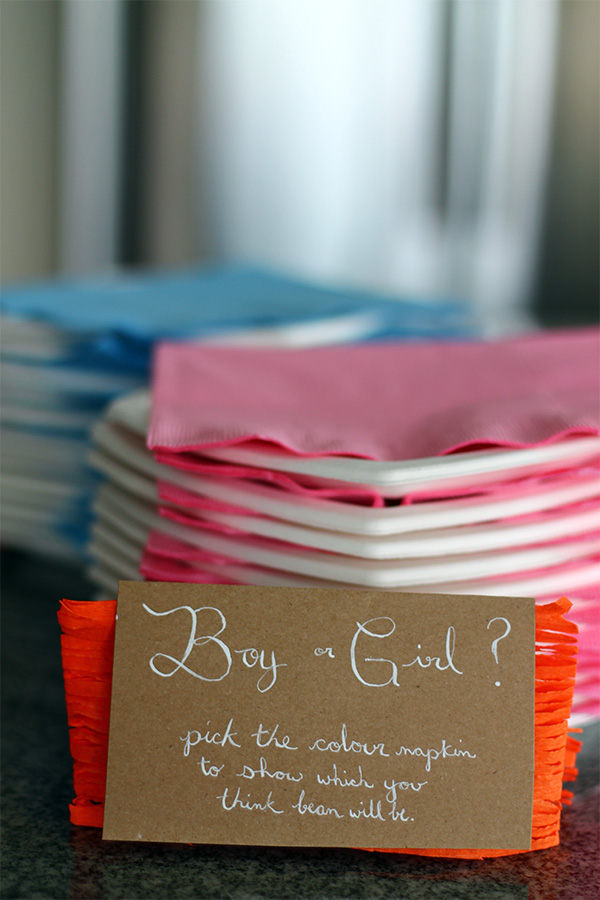 At the mama's request, the only game allowed was picking a napkin colour to show if you thought bean was a boy or girl. To be honest I was thankful for that. I'm personally not a fan of shower games, and it really allowed everyone to just relax amongst good food, drinks and friends.

I had tons of fun crafting (and fringing!) the days leading up. I was even crafting on the 1.5hr ferry ride over, fringe scissors madly chopping away with tissue paper flying wildly in the air (I may be exaggerating). These wine glass name markers were my absolute fave. If you love them too come back on Friday for the DIY.

The tagline to the party was "Celebrating Jo and her Bean". Naturally I couldn't resist getting green and orange jelly belly's for the favours.
Hooray for throwing parties for an extra special occasion!
I grabbed a blue napkin just based off a hunch, but either way I just can't wait to meet little bean.