Last week we explored all my favourite places to eat in Portland. This week it's all about the shops.

Betsy and Iya – NW Thurman and NW 24th
Last year I won a gift certificate on Honey Kennedy for Betsy and Iya. I wear my morse code necklace nearly every day. The brick and mortar shop was first on my list when we started planning our trip.

See that cuff on the far left of top picture? I also got that with my gift certificate and, while I knew it was modelled after the bridge, it didn't hold much meaning to me as I had never seen it in person. Driving into Portland on the Fremont bridge I constantly exclaimed "My bracelet! This bridge is my bracelet!". What an exciting introduction to the city.
Walking into the shop I was expecting just to only see their line of jewelry, but was super happy to find they carry other local artists' jewelry and other items such as clothes, soaps and adorable little apothecary bottle fileld with turquoise match sticks. What is not to love about that?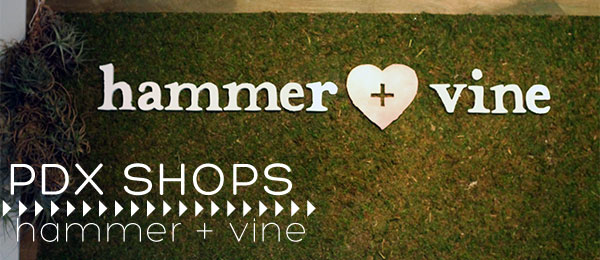 Hammer + Vine – 2190 W Burnside
Walking down W Burnside St I saw a little sign that said "DIY classes". Well done Hammer + Vine. You know how to catch this girl's attention.

I believe I constantly squealed while walking through this store. Every corner has something unique for every part of your life, whether it's jewelry, stationery or plush toys. But if you're planning on making a terrarium, this is the place to go. They've got all sorts of air plants, blown glass terrariums and other fantastic items to put in your micro world like sea shells and bones (yes, real bones). If you want to go from terrarium to aquarium, you can even adopt a teensy frog like the adorable blue one above. I like to call him Will.

Collage – 1639 NE Alberta St
The cashier told me the record for someone staying in the store the longest was 4 hours. Michaels move over. Collage is the mecca of crafting supplies.

We didn't quite make it to 4 hours, but we spent a solid 45 minutes examining and ogling over every nook and cranny in that shop, including the two tucked away rooms in the back. This store has everything for crafting supplies and incredible prices. I'm seriously sad it's not up here in Victoria, and despite buying a massive bag full, I'm sad I didn't buy more. But I'm thrilled at all the things I did get like two gorgeous wooden embroidery hoops, 2 pounds of soy wax and a 24 piece set of water colour pencil crayons. Next time we head down to Portland I'm coordinating the trip with my DIY projects.
I loved hearing about your favourite places to eat in PDX
here
and
here
. If you didn't share in the
call for suggestions
I'd love to know
What are you favourite places to shop in Portland?