Image by Oliver Schwarzwald Styling by Maria Grossman
So you got married. Woohoooooo!
It's the next morning and all you want to do is relax and cuddle in your massive king sized bed with your new husband right?
Nope.
Get out of bed. Go shower. Get dressed, and be prepared to spend an awkward 1-2 hours opening gifts in front of watchful eyes.
Don't get me wrong, of course you're thankful for everyone's generosity. I mean really, thank you. But you aren't a kid anymore lacking those inhibitions and anxious to open that mountain of gifts on your 10th birthday. Being an adult comes with some reservation, which makes opening gifts in front of others really uncomfortable.
Here are some ways to make your gift opening a little more bearable
Seven7h House on the LeftServe such delicious and cute food that everyone is too busy eating to pay any attention to you.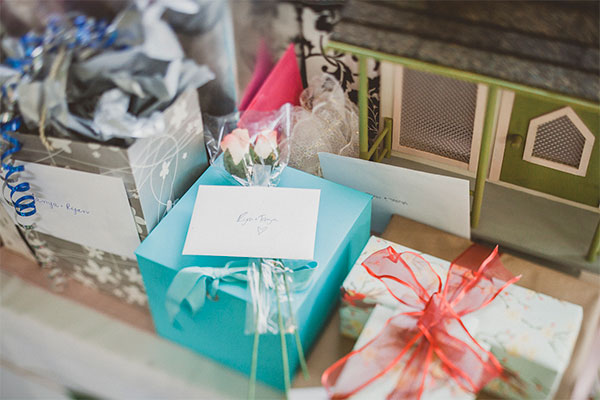 Our wedding, photography by AmerisYou've already gone through the mortification of a bridal shower, make your new husband take the lead and open most of the gifts himself. Yup, you're putting him to work real early.
Image from Delicious IndustriesDon't think you can smile anymore after all those photos the day before? Too bad. Take some advice from the smiling experts (gymnasts, dancers, past Miss Americas), rub some petroleum jelly on your teeth and you'll have to smile to keep from getting that nasty stuff in your mouth.
No, this post is not sponsored by vaseline
Image from Anna NimmityEven though you're exhausted and just want to take a big old nap remember this – you're married now. Any little thing can go wrong with today and it doesn't matter anymore. Isn't that a nice feeling?
We basically had no choice in the matter. Portuguese tradition, we had to have a gift opening. But a lot of couples are opting not to do this anymore.
Did or will you have a gift opening? Why/why not?