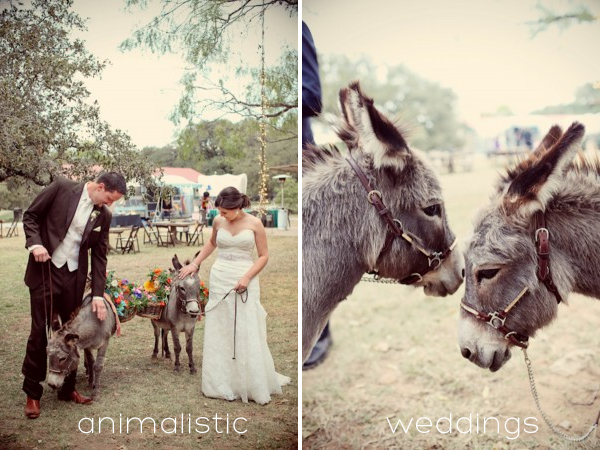 Featured on Elizabeth Anne Designs / Photography by Christina Carroll
Let me start off by saying that yes, this is a post about animals in weddings. But no, there will not be any tux wearing dogs with rings tied around their neck. Why? Because I think it's tacky. There, I said it.
Now onto the post:
There's something so quaint and darling about animals being a part of your wedding, and I mean the old worldly working or farm animals like horses or the adorable donkeys pictured above (how I love donkeys!).
Now I'm not advocating for a Princess Diana or Kate Middleton royal wedding entrance, pulling up to a grand cathedral in a horse drawn carriage (but hey if you've got the budget do as you wish). I'm taking a look at tastefully using animals in your wedding, almost as (dare I say it?) props.
Here's a look at some adorable animals in some adorable weddings.
Featured on Style Me Pretty / Photography by Brinton StudiosIf you're a rider, it may be a no brainer to have your beloved horse be a part of the ceremony. And if you are in fact comfortable with getting up on there with your gorgeous gown so you can enter the twinkling light laden barn upon your steed then girl, go for it. But I like the idea of having your horse (or whatever horse you can find) be a part of your wedding pictures. They're such beautiful and regal animals that symbolize strength and endurance. Can that symbolism get any more perfect for a wedding?
Featured on The Knotty Bride / Photography by Hearts and HorseshoesAre you quirky? Is your wedding on a farm that has awesome rock star chickens? I hope so because these little guys are too cute not to photograph.
Featured on Wedding Chicks / Invitations by Shhh My DarlingNot feeling adventurous enough to have actual animals be a part of your wedding? Go for these irresistible invitations instead.
Featured on Style Me Pretty / Photography by John ShimOkay, I know what some of you might be thinking. "Tan! That's a CAT! If you're so opposed to dogs being in weddings then what's up with that cat!".
Now, it's not that I'm opposed to dogs in wedding photos at all. I'm just saying that cats really know how to work it. I mean, could you imagine a dog walking along and taking that opportune moment to take a biiiiig stretch the same time your photographer snaps the shutter on you two kissing? No, because dogs are not that clever. But clearly that's what the cat did in this photo, and it's that candidness that makes it beyond awesome.
But go ahead and take a posed picture with your pet. I won't say anything rude with my outside voice if it's dressed up with rings around its neck.
When it comes down to it, it's your day, so you can of course do as you please. I actually did really want a picture with our baby cat Lucy but it just didn't work out. Thankfully she snuck in some of the photos of our invitations anyway because she's a cat. That's what they do.
(Stay tuned for our wedding pictures next month. Yay!)
Did you or would you have animals involved in your wedding?
Why/why not? Which ones?