There are many reasons why I love Real Simple magazine, and one of them is their delicious recipe ideas every month (seriously I've never made anything bad from that magazine).
A recipe in November's issue is Broccoli Rabe and Pecorino Tart, but I've made some changes (and called it a pizza cause I like the sound of that better).
As the title suggests, the original recipe uses broccoli rabe which, while absolutely delicious, is not available year round. Kale however is available mostly year round and, in my opinion, is more delicious.
Ingredients
Makes 12 slices
2   tbsp olive oil
1   bunch kale (about 1 pound), washed and cut into 1-inch pieces
2   gloves garlic, sliced
Kosher salt and black pepper
All purpose flour, for the work surface
1   sheet frozen puff pastry (1/2 a 17.3 ounce package), thawed
4   ounces fresh mozzarella, sliced These pictures show regular mozzarella used. It's not nearly as good as fresh.
1   cup grated pecorino (about 2 ounces)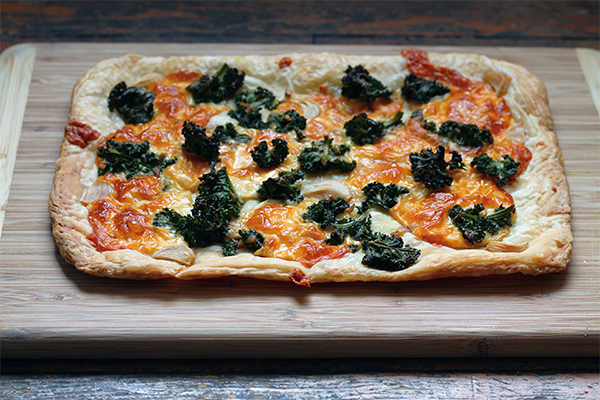 Method
Prep Time: 20 minutes
Cook Time: 25-30 minutes
Step 1 Heat oven to 375F. Heat the oil in a large skillet over medium high heat. Add the garlic first, then the kale, 1/2tsp salt and 1/4tsp pepper. Cook, tossing frequently, until the kale is tender, about 8 minutes. Transfer to a plate and let cool.
Step 2 On a lightly floured work surface, roll the pastry into a 10×15 inch rectangle. Create a 1 inch ridge by pushing the dough around the edges. Prick holes all the way along with a fork. Transfer to a baking sheet lined with parchment paper.
Step 3 Top your pizza with your mozzarella, kale, and pecorino. You can also add whole cloves of garlic to roast on top if you don't plan on kissing anyone.
Step 4 Bake until golden brown, 25-30 minutes. Cut into squares and serve immediately.

I made this for our staff meeting yesterday and it was a hit. The best part aside form delicious? It's incredibly easy and versatile!
Use your imagination to create all sorts of puff pastry pizzas such as:
Pesto Mozzarella
Mushroom and Cream Sauce
Brussel Sprouts and Bacon
I'm going to try all of those.
Keep those great recipes coming Real Simple!
What are you favourite toppings for homemade pizza?