Yup, we all do it. We all throw something in the dryer that isn't supposed to be there.
I was shocked when sorting through the laundry to find my dear husband's merino wool sweater half it's size. No. It was not my doing.
At first a small part of me thought he purposefully put in the sweater my parents got him in the dryer to have a good excuse not to wear it again. Then I realized that:
a) it's an awesome sweater, why would he ruin it?
b) he's a boy. Boys do these things.
Thankfully I benefitted, and if you have any accidentally shrunken sweaters lying around, or any of your current sweaters may fall to that fate (check your wash instruction labels!) then all hope is not lost.
Here's how I wear my husbands shrunken sweater.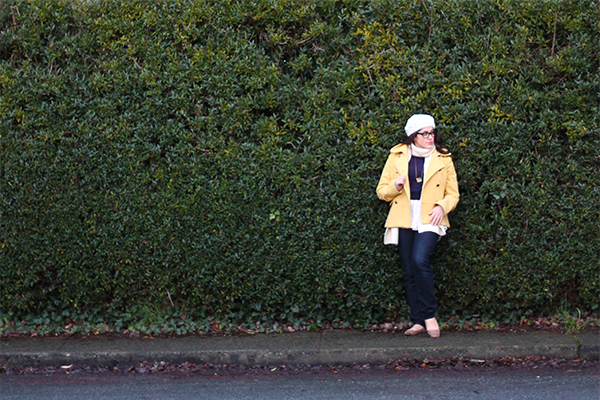 Since the sweater was very short and I didn't want to wear it as a crop top and risk looking like I came out of the 90's film Clueless, I paired it with a long button down shirt from forever 21 I bought years ago.
The jeans are my faithful rw&co skinny jeans and the leopard print flats were $12 at urban planet (they're my second pair, they're cheap because they don't last, but damn they look good).
My yellow jacket by mac + jac is my winter staple, bought a few years ago at the bay My warm hat is last season from aldo and I crocheted my scarf a few years ago (and man it took forever). Lastly this is my necklace from Etsy shop Peach Tree Lane. Oh and the lipstick? New Temptation by MAC.
Okay friends time to fess up,
what was the last item you accidentally shrunk?