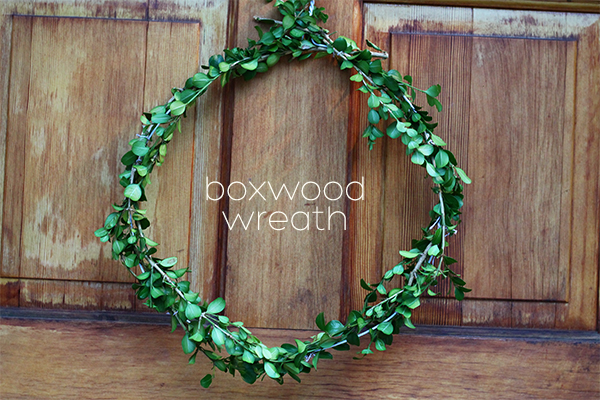 Last week I had a wreath roundup, and in it were simple and beautiful boxwood wreaths from Under the Sycamore. I fell in love and asked around until I found someone with a boxwood hedge. This simple wreath took me only about 15 minutes to make and now hangs lovingly on our door.
I didn't have the same materials as Ashley and would like to try again using her method, but I'd say my wreath still turned out quite pretty (especially since any type of flower/flower arranging scares me).
For your first step, bend your wire hanger into a circle. You can do this simply by using your hands. A wire hanger works great because it already has a hook for you to hang your wreath from.
Secure each sprig by double knotting a string of twine. Make sure to knot it on the backside of the wreath and to cut off any excess. Continue doing this along the wreath anywhere you see a sprig needs to be reinforced (about every 3 inches). You can layer sprigs on top of each other to hide the twine.
Continue all the way around. Use your pruning shears to clip off unruly sprigs.
Smile and hang for the holidays.
Do you have a wreath hanging on your front door? What kind is it?