via
Have you ever been to that wedding with too many tables and chairs crammed into one space, causing you to eat your dinner t-rex style? (think elbows glued to your sides and short arms).
No one can truly have a good time in those cramped conditions, but unless you've planned a 100+ person dinner party before, figuring out how to fit all those tables and chairs into your space can be a daunting task.
This post has some tips and diagrams to help you ensure everyone can eat their dinner with fully extended arms.
Tips: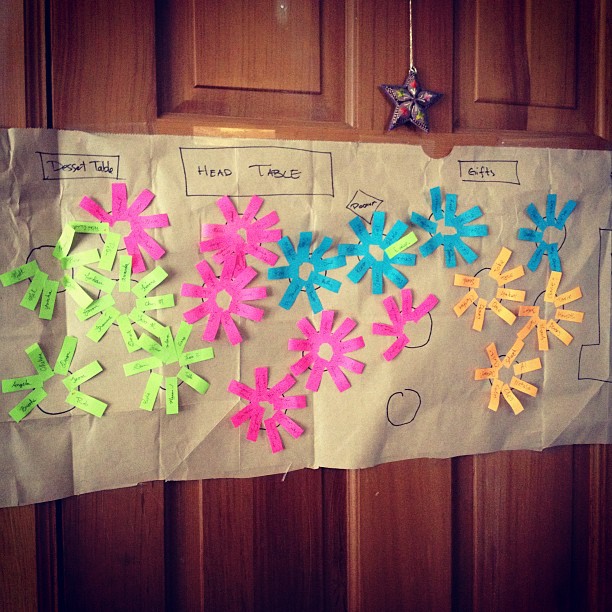 I got this idea from oncewed. I measured the dimensions of our tent on a flattened grocery bag and drew on semi-permanent structures like the head table and dessert table. This was a great way to visualize what the area would look like. I then drew on the tables and used post its with everyone name to seat them at the table. My advice to you – make post it tables.
The picture above was the first draft of 3. We ended up moving everything you see on this draft except the head table and moving the table orientation around several times, but since the tables were drawn on I had to start all over.
Use a larger square (or round) post it to represent the tables and small long ones to represent the people. That way you only need to make one diagram.
via
Keep in mind, tables and chairs need to be spread out enough so it isn't awkward for guests to get out of their seats. Leave a 5 foot gap between tables. Each person needs 2.5 feet of space to be seated comfortably.
As for the head table, allow yourself extra room behind you, especially if you have a larger dress that requires extra finesse when getting in and out of your seat.
Resources:
Island Tents & Events (where we rented our tent from) has a great chart of the size dance floor you'll need, how many tables of varying kinds etc.
If you don't want to go the DIY route with your seating chart, you can use this this table planning software with a free trial.
These diagrams for round tables set up by Pacific Party Canopies give you a very good idea of how much space you will need depending on your number of guests.
75 guests / 150 guests / 200 guests / 250 guests
via
Happy planning!
I also love the look of long tables, but we went with round tables to have a cozier feel. Which table style do you prefer?