Just one more day until the spookiest day of the year! Your decorations are up and you've got your bowl of candy (partially eaten of course) waiting by the door. What about other halloween snacks for you and your family and friends to enjoy as you greet trick or treaters or watch a scary movie tomorrow?
Here's a roundup of some yummy and halloween worthy treats:
Use a witch stencil to decorate you cake like this one from Snackthyme.
I grew up separating pumpkin guts from seeds every halloween. I can't lie, as a kid I found it annoying. But the result? Delicious roasted pumpkin seeds like these ones from The Endless Meal.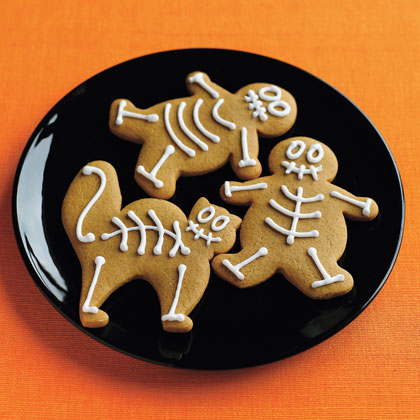 Family Fun shows you how to turn your usual cookie cutter cookies halloween-y by piping on skeletons.
For the adults of the group, why not serve up this Caramel Nut Pumpkintini from Cookistry.
Having a halloween dinner party? Serve up this Pumpkin Chipolte Cream Pasta from Boulder Locavore.
We're having a low key Halloween night handing out candy and having friends over for a pot luck and a halloween movie (my favourite, Hocus Pocus).

What are your Halloween plans?