I don't know if I have shared this with you yet but Ryan and I have booked our honeymoon! Where are we going?
Morocco!!!!!
HOW EXCITING IS THAT!?


Yes. I definitely feel the need to use all caps to display my level of excitement.



Choosing a honeymoon spot was very tricky. I had two rules – I didn't want to go somewhere I've already been and since we plan to move to Europe I didn't want to go to there.
Places from both those restrictions were the only places Ryan had interest in.
One day we were at a party talking to friends about their travels. Ryan was talking to someone who had visited Morocco and loved it. I was talking to someone who visited Morocco and loved it. Ryan shouted from across the room "Morocco!?".
It was decided.
We booked our 2.5 week trip with a tour of northern and western Morocco. I was against using a tour at first (phht I don't need a tour guide!) but was eventually talked into it.
Tours have come a long way. Ours is smaller and more intimate (1-12 people) with full days to explore cities on our own. A big reason I gave in to the tour was that I wouldn't have to think about how I'd be getting from point A to point B, and didn't need to worry about accommodation. My #1 goal for our honeymoon was to experience a rich culture in a relaxing way.
I think we've achieved just that!
Here's what our honeymoon will look like:
We'll check out one of the largest mosques in the world, the Hassan II Mosque
We will tour through the Kasbah des Oudaias and spend a night on the holy hill atop Moulay Idriss
We'll view the ruins of Volubilis and the gates of Meknes before getting lost in the ancient medina of Fez
We'll walk amongst the blue walls of Chefchaouen before checking out the transient town Tangier
We'll spend a few days in Marrakech shopping for spices and rugs, wandering through the medina and taking in the culture (while drinking lots of mint tea no doubt).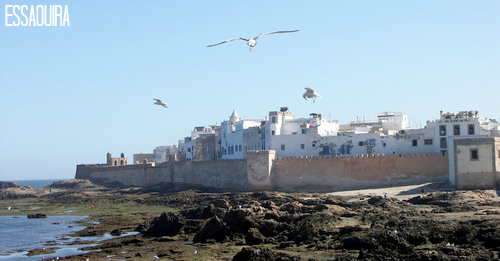 We'll enjoy some freshly caught (right in front of us!) and grilled fish in Essaouira and go for a bike ride to nearby towns.
All images from www.panoramio.com
We'll spend a few nights after that in England (perhaps Brighton or Oxford) to unwind after all our travels. Fun hey!?
If you're married, where did you go on your honeymoon?
If not, where would you like to go?