Whenever I travel I take pride and love in taking pieces of the countries I visit back home with me. Some people take home art pieces, others relics specific to the vacationed country. Me? I buy clothes.
Because of this I have a fairly hefty selection of clothing I purchased from my travels in Europe, North America and Eastern Asia. I get such satisfaction out of wearing these items. Every time I put them on I'm reminded of my amazing travels and to me, that's far better than a trinket or forgotten art piece. When I put on each piece of clothing or jewelery, I take the country with me as I step out my front door.
And so friends, here is an international outfit – an outfit comprised of items all purchased on various travels. Pictures taken right outside my front door.
Some of these items have interesting stories behind them, have been with me for longer than they should have or are just purchases from a regular store in a foreign country. The one thing they all have in common is their beauty and my absolute love for each one.
Los Angeles: A trip in the summer of 2010 for dance training, disneyland and a wedding. This hat was picked up in a kiosk in Los Angeles' The Grove.
(Mexico City): Now, this one is in brackets because although I've been to Mexico (2007 with 7 friends) and I did purchase sunglasses (now on the bottom of the pacific ocean rip), these are not a personal purchase. They belong(ed) to an ex who left them at my place one day and later moved back to Mexico. I took custody.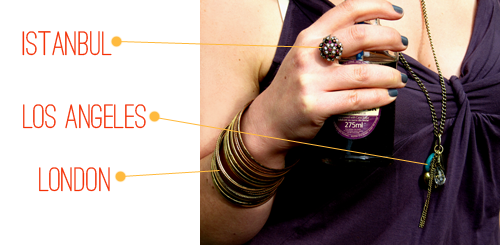 Istanbul: Purchasing this ring was something out of a "white girl in foreign country" indie movie. I found this tiny shop in the labrynth that is Istanbul's Grand Bazaar. I instantly fell in love with this ring and haggled the price down like crazy to something like $150 to $75 (135TRY), including resizing.
After the transaction the shop keeper yelled down the alleyway. A boy appeared out of nowhere and I followed his quick step. I weaved in and out of bustling shoppers frantically trying to keep my guide in sight. We finally ended up in a smoky shop where my ring, without a word, was taken from me, put on a lever and brought up to a man working in a mezzanine. Just when I feared I would never see my beloved ring again, it was put back down the lever and returned to my hand, then my finger, fitting perfectly.
Los Angeles: Same as the hat, I purchased this beauty at The Grove in Forever 21. (hey not all my stories can be as interesting as Istanbul!)
London: London has this massive store selling fantastic goods for ridiculous prices. Londoners frequent Primark for cheap basics. I found these amazing bangles at just £1 for 10. How could I not buy an armful?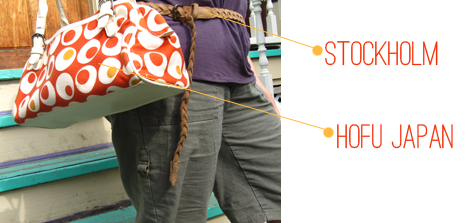 Stockholm: I somehow found a mall in Stockholm, or maybe it was a train station, or maybe my memory is skewed. All I remember is it felt very American, even the store. Nevertheless Gina Tricot had mega gems at mega deals. I was super happy to find this braided belt for $15 (105SEK) which I wear all the time with everything.
Hofu: To be honest I can't remember exactly where I bought this. I'm guessing Hofu because it was my favourite city near my farm town Ogori and I would spend every moment I could in this adorable city. This included several shopping trips. The number of purses I brought back from Japan is a little sickening, but this one is my favourite. I adoringly call it my 'roe purse'.

New York: Look closely. These shoes are worn to bits. But I love them so f—–g much that I just can't let go of them.
In 2007 I went to NYC with my mom to visit my sister. One afternoon by myself in NYC I was doing a self SATC walking tour when accidentally (yet oh so appropriately) came across a store worthy of its name – Shoegasm. I could have taken home the lot, but bought one AMAZING pair of navy and white striped espadrilles with red ribbon lace up (I get compliments every time I wear them) and these poor beaten up soles.
When I say I can't let them go I'm serious. I've had the original soles fixed twice then replaced them entirely which cost more than the original shoe. Most sane people would just chuck em and buy a new shiny pair. But I just can't let go of these guys. They are just too good to me.

Istanbul: While my ring was purchased in where I spent most of my time, old Istanbul, this deep purple tank was purchased during my day expedition to Beyoğlu, Istanbul's newer section full of modern looking shops and the largest shopping district in the city.
Yamaguchi: Yamaguchi-shi was another really cool city a 15minute train ride from my home. It had a lot of really awesome shops, including the beloved Muji. These shorts were a staple in Japan and still are. The best part of them is the straps inside that allow you to roll up the short and button them into place. It's like two shorts in one!

There you have it! My love affair and saga with my international wardrobe.
Now that I've gabbed on and on I must ask,
What is your favourite item purchased while afar?