I am not a a fan of soda (or pop as I normally call it).
It's too sweet, too syrupy, too full of calories to ever be worth consuming for my likes. I do however sometimes like that fizzy drink and the last year have really enjoyed sparkling water. But sometimes you just want a little more.
Behold, my fiance's creation – the UnSoda


It's a great alternative to soda, without any of the sugar or calories, and way more flavour! Also, mixing classic angostura bitters with club soda helps alleviate tummy aches. Bonus!
Making it is super easy. At our last couple parties we had a little UnSoda station for people to make their drinks with this sign: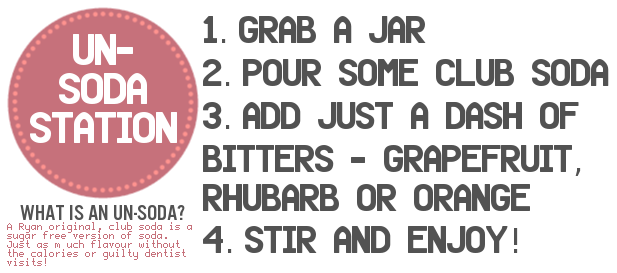 You can find flavouring bitters (like photographed) in some liquor stores and specialty food stores. If you're having no luck where you live, try some of these online shops:


Amazon / Bittercube / DrinkUpNY

Ever since it's creation a few months back we've been enjoying the unsoda regularly. I especially love the citrus bitter flavours, and our new one, rhubarb. I also like to garnish my drink with some fresh mint sprigs or a wedge of lime.
So, grab some club soda and bitters, and enjoy your more flavourful, less sugarful, zero calorie alternative to soda my friends!