Yesterday was December 21st, Winter Solstice! To celebrate the longest night of the year (aka make it more bearable) we hosted a Cookie Exchange, and many yummy treats and good times were had by all.
Through pictures of the night, here is a guide to hosting a cookie exchange (which I think should be a year round fete, not just at Christmastime)

Serve small snacks to help calm the sugar overload (we had veggies with hummus and crackers and cheese) and, most importantly, a plethora of drinks. We had mint tea, egg nog, skim milk and homo milk. You need your dairy options when it comes to dunking your cookies!


Find out in advance what type of cookie everyone is bringing. Not only does this minimize duplicates, but it allows you to set up your table so that everyone has a place, signaled by labels, to put their cookies.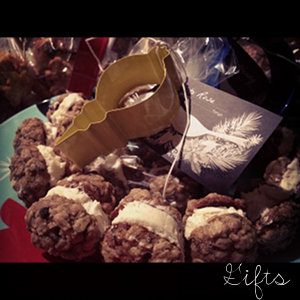 As a host, you're already giving the gift of having all your friends over and entertaining. But it's always nice to send your guests home with a little something. It doesn't have to be big, you're already spending enough on the event itself, but I suggest it be thematic. For last night's party each gift took home a Christmas cookie cutter I tied on with their bags of cookies.


Have a print out of your cookie recipe (and ask others to do the same) so guests can make their favourite tasty treats on their own.


Select your favourite music and play softly in the background.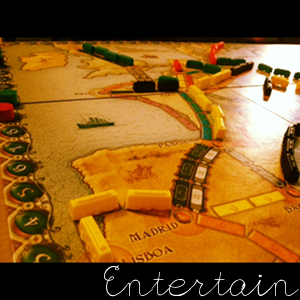 Entertain true to your style! We had a small gathering, so it was perfect for one of our favourite pastimes – games!